Harley Quinn Spinoff Is An 'R-Rated Girl Gang Film,' Says Margot Robbie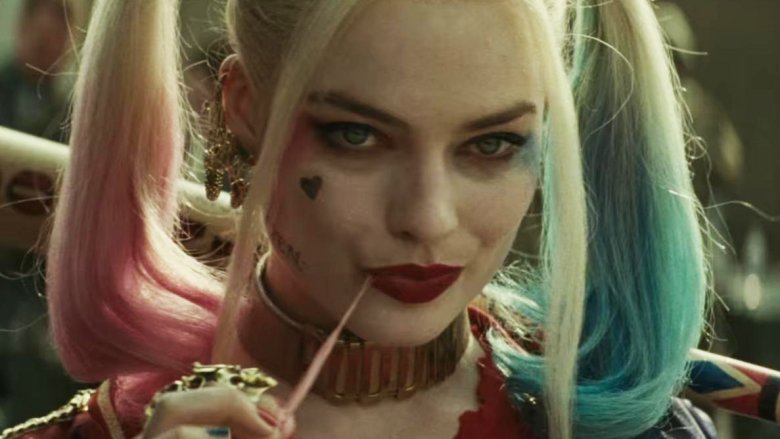 In ranking the coolest descriptions of in-development movies, "an R-rated girl gang film" is up there on the list like a fever. 
Suicide Squad star Margot Robbie recently sat down for a chat with Collider, during which she opened up about the multiple spinoff projects DC Films and Warner Bros. are crafting around her ex-psychiatrist and current criminal queen character Harley Quinn. While the studios have their hands in a Joker versus Harley movie and the up-in-the-air Gotham City Sirens flick directed by Suicide Squad filmmaker David Ayer, it's the Harley Quinn spinoff Birds of Prey Robbie is producing that's seemingly taken top priority. 
And there's a reason for that: it sounds incredibly cool.
Robbie revealed to the outlet that she has spent three years working on Birds of Prey, which has Dead Pigs filmmaker Cathy Yan attached to direct, and first pitched the project back in 2015 when she was shooting Suicide Squad. 
"I pitched the idea of an R-rated girl gang film including Harley, because I was like, 'Harley needs friends.' Harley loves interacting with people, so don't ever make her do a standalone film," Robbie explained. "She's got to be with other people, it should be a girl gang. I wasn't seeing enough girl gangs on screen, especially in the action space. So that was always a big part of it."
Just as Robbie felt it was important to keep Harley part of a group, she also felt it was crucial to have a female filmmaker take the reins to direct the spinoff. Robbie continued, "[Another big part of it was] of course having a female director to tell that story. And giving a female director the chance to do big budget stuff. They always get 'Here's the tiny little film' ... I was like, 'I love action. I love action films. I'm a girl. What, are we meant to only like a specific thing?' So it was a hugely important to find a female director for this, if possible."
Robbie added that Cathy Yan truly was the cream of the crop. "At the end of the day — male, female — the best director gets the job and Cathy was the best director," she said. 
The actress later spoke with Moviefone, disclosing that she wasn't involved in the creative process of the various other Harley Quinn spinoffs, as she was focused on developing Birds of Prey with screenwriter Christina Hodson, who recently penned the upcoming Transformers franchise offshoot Bumblebee. 
"I want to make a girl gang, R-rated film that Harley is a part of," Robbie told the outlet, again using that hyper-cool description. "We started working on it from there. Meanwhile, over the course of the next few years, the studio was exploring other Harley Quinn spinoffs. But I was not a part of those versions, I was always focused on this one with Christina ... I know that they were exploring Gotham City Sirens with David Ayer, and I know they were exploring a Joker and Harley Quinn movie, and they were exploring doing I don't know what else. I wasn't a part of those. I was focusing on this. I kept presenting it to the studio until they felt it was at a point where they were ready to do it. And now we're all in."
Robbie's vision for Birds of Prey seems like the perfect project not only for Harley Quinn, but also for DC Comics and DC Extended Universe enthusiasts who want to see more of the character on the big screen. Let's just hope that critics find the spinoff flick more enjoyable than they did the poorly rated Suicide Squad.