Amazon's Air - What We Know So Far
A number of trailers for upcoming blockbuster movies premiered during Fox's broadcast of Super Bowl LVII on February 12, 2023, including new entries in major franchises like "Fast X" and "Indiana Jones and the Dial of Destiny." Among previews for these and other films was a trailer for Amazon Studios' "Air," which is unlike the majority of its competition for reasons beyond just its lack of a connection to an established franchise.
Perhaps most notably, some viewers thought the Super Bowl "Air" trailer was a shoe commercial and not an early look at a forthcoming feature. That said, those viewers were not entirely wrong, given that "Air" chronicles the rise of Nike and its executives' decision to work with a young-at-the-time Michael Jordan, framed in what appears to be a positive and motivational light.
For those whose curiosity may have been piqued by its first shoe commercial-like trailer, or anyone simply interested in a blockbuster biopic that boast a star-studded cast, here's what we know about Amazon's "Air" so far.
When will Air be released?
For most, the trailer that aired during Super Bowl LVII was likely their first exposure to "Air," given that its televised premiere marked the first public release of extended footage from the film. Typically, first look trailers are light on information, and oftentimes even absent a release date, given that the job of such a preview is simply to announce a project's existence to the world.
One way "Air" is unlike most of the other films with trailers that aired during the Super Bowl is that its distributor is Amazon Studios, which would typically mean a release straight to the company's streaming service. "Air" will hit theaters before streaming, however, due to a belief by those in charge of Amazon films in its blockbuster potential. Nevertheless, in a manner more typical of a streaming service original, not only does the first "Air" trailer conclude with a release date, but it's not even too far off from the film's first February trailer. While a date for its streaming service debut has yet to be determined, "Air" will hit theaters on April 5, 2023.
What is the plot of Air?
"Air" is a filmic retelling of how Nike grew from a plucky startup to a shoe industry giant, thanks in large part to its decision to not just sign an up-and-coming Michael Jordan to an endorsement deal, but design a shoe that would become synonymous with the basketball great in an unprecedented relationship between athlete and apparel brand.
The two principal characters in this story are Phil Knight — who founded Nike and remains integral to the company to this day — and Sonny Vaccaro, who joined the company as a salesperson before landing Nike a deal with Jordan and forever altering the trajectory of the sneaker business.
Notably, however, as confirmed in a Variety piece about the film's distribution, Jordan himself is absent from "Air." Rather, the film will focus on the story from the perspectives of Nike and Jordan's parents, save for some real-life footage of Jordan playing basketball in college.
Who is starring in Air?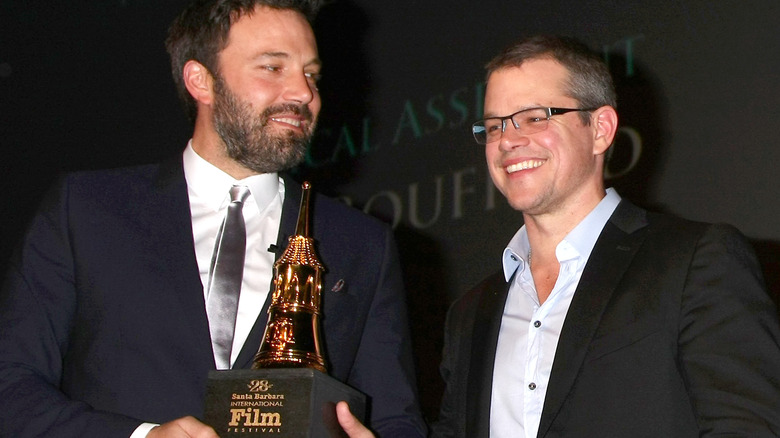 Kathy Hutchins/Shutterstock
One of the biggest assets that "Air" brings to the table is its cast, which includes both big names from top to bottom, and a reunion between one of present day cinema's iconic acting duos. Playing the part of upstart shoe salesman Sonny Vaccaro in "Air" is Matt Damon, and joining him as co-lead in the role of then-Nike CEO Phil Knight is Ben Affleck. Of course, Damon and Affleck's working relationship famously encompasses their collaboration on "Good Will Hunting," and has most recently resulted in the 2021 medieval drama "The Last Duel."
Also integral to "Air" is Viola Davis as Michael Jordan's mother Deloris Jordan. Rounding out the cast are Jason Bateman as Nike executive Rob Strasser, Marlon Wayans as basketball coach George Raveling, Chris Messina as Jordan's agent David Falk, Matthew Maher as shoe designer Peter Moore, Julius Tennon as Jordan's father James R. Jordan Sr., and Chris Tucker as Jordan brand executive Howard White.
Who is directing Air?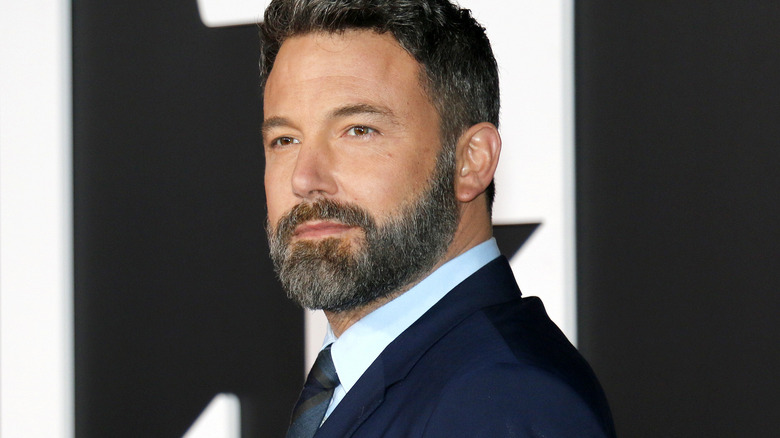 Tinseltown/Shutterstock
Beyond portraying one of its lead characters, Ben Affleck is also credited as director on "Air." While Affleck's notoriety is predominately thanks to his acting career, the Bostonian icon is a notable director in his own right.
Affleck's first feature as director was "Gone Baby Gone," a 2007 crime film starring his brother Casey Affleck. He then went on to helm another crime movie titled "The Town" in 2010, historical drama "Argo" in 2012, and mob movie "Live by Night" in 2016. Of these, "Argo" is his most notable, netting seven Oscar nominations in total, three of which it won including Best Picture.
Prior even to the debut of its Super Bowl trailer, Affleck called directing "Air" one of the best experiences of his life, both personally and creatively. Affleck is also currently slated to direct adaptations of "Witness for the Prosecution" and "Keeper of the Lost Cities," suggesting that "Air" may be kicking off an extended directorial run that could define the current stage of his career.
Is there a trailer for Air?
Of course, much of the general moviegoing public's first exposure to "Air" was its first trailer that premiered during Super Bowl LVII amidst previews for blockbusters like "Scream 6" and "65."
This first "Air" trailer opens inside the Nike headquarters in 1984, where Jason Bateman's character Rob Strasser outlines the company's multitude of struggles. Meanwhile, CEO Phil Knight (Ben Affleck) hires Sonny Vaccaro (Matt Damon) to somehow grow the brand through its association with basketball. Vaccaro decides that Nike would benefit from working with NBA rookie Michael Jordan, and drives out to meet his parents at their North Carolina home.
While viewers know that Vaccaro's faith in Jordan pays off, the balance of the trailer highlights how the degree to which Nike invested in Jordan posed a big risk to the company. The iconic red-and-white silhouette of the original Air Jordan then leads into the film's title, before the trailer closes on Knight skeptical that Air Jordan should be the name of Jordan's signature shoe. Those interested in this story can watch it in full when "Air" debuts in theaters on April 5.