Richard Belzer: The Complete Story Of The Law & Order Legend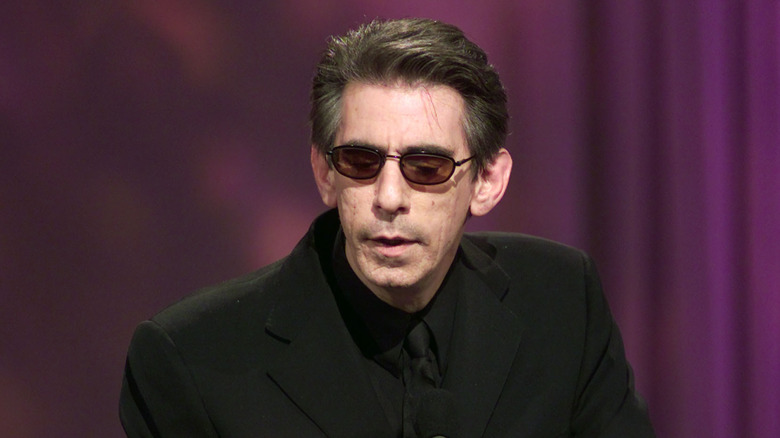 Frank Micelotta Archive/Getty Images
Comedy aficionados, JFK conspiracy theorists, and "Law & Order: Special Victims Unit" super fans lost an icon when Richard Belzer – who portrayed Detective John Munch across several different series over the course of more than two decades – died at his home in France on February 19, 2023. He was 78.
Belzer had legions of fans who appreciated his acerbic wit, his unvarnished cynicism, and his borderline paranoia. He perfected this image over his five decades in show business, plying his trade in a variety of genres. From sketch comedy to prestige drama, Belzer was the kind of actor who could turn his hand to pretty much anything. Still, no matter what he did, Belzer never veered too from his core persona — he was a wry critic of the human condition, and that usually came through in his work. 
Let's explore and celebrate the life and legacy of Richard Belzer, one of TV's greatest curmudgeons.
Comedy as survival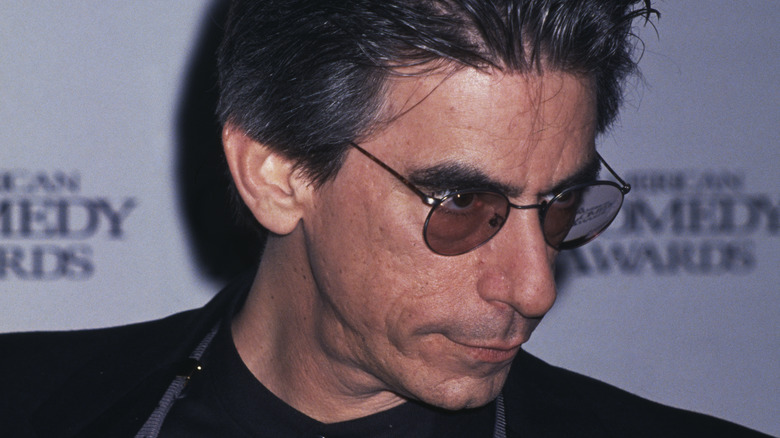 Michael Ochs Archives/Getty Images
Richard Belzer was born in Connecticut in 1944. Sadly, his early life was plagued by physical abuse. His mother, who his older brother Len told People in 1993 "didn't know how to love her sons appropriately," would often beat the boys with a strap. In order to stave off the attacks, Richard would do impressions to try to make her laugh. It was a rough way to grow up, but it no doubt honed his quick wit. It also may have led to his signature pessimistic outlook that life was more apt to be thorns than rose petals. His sharp tongue often got him into trouble — "I was thrown out of every school I ever went to," he said in a 2010 interview for AARP — but by his 20s it had evolved into a gift for satire that thrived in the cutthroat world of New York City comedy clubs.
The idea to try comedy came at the end of the 1960s after Belzer's father died by suicide in 1968. Naturally, this was incredibly traumatic for young Belzer. Richard had been working as a journalist for The Bridgeport Post with thoughts of being a writer but got into drugs instead and had some very close calls with the law. He credited therapy with helping him access that pain and process it in healthier ways.
If you or anyone you know is having suicidal thoughts, please call the National Suicide Prevention Lifeline​ by dialing 988 or by calling 1-800-273-TALK (8255)​.
Out of the Army now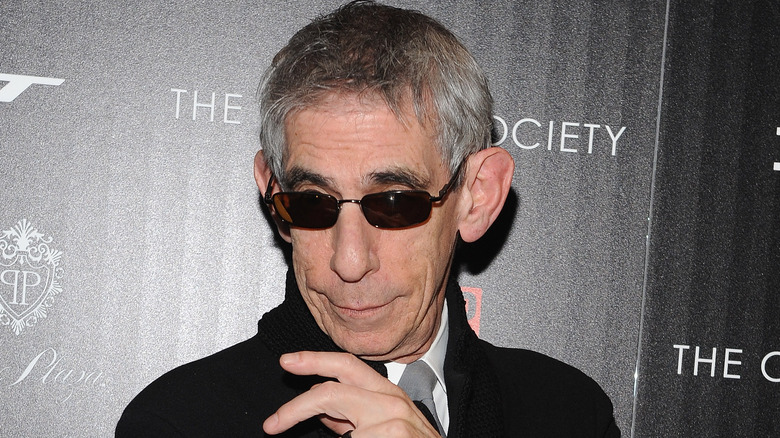 Fernando Leon/Getty Images
Talking to Terry Gross for NPR's Fresh Air in 1987, comedian and actor Richard Belzer explained how he didn't want to be in the army. It was during the Vietnam War and Belzer — presumably drafted, though he never clarifies this point — went to great extremes to get out of serving.
Apparently, Belzer staged an attack and subsequent injury to his back, using that as an excuse to shirk his duties. However, authorities in the army and his sergeant sent him to his "chaplain" — actually a rabbi, as Belzer was Jewish — to get some sort of help. Belzer joked the rabbi was more concerned with him acknowledging his faith than addressing his mental health, perhaps considering them the same thing. 
Thankfully Belzer's request for a psychiatrist was finally granted, although the actor admits he was using basic psychology clichés to feign mental illness. Even though he suspects the army brass knew all along he was faking, Belzer was asked to leave the military. He was given an honorable discharge and went back home to find something more fitting to do with his life.
Underground sketch comedy
In 1971, Richard Belzer saw an ad in the Village Voice looking for people to join the Channel One comedy troupe with the likes of Ken Shapiro and Chevy Chase. It was the perfect outlet for all the bits and impressions he had developed as a kid. The group performed short skits that satirized typical TV fare like commercials, news, and sports coverage while broadcasting themselves on three closed-circuit television screens in a theater setting in the East Village. They would also take video compilations of these performances on tours of college campuses.
In 1974, they turned their live and televised sketch show, which they called "The Groove Tube," into a film of the same name. Belzer can be heard narrating the trailer. The film, originally released without a rating, was later rated X when the MPAA got ahold of it, but then the material was edited down to earn an R. While reviews were mixed, most noted the sheer brilliance of some of the sketches, and according to Belzer, "The Groove Tube" was what inspired Lorne Michaels to create "Saturday Night Live."
Stand-up success
His work in sketch comedy is what landed Richard Belzer his first stand-up gig at New York's Catch a Rising Star comedy club, and gigs at other clubs like The Improv soon followed. When "Saturday Night Live" premiered in 1975, Belzer -– a friend of Lorne Michaels and several members of the regular cast –- was brought on to warm up the audience, and he excelled at it. In fact, when news of his passing hit social media, several other legendary comics like "SNL" alums Laraine Newman and Billy Crystal posted about his mastery at working a crowd.
In the stand-up comedy boom of the '80s, Belzer's star began to rise with numerous appearances on "Late Night with David Letterman," "An Evening at the Improv," and HBO comedy specials. Plus, like other comedians at the time, he briefly had his own talk show featuring comedy and guests.
Belzer was popular on the scene — "the first rock and roll stand-up comedian," according to the Philadelphia Weekly – but never achieved the millions of fans (or dollars) of some of his contemporaries. Still, looking back on those years he sounded more wryly amused than bitter when he said, "Being a cult figure is a nice way of saying people loved me, but it didn't pay the rent." What it did do, however, was land him several guest appearances on Howard Stern's radio program, which ultimately led to his most famous role.
Homicide: Life on the Street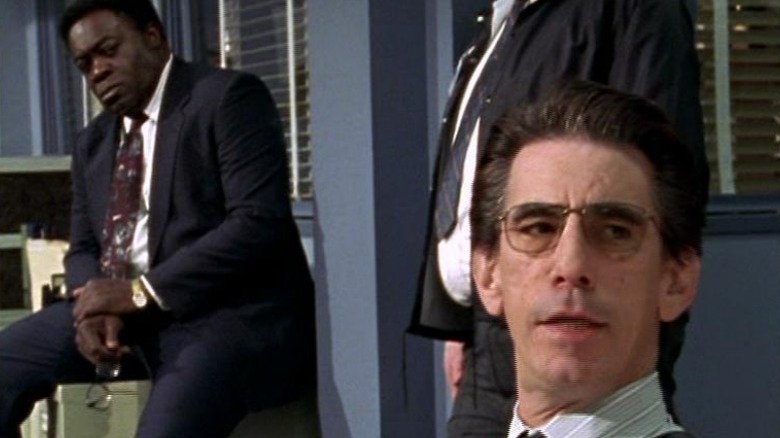 NBC
While in pre-production for his new show "Homicide: Life on the Street," executive producer Barry Levinson heard Richard Belzer on "The Howard Stern Show." Levinson thought Belzer sounded perfect for the character of Detective Munch, the wisecracking cop who breaks the tension with gallows humor to lighten the strain of police work.
"Homicide: Life on the Street" was going to be a show based on the work of journalist (and eventual screenwriter) David Simon, who wrote a book about the year he spent shadowing Baltimore detectives. The character of Munch was based on some of those real people, and even though Levinson said Belzer had trouble acting at first, he soon warmed up to the rhythms of his character.
The series became renowned for its gritty documentary aesthetic and over its seven-season run was nominated for 17 Emmys, including six for guest actors and one win each for director Levinson, writer Tom Fontana, lead actor Andre Braugher, and series casting.
Belzer would appear in the entire series run as the caustic conspiracy theorist cop, but in a fun twist his origination as a true skeptic was revealed with a guest appearance on "The X-Files" in 1997. In the episode, which takes place in 1989, Munch doesn't believe the wild tale he's told until resident conspiracy man Fox Mulder (David Duchovny) confirms it — perhaps sending Munch down the proverbial rabbit hole.
Law & Order: Special Victims Unit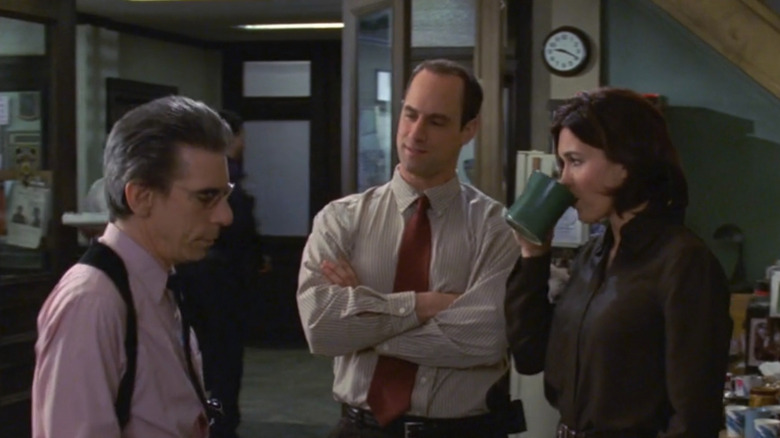 NBC
In May 1999, "Homicide: Life on the Streets" ended its run, but Richard Belzer, in the role of Detective Munch, did not. Instead, "Law & Order" guru and megaproducer Dick Wolf handpicked Belzer's standout character to transfer from Maryland to New York and join the new spin-off he was starting, "Law & Order: Special Victims Unit." The show would focus on the city's Special Victims Unit within the police force, which handled cases involving child abuse and sex crimes. In an iconic moment from his farewell episode, Munch is seen answering the phone "Homicide," but quickly corrects himself to "SVU."
Belzer appeared as a series regular for 14 seasons, and appeared intermittently as a guest for two additional seasons, giving Detective John Munch a total of 23 seasons of television appearances. His record is only bested by fellow "Law & Order: SVU" detective Olivia Benson (Mariska Hargitay).
The character of Munch fit well into the "Law & Order" mold, which loved to feature a cutting remark or zingy punchline in the cold open immediately before the jump to the title card and theme song. Munch had a world-weary yet lovable style that particularly meshed well with that of his longest on-screen partner, Fin Tutuola (Ice-T). By the time Munch and Belzer both retired, the character was infused with a surprising amount of warmth and wisdom.
The story of John Munch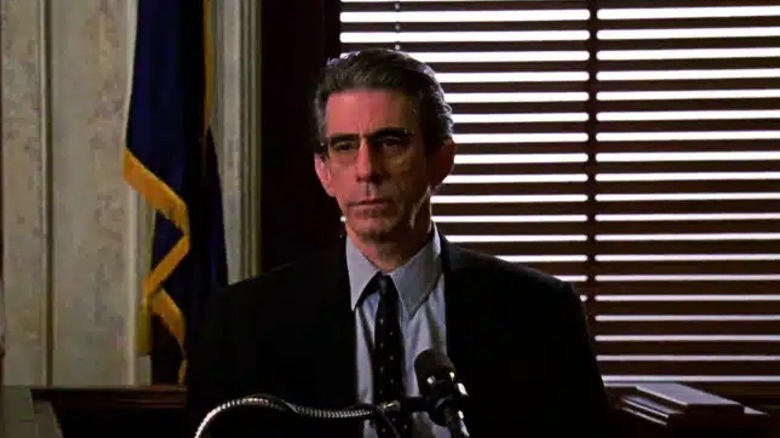 NBC
John Munch's formative background varies, but in 1983 Munch joined the Baltimore PD, and after this point his timeline becomes consistent across the various shows he appears on. However, while Munch's character stayed consistent, Belzer's "Homicide: Life on the Streets" co-stars sometimes guested on "Law & Order: SVU" in other roles.
In the 1993 premiere of "Homicide," Munch has two ex-wives and gained a third and a fourth before he joined "SVU." His deep cynicism surrounding marriage, a therapist tells him, is offset by his belief in true love and desire to find it.
John Munch was sarcastic, often making light of harrowing situations. In the Season 3 episode of "Homicide" titled "The City That Bleeds," he escapes an ambush and tries to laugh it off but eventually succumbs to tears. Three episodes later, he's suspected of killing the man responsible, but the matter is swept under the rug. Perhaps that's why he believed in various conspiracies, often expounding about them. When he learned the FBI never considered him much of a threat, he was disappointed.
Munch, like Belzer himself, grew up with an abusive parent. This contributed to his notable soft spots for exploited children, serving the character well as an SVU detective. This possibly explains why his career advanced more there. Munch retired from the Special Victims Unit in the Season 15 episode "Gunplay" to be an investigator for the DA's office, and characters from both his long-running shows were at his retirement party. He would appear once more on SVU, closing out the Season 17 episode "Fashionable Crimes" with some fitting advice.
Other appearances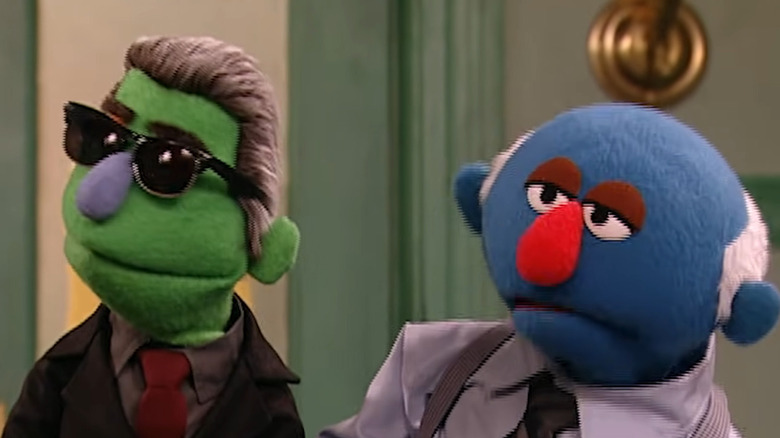 PBS/Children's Television Workshop
In all, Richard Belzer performed the character of Detective John Munch on ten different network series. In addition to "Homicide" and the "Law & Order" universe, Belzer stepped beyond strictly SVU episodes four times in the original "Law & Order" and once in "Trial by Jury." Munch has also been portrayed by Belzer on "30 Rock," "Arrested Development," "The Beat," "Unbreakable Kimmy Schmidt," "The Wire," and "The X-Files." For those shows alone, the character spanned across NBC, Fox, UPN, Netflix, and HBO in 374 episodes and one TV movie –- over two weeks of continuous programming if shown in succession.
There have also been several homages and references to the character. For example, a Detective Munch muppet is in a "Sesame Street" segment called "Special Letters Unit," bearing a striking resemblance to the comedian. In addition, on an episode of "Luther," star Idris Elba (who played Stringer Bell on "The Wire") refers to a Detective Munch as his New York contact.
Of course, Munch is not all of Belzer's work. For all of his 79 acting credits, Richard Belzer played some version of himself at least 10 times and a police officer — whether Munch or not — a minimum of 15. Belzer was never upset at the typecasting, however, saying Munch, in particular, was "a great character for me to play," per Decider. "It's a dream for me," he continued.
The truth is out there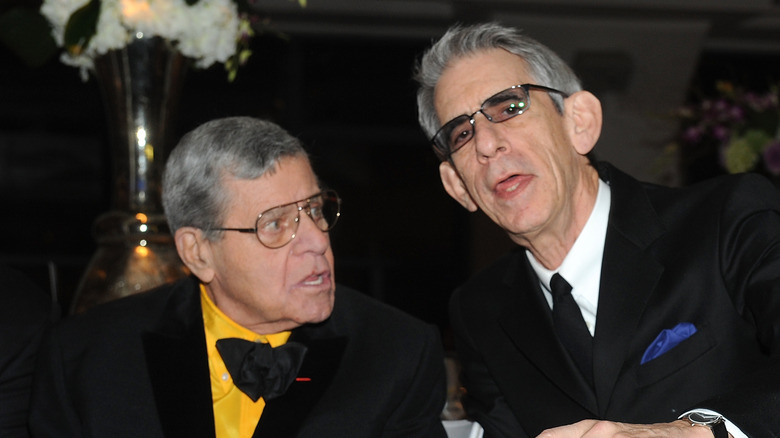 Brad Barket/Getty Images
In addition to his acting and comedy careers, Richard Belzer was also an author of various books. In 1988 he wrote "How to Be a Stand-up Comic," which he followed in 1999 with the first of five books surrounding conspiracies and cover-ups, a fascination with which he shared with his most famous alter-ego. His other works about various infamous conspiracies –- four in three years, co-written with author David Wayne -– came out in 2012, 2013, and 2015.
In between these releases came a novel co-written with Michael Black in 2008, "I Am Not a Cop!" That novel is about an actor named Richard Belzer who plays a TV detective but finds himself embroiled in a very real police investigation, which was just one more way that Belzer blurred the lines between his character's personality and his own. He and Black also delved into fiction again in 2009's "I Am Not a Psychic!" and Belzer contributed to the compilation book "Dirty Laundry" in 2010.
His tenth book, "Conversations with Jerry Lewis," published in 2014, went back to the roots of his earliest kitchen table impressions. Belzer reveals through his relationship with the iconic Lewis some of the older comedian's most unadulterated thoughts about the history of comedy, its evolution, and many other topics close to his heart.
A lasting legacy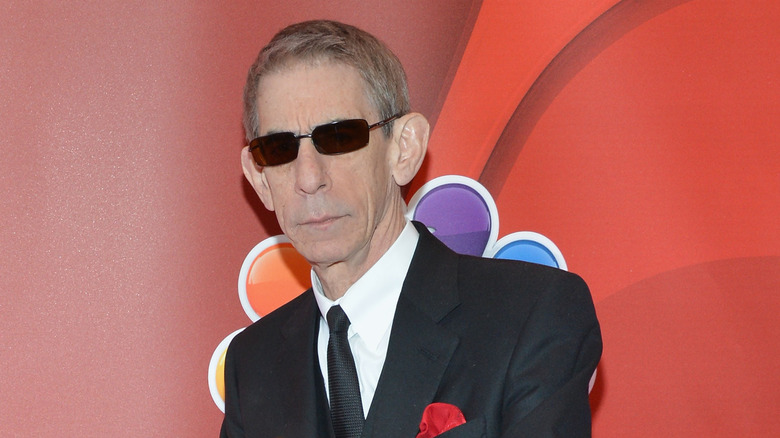 Slaven Vlasic/Getty Images
When actors are told to stay in their lane, it's usually an insult meant to disparage whatever they might have to say about politics or social issues. Richard Belzer took the concept of staying in one's lane to new heights and wore it as a badge of honor. He loved being the comic, the conspiracy theorist, and the well-known detective, and he reveled in those parts. He found the recurring roles and character types very flattering. 
Richard Belzer played John Munch in so many shows the very idea of his omnipresence became meme-worthy. Like that one uncle who doesn't trust the government, he was a frequent visitor in American homes for more than two decades, and audiences loved his sly take-no-guff attitude. After leaving "Law & Order: Special Victims Unit" for the last time, Belzer appeared in only one more film, once again as a version of himself, in "The Comedian," starring Robert DeNiro. He spent the last years of his life at home in the southwest of France.
News of Richard Belzer's death brought out tributes and farewells from across show business and social media. Round-ups of his best line deliveries, best jokes, and best moments circulated the web while friends and colleagues across Hollywood -– from early collaborators to "Law & Order: SVU" stars –- took a moment to say goodbye. He was one of a kind.