Law & Order: SVU Star Richard Belzer Was Asked To Leave The Military After Only Seven Months Of Serving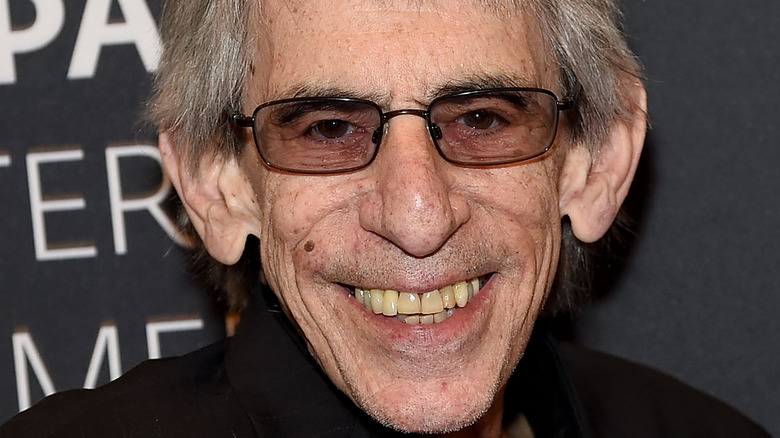 Jamie Mccarthy/Getty Images
Richard Belzer started out as a stand-up comedian. However, he's gone through a stunning transformation into dramatic roles. In a 1987 interview with Fresh Air, Belzer explained that his talent for comedy began as a defense mechanism against his abusive mother, who he called "the toughest audience [he] ever had." He became a renowned comedian and the first audience warm-up comedian for "Saturday Night Live."
Belzer told Pop Goes the Culture in 2020 the he never auditioned for the role of John Munch on "Homicide: Life on the Street." He recalled, "Barry Levinson heard me on 'The Howard Stern Show' and then brought me in to read for the character... It was kind of magical." Since then, Belzer has played the role on several shows in the Law and Order franchise. After debuting the role in "Homicide," John Munch appeared in "Law and Order: Special Victims Unit" and in several cross-over episodes. But John Munch has appeared in series outside of the franchise as well, including "The X-Files," "Arrested Development," "The Wire," and "30 Rock." After season 15, his tenure as a series regular on "SVU" ended. However, he returned for occasional guest appearances now that his character works as an investigator for the district attorney. 
But before Belzer became involved in "Homicide," "SVU," or stand-up comedy, he tried his hand at a career in the military. Unfortunately, he got kicked out pretty quickly, and he likes to tell people it was because he was too funny.
If you or someone you know may be the victim of child abuse, please contact the Childhelp National Child Abuse Hotline at 1-800-4-A-Child (1-800-422-4453) or contact their live chat services.
Richard Belzer faked mental illness to get out of the army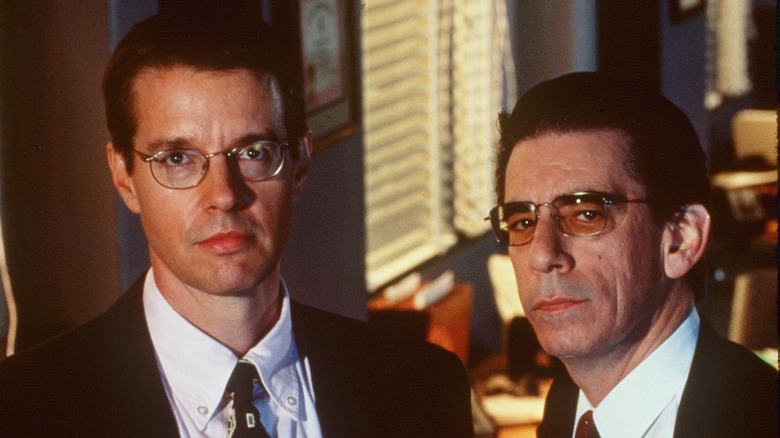 Getty Images/Getty Images
In a 2010 interview with AARP, Belzer discussed his brief time in the army branch of the military. He said he was only in the service for seven to eight months before he was, as Belzer joked, "​​discharged under honorable conditions for being too funny to carry a gun." Belzer later revealed how he got kicked out (via Fresh Air). Belzer faked mental illness and pretended to be suicidal. Once he saw a psychiatrist, he gave them every mental illness cliché in the book, including being suicidal and hating women. Belzer admitted this was part of a pattern, claiming he got thrown out of every school he attended.
According to the Military Law Task Force, before 1982, it was easier to leave the military for less severe mental illnesses. In 1982, the Department of Defense overhauled the criteria. After the sweeping changes, a mental illness no longer became a sufficient enough reason to discharge someone from the military. Instead, a psychiatrist had to deem that the mental illness prevents them from being able to perform their duties. Thus, Belzer is probably lucky that his stint in the army was before 1982 because his ploy might not have worked today.
If you or anyone you know is having suicidal thoughts, please call the National Suicide Prevention Lifeline​ by dialing 988 or by calling 1-800-273-TALK (8255)​.
If you or someone you know needs help with mental health, please contact the Crisis Text Line by texting HOME to 741741, call the National Alliance on Mental Illness helpline at 1-800-950-NAMI (6264), or visit the National Institute of Mental Health website.