Ice-T's Favorite Part About His Law & Order: SVU Character Is Quite Hilarious
Dia Dipasupil/Getty Images
Ice-T has portrayed Odafin "Fin" Tutuola on "Law & Order: Special Victims Unit" since the premiere of Season 2 in 2000. With almost 500 episodes of "SVU" under Ice-T's belt and guest appearances on other branches of the franchise, Fin is one of the longest-running characters on any "Law & Order" show. Over his long history, Fin has proven to be a quick-witted character who's been through a lot of struggles but always manages to crack a funny one-liner.
Long-term fans of the show or of Ice-T will notice that he puts a lot of himself into his character. While Fin may live a grittier life as a detective-turned-sergeant who handles particularly sensitive cases, he never lets his low points keep him down. It's quite compelling to watch Fin's growth over the duration of this incredibly long show, and Ice-T's performance is rejuvenating at every turn.
In fact, Ice-T's favorite part of his character reflects Fin's feisty determination and intellect. One of Fin's funniest lines came after explaining the "down low" ideology. He defends his extensive knowledge by saying, "Don't look at me, I just know stuff." That's a classic Fin retort. Fin brings a unique outlook on life (and how his work fits into his life) and it starts with a very simplistic ideal. 
Ice-T can sum up Fin's best quality in two words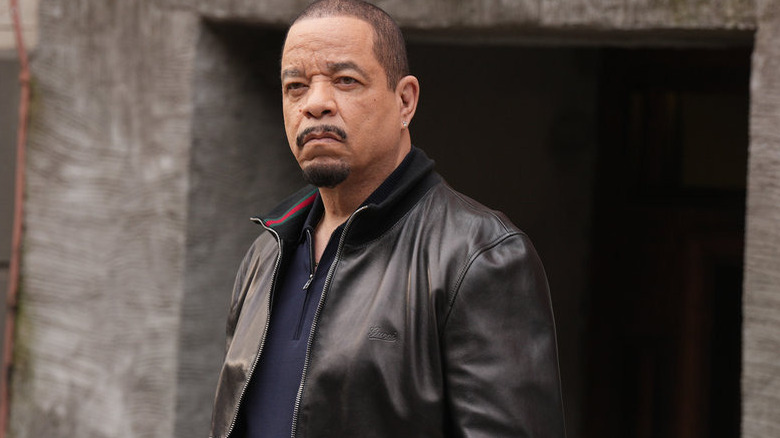 Craig Blankenhorn/NBC
"He's alive!" Ice-T exclaimed when asked what his favorite thing about his character was during a rapid-fire Q&A with the cast members of "Law & Order: SVU." After his answer, the interview cuts away to a clip of Fin talking to Olivia Benson (Mariska Hargitay), saying, "I'd rather be lucky than good." This is just one of many quotes to emphasize Ice-T's point. He goes with the flow and rolls with the punches when he needs to and fights when it's necessary, but above all else, he's wise enough to know the difference. Usually.
It's almost ironic, though, that a person who lives in the midst of so much pain and agony could still live life to the fullest and remind himself that he's still alive every chance he gets. Fans have seen how working at the Special Victims Unit has slowly beaten down the people trying to clean up the crime-filled streets of New York. Sometimes, they even get the best of them. Even Benson isn't immune to the horrors she sees and experiences every day, so Fin is a unique case. It isn't that he's immune to the negative impacts of his job, but he copes, learns, and still pushes to have the best life he can.
In a compilation clip of iconic Fin moments, Ice-T claims, "Whether its busting heads or busting balls, nobody gets one over on Fin." Some of the moments in this video highlight Ice-T's original point about Fin. He takes charge in his job, he stays honest with his colleagues, even if it may not be something they want to hear, and he always stays true to himself. Replying "I'm good" to someone pushing God onto him is a prime example of how he cuts to the chase and lives the way he wants.