Keri Russell Recalls The 'Incredible' Experience Of Working With Late Cocaine Bear Co-Star Ray Liotta - Exclusive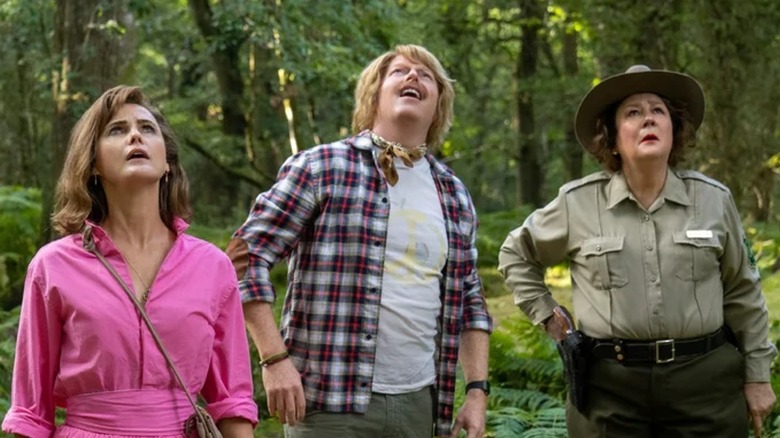 Universal Pictures
Fans and colleagues were stunned by the May 2022 news of the untimely passing of venerable actor Ray Liotta, who left behind a legacy of several classic roles in such acclaimed films as "Field of Dreams," "Goodfellas," "Cop Land," and more recently, "Marriage Story." Liotta also had nearly a half-dozen film and television roles in the pipeline at the time of his death, including pivotal roles in the 2022 series "Black Bird" and the horror-comedy "Cocaine Bear."
Opening in theaters on February 24, "Cocaine Bear" gave cast members Keri Russell, O'Shea Jackson Jr., and Alden Ehrenreich the distinction of being among the last of the late great Liotta's co-stars. Directed by Elizabeth Banks, "Cocaine Bear" is inspired by a strange but true event from 1985, when a 175-pound black bear consumed a massive amount of cocaine it found in a Georgia forest following a drug runner's plane crash.
Now, nearly 40 years later, the odd event has morphed into a trippy horror-comedy in which a 500-pound apex predator — appropriately dubbed "Cokey the Bear" — ingests a full brick of cocaine and instantly develops an addiction to the powerful substance. Sniffing out the forest to find the rest of the cocaine to feed her addiction, the animal turns into a murderous momma bear who will lay waste to any human who gets in her way.
Russell stars in "Cocaine Bear" as Sari, a mother desperately looking for her young daughter, Dee Dee (Brooklynn Prince), and daughter's friend Henry (Christian Convery), who disappear into the forest just as the black bear goes on its cocaine-fueled rampage. In an exclusive interview with Looper, Keri Russell shared her experience working with Liotta, with whom she shares a key scene in the movie.
Russell says Liotta was 'kind,' 'hardworking,' and 'a pro'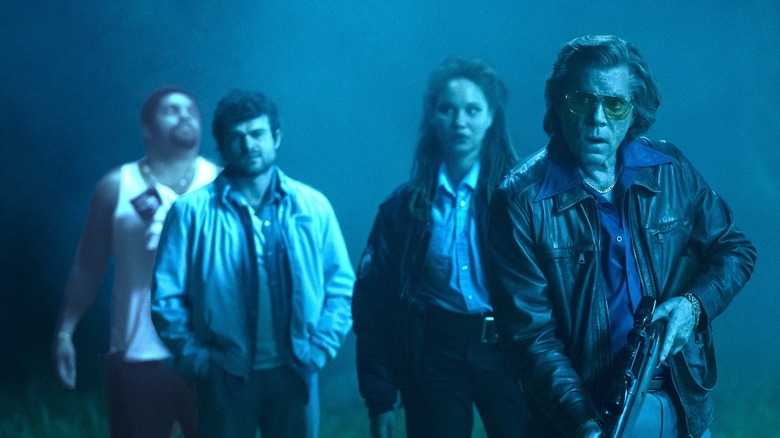 Universal Pictures
In "Cocaine Bear," Ray Liotta stars as a Syd, the leader of a small band of criminals who were supposed to recover a cocaine drop in Georgia but are left scouring the forest for it when the haphazard drug runner (Matthew Rhys) botches the delivery and crashes his plane. Matters are made worse, of course, when Cokey the Bear gets a taste of the illegal powder.
Reflecting on her work with Liotta — who was 67 when he passed away on May 26, 2022 — Keri Russell recalled the "wacky" scene they both took part in and the man she called an "amazing person and actor."
"He wasn't old at all," Russell told Looper. "Who knows how the world works and how all that stuff shakes out, but he was amazing, he was kind, and he was hardworking and a pro — everything you'd expect him to be. Liz [Banks] saw him a lot more recently than any of us did because she worked with him for ADR [automated dialogue replacement] on it. But [it was] incredible to get to know him while I could and have those moments with him."
Three more of Liotta's films will be released after "Cocaine Bear." Ray Liotta's posthumous roles include the comedy "Fool's Paradise," the drama "April 29, 1992," and the thriller "Dangerous Waters," which the actor was working on at the time of his death. 
"Cocaine Bear," which also stars Margo Martindale, Isiah Whitlock Jr., Ayoola Smart, and Jesse Tyler Ferguson, opens in theaters on February 24.