Cocaine Bear's Keri Russell Roars (With Laughter) About Her Role In The Horror-Comedy - Exclusive Interview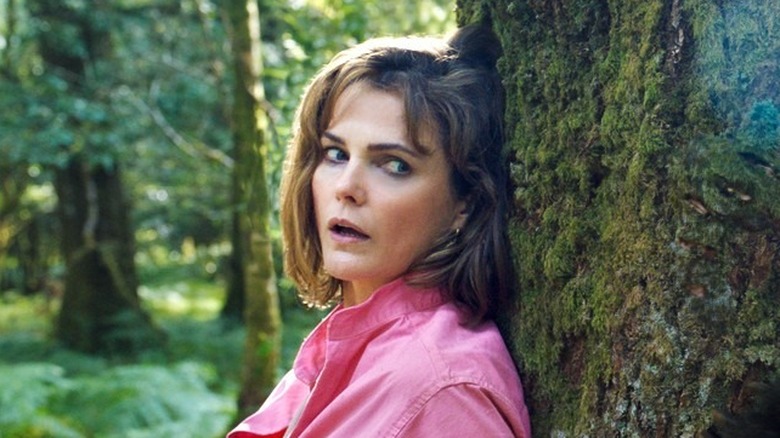 Universal Pictures
While acclaimed actor Keri Russell has starred in several genres in film and TV since kicking off her career in 1992, it's taken her more than 30 years to land a horror-comedy. Luckily, she's hit a bullseye with director Elizabeth Banks' scary yet hilarious romp "Cocaine Bear."
Russell scored her breakthrough role as the title character in the romantic drama "Felicity," working under the auspices of J.J. Abrams and Matt Reeves from 1998 to 2002. She would reunite with Abrams for "Mission: Impossible III" in 2006 and "Star Wars: Episode IX — The Rise of Skywalker" in 2019, as well as with Reeves in 2014's "Dawn of the Planet of the Apes."
Russell returned to TV with the acclaimed espionage series "The Americans" from 2013 to 2018, which earned her three lead actress Emmy nominations. On the series, Russell met her husband, Matthew Rhys, who, along with fellow "Americans" star Margo Martindale, is also part of the wild ride in "Cocaine Bear."
In theaters on February 24, "Cocaine Bear" is inspired by a real-life 1985 incident in which, after a drug runner's plane crash, a 175-pound black bear died from eating a massive amount of cocaine. Producers Phil Lord and Christopher Miller used the odd occurrence as a springboard for an even wilder premise: A 500-pound apex predator dubbed "Cokey the Bear" ingests a brick of cocaine and survives. Becoming addicted to the drug, Cokey destroys every human in her path to feed her addiction because there's a lot more of the powerful substance strewn about in the wild.
Russell stars as Sari, a mom desperately trying to find her young daughter, Dee Dee (Brooklynn Prince), and daughter's friend Henry (Christian Convery), as the children go missing in the woods amid the cocaine-fueled bear's rampage. Russell breaks down her work on the film and more for Looper in an exclusive interview.
An irresistible movie title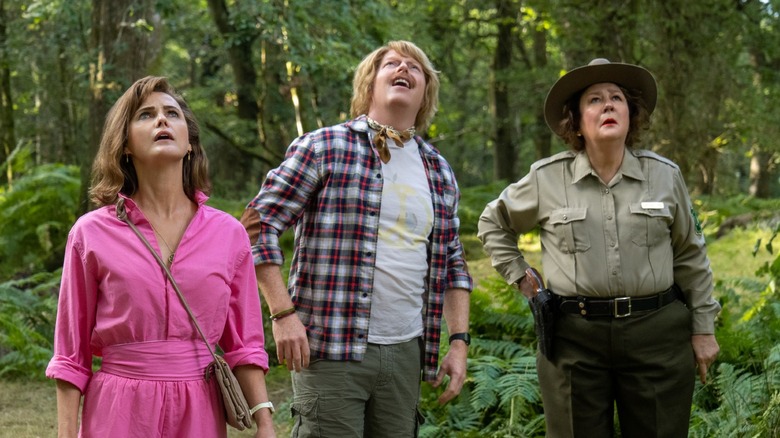 Universal Pictures
You get a script, and you see these two words on the cover: "Cocaine Bear." How did you react to that? It's one of those irresistible titles, like "Snakes on a Plane." You simply can't say no to something called "Cocaine Bear."
It is sort of irresistible. [Elizabeth] Banks and I were on the phone talking about a completely other project [with] a very different tone than this one. We finished that conversation, and then the next day, she called me and said, "Do you want to read this thing that I'm directing?" She pitched it to me, and it was so crazy.
It was at the height of COVID, so the whole world was so intense at that moment. I wasn't interested in making anything sad or sentimental because the world was so intense at that point. So when I read this, it was just crazy enough. Then Margo [Martindale] texted me and said, "Are you doing this movie?" I was like, "Are you doing this movie?" So we said yes.
The dark side of Elizabeth Banks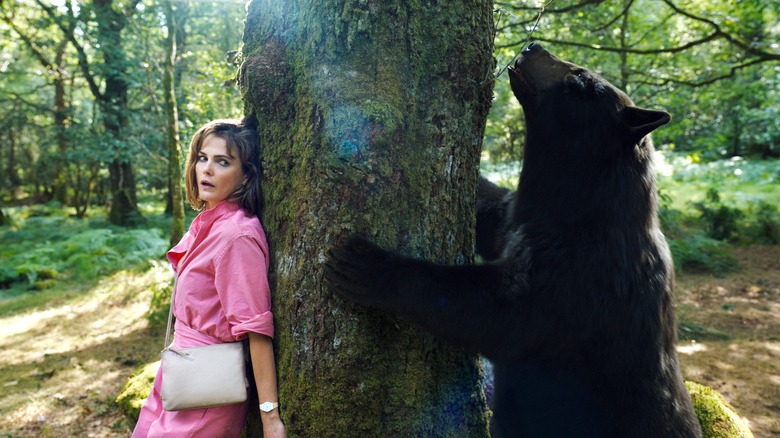 Universal Pictures
At that point, you discovered, "Boy, Elizabeth Banks, she's dark!" She's got a dark side because of all the gore in the film. At least it's funny gore, but it's still gore, isn't it?
Oh, she goes for it. She definitely goes for it. I think that was her mission. I think she had it all [mapped out in her] story. That was her point. She wanted it to really push the [envelope], be so wacky, be so gory that the bear would feel real and ferocious, and I think that's what she got.
You mentioned Margo Martindale. I won't reveal how it plays out, but boy, she had quite a scene in the ambulance.
Quite a scene. Margo, she's like, to me, the best thing in it. Oh my gosh. Margo as Ranger Liz.
Every time she drops the F-bomb, I laugh out loud because she is just that funny. She also did that in "The Watcher" on Netflix, with some MF-ers. It's high comedy to me.
My Welsh guy, Matthew Rhys, he's always like, "No one can MF like Margo Martindale!" It's just the way it goes.
And you must point out that Matthew turns up in this film, too. But I don't want to reveal anything.
And is so good. He is so good in it.
Remembering Ray Liotta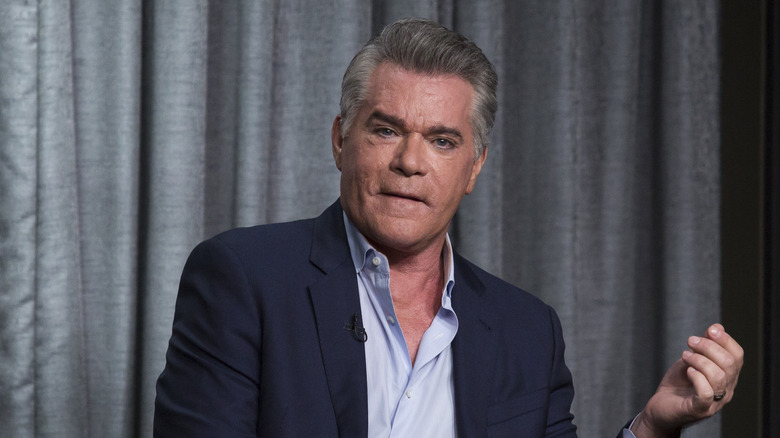 Vincent Sandoval/Getty Images
Sorry to bring things down a couple notches, but I would imagine the release of "Cocaine Bear" is a bittersweet occasion for all involved, with the loss of Ray Liotta, especially for you when you have a pivotal scene with Ray near the end of the film. How emotional is it for you to watch that scene? It tugs at your heartstrings, even though the scene itself is a wacky scene.
It is a wacky scene. He's an amazing, amazing person and actor, and he wasn't old at all. Who knows how the world works and how all that stuff shakes out, but he was amazing, he was kind, and he was hardworking and a pro — everything you'd expect him to be. Liz [Banks] saw him a lot more recently than any of us did because she worked with him for ADR [automated dialogue replacement] on it. But [it was] incredible to get to know him while I could and have those moments with him.
A penchant for killer-animal roles?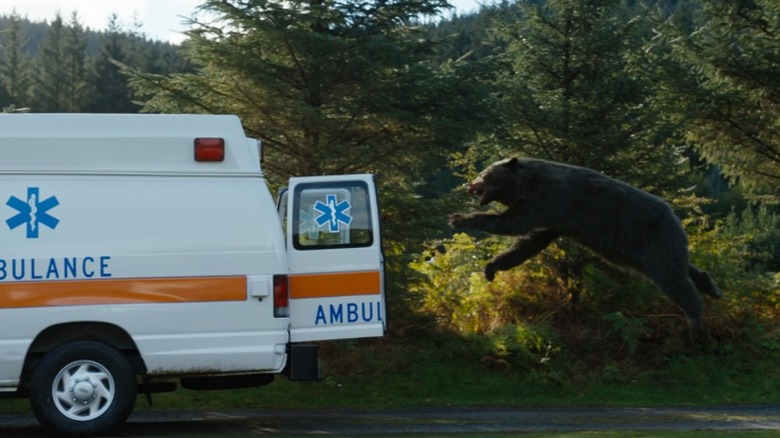 Universal Pictures
We actually talked about 10 years ago for "Dark Skies," and that film included those bat-bleep crazy birds. More recently, you did "Antlers" with that horrifying supernatural beast, and now "Cocaine Bear." So I'm wondering, is Keri Russell subconsciously attracted to films with killer animals?
Yes, I think so. Probably. What's going to be next? Cannibalistic bunnies or something? I don't know. Yeah, probably. That's what's paying these days, I guess!
I'm looking forward to it! I want to go into "Antlers" a little bit because I thought it was such a terrific film. Scott Cooper directed it, and it involved the imaginative Guillermo del Toro. How much of a trip was it being in one of Guillermo's intriguing tales? He has one of the most imaginative minds out there.
He's really special. He's a true artist. He has a wild imagination. ... It was so cool to do it and to take a chance. And Scott Cooper — I had loved "Crazy Heart." Sometimes you got to take a chance, and it doesn't always work, but I feel like that's the fun of this job — getting to meet all these crazy, brilliant minds. It was incredible to do that.
And sometimes meet dark minds like Elizabeth Banks!
She's very funny too. Funny people are dark. But no, she is all sass, bright, fun, smart, and [full of] wit. She has this whole Katherine Hepburn, funny, capable thing going, and I hope this movie does so well for her.
A return to that 'galaxy far, far away'?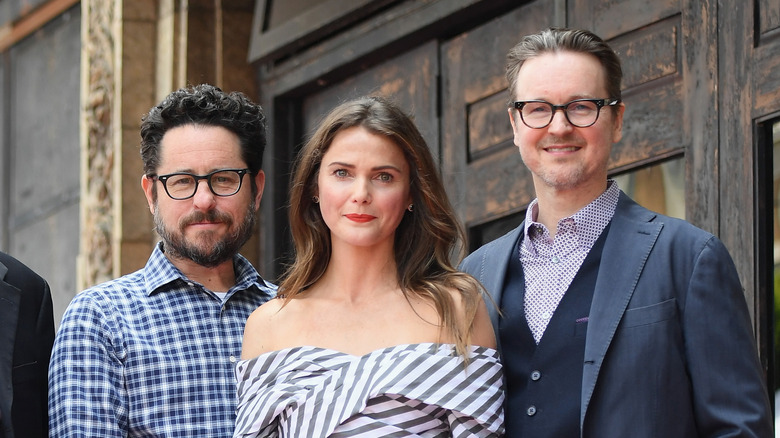 Matt Winkelmeyer/Getty Images
When we talked 10 years ago, you said you'd be willing to roll your hair up into buns in a second and be ready for a "Star Wars" film for J.J. Abrams if he called — and that opportunity came about, and it did without the buns. Would you be game to reprise either Zorii Bliss for another "Star Wars" film or TV show, or what kind of hero or villain role would you like to play?
I loved the part I got to play. I loved my part. I got to play the ultimate [role], a cool girl bounty hunter, with the cool ... It's in the vein of a Mandalorian sort. I loved the character I got to play. It was just the right amount. J.J. was so cool to ask me to do that. It was perfect for me. That was a dream: cool outfit, tough. I lived on the cool planet with the snow and all the bad s*** going on. I loved it. What was not to love?
You also had a role in Matt Reeves' "Dawn of the Planet of the Apes." After "Star Wars" and "Planet of the Apes," Is there another franchise you would like to get involved with at some point?
I did this tiny little movie in London years and years ago called "The Upside of Anger," and Kevin Costner was in it. And I would always say to him, "I want to be in a Western." He's like, "You don't want to be in a Western. The parts for girls — you're either in a whorehouse or you get raped or something." And I was like, "There's other parts!" He's like, "I know, but not right now." So I would love to do a Western with him. That's what I would love to do.
Keri Russell enjoys being stuck in the fabulous '80s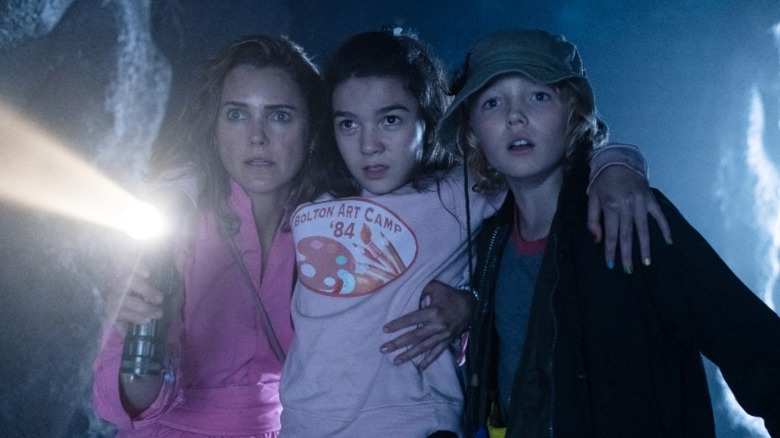 Universal Pictures
It seems like you're very comfortable in the '80s with "Cocaine Bear," and you were in the '80s with "The Americans," too.
Oh my God, I can't get out of the '80s!
Do you think you're subconsciously attracted to projects in that time period? Having lived through it, I know there was definitely a different vibe about that decade.
Oh, definitely ... I must be addicted to shoulder pads and big hair and bushy eyebrows. I'm like, "I think that's the way I look best." Maybe 10 years from now, we'll be obsessed with the '90s and making all shows about the '90s. But I know I'm stuck in the '80s a little bit.
And with that pink jumpsuit, too, in "Cocaine Bear"!
You're not kidding!
"Cocaine Bear," written by Jimmy Warden and also starring Jesse Tyler Ferguson, O'Shea Jackson Jr., Alden Ehrenreich, and Isiah Whitlock Jr., opens in theaters on February 24.
This interview has been edited for clarity.