Solo: A Star Wars Story Tracking For $170 Million Domestic Debut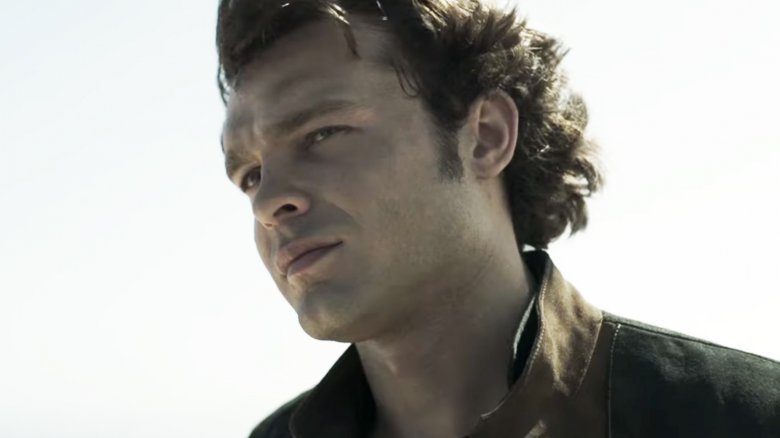 Solo: A Star Wars Story is slated to make a statement at the box office later this month. 
Early tracking projections forecast that Solo will score a $170 million domestic opening when it officially debuts on Friday, May 25 (via Deadline). The standalone film's Memorial Day release could end up being even bigger than that, with estimates indicating Solo has the potential to pull in over $170 million across North American theaters from Friday to Monday.
An important distinction to make is that these projections are from industry insiders rather than the Walt Disney Company executives, so the tracking figure could change in the coming weeks as Disney and Lucasfilm close in on Solo: A Star Wars Story's launch date. 
Sources close to Deadline have noted that the film's tracking is "pretty strong," and that it currently carries an "unaided score of 28" to Rogue One: A Star Wars Story's and Guardians of the Galaxy Vol. 2's scores of 23. (The Star Wars standalone took in $155 million in its first three days out, while the Guardians sequel pulled in $146.5 million.) For those not familiar with industry terminology, unaided awareness represents how much buzz surrounds a movie, particularly among those who aren't prompted in film polling. Suffice to say, Solo is expected to perform quite well. 
Even if numbers fluctuate between the time of writing and when Solo: A Star Wars Story zooms into cinemas, dipping down to, say, $150 million-plus in its opening weekend, it would still sit beat out the top two Memorial Day releases: Disney's Pirates of the Caribbean: At World's End ($139.8 million) and Indiana Jones and the Kingdom of the Crystal Skull ($126.9 million). Unfortunately, the film will face fierce competition come June, when Incredibles 2 and Jurassic World: Fallen Kingdom open wide, so its potential box office reign might be short-lived.
Here's the official synopsis for Solo: A Star Wars Story: "Board the Millennium Falcon and journey to a galaxy far, far away in Solo: A Star Wars Story, an all-new adventure with the most beloved scoundrel in the galaxy. Through a series of daring escapades deep within a dark and dangerous criminal underworld, Han Solo befriends his mighty future copilot Chewbacca and meets the notorious gambler Lando Calrissian, in a journey that will set the course of one of the Star Wars saga's most unlikely heroes."
Directed by Ron Howard, the film features Alden Ehrenreich as Han Solo, Woody Harrelson as Tobias Beckett, Emilia Clarke as Qi'ra, Donald Glover as Lando Calrissian, Thandie Newton as Val, Phoebe Waller-Bridge as L3-37, Joonas Suotamo as Chewbacca, Paul Bettany as Dryden Vos, and Jon Favreau as the voice of Rio Durant. Solo screenwriter Jonathan Kasdan plays Tag Greenley and the film's first assistant director Toby Hefferman portrays Bink Otauna, with Ian Kenny, Warwick Davis, and Clint Howard rounding out the cast in undisclosed roles.
Head to the galaxy far, far away when Solo: A Star Wars Story is released on May 25.