American Gods Season 2 Teaser Announces Start Of Filming With New Showrunner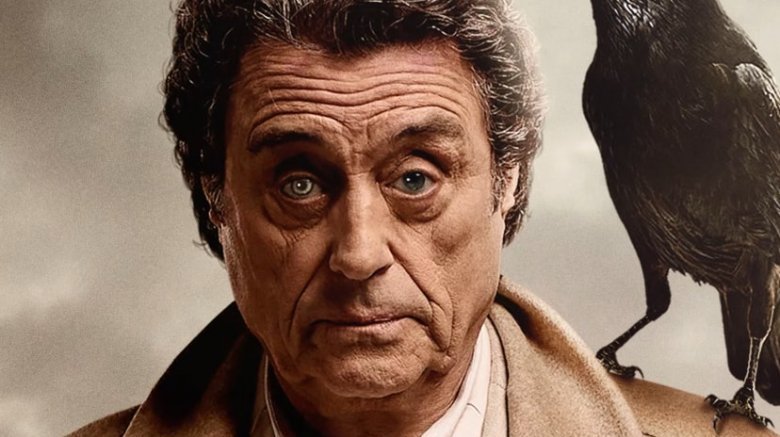 Starz
American Gods has officially kicked off filming on its second season, announcing the start of production through a brand-new teaser. 
First released exclusively to Deadline, the clip gives fans glimpses at the cast as well as hints at what the upcoming season will feel like operating under a new showrunner. 
Original American Gods showrunners Bryan Fuller and Michael Green exited the series in late November 2017, when the on-screen stars and behind-the-camera creatives were already knee-deep in development on season 2. Fuller and Green reportedly requested a hefty budget increase (to be tacked onto the reported $10 million per episode allotment already in place) and clashed with production company FreemantleMedia over it. Network Starz later announced that Jesse Alexander (Alias, Lost) would serve as the new showrunner on American Gods season 2.
And it seems things have gone swimmingly under Alexander's reign. In the teaser, American Gods executive producer Neil Gaiman, who wrote the award-winning mythological novel upon which the series is based, introduces viewers to the famed House on the Rock — the Wisconsin tourist attraction hinted at in the first season of the show that plays a major part in the narrative featuring Ian McShane's Mr. Wednesday and Ricky Whittle's Shadow Moon.
"The first season was all about getting to the House on the Rock," Gaiman notes in the teaser. "It's amazing to see everyone back, and to be entering the next stage of the story with the best bunch of actors around, along with some inspired filmmakers." 
Gaiman later took to Twitter to express his excitement about getting started on the new season: "Me? What am I doing? Oh, just hanging out with gods and mortals at the House on the Rock. Why, yes, that is the Biggest Carousel in the World. Nothing special. (YES, IT WAS AMAZING. YES, IT WAS AS AMAZING AS YOU WOULD THINK.)"
Take a look at the teaser, plus an extra-special cast photo, at bottom of this article.
Chris Byrne (Hannibal, Star Trek Discovery) directs the first installment of the eight-episode second season of American Gods. Returning cast members include Orlando Jones (Sleepy Hallow) as Mr. Nancy, Yetide Badaki (Aquarius) as Bilquis, Bruce Langley (Deadly Waters) as Technical Boy, Crispin Glover (Back to the Future) as Mr. World, Emily Browning (Sucker Punch) as both Laura Moon and Essie MacGowan, Pablo Schreiber (Orange Is the New Black) as Mad Sweeney, Mousa Kraish (Superbad) as The Jinn, Omid Abtahi (Argo) as Salim, Cloris Leachman (Raising Hope) as Zorya Vechernyaya, Peter Stormare (Fargo) as Czernobog, Chris Obi (Snow White and the Huntsman) as Anubis, and Demore Barnes (Waco) as Mr. Ibis. Gillian Anderson, who played the New Goddess Media, will unfortunately not be making a comeback for the second season. 
Enter the House on the Rock when American Gods season 2 returns to Starz in 2019.
Prepare for war. #AmericanGods Season 2 is coming to @STARZ in 2019. pic.twitter.com/AiAfbcVaL1

— American Gods (@AmericanGodsSTZ) April 30, 2018