Why Mr. Wednesday From American Gods Looks So Familiar
If you just started watching the hot new Starz fantasy drama American Gods, you may have been left scratching your head about where you've seen main character "Mr. Wednesday" before. The mysterious man who is much more than he seems is played by Ian McShane, a veteran actor with a distinguished filmography stretching back to the 1960s. To help put a name to the face, we've made a list of some of McShane's most famous roles from over the years, from Wuthering Heights to Game of Thrones.
Wuthering Heights (1967)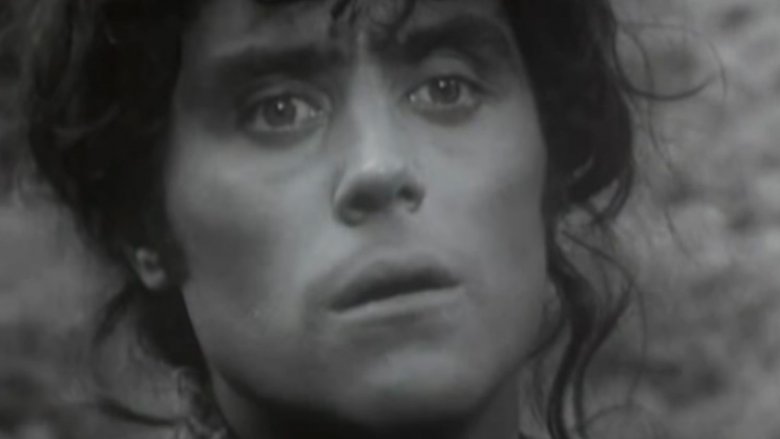 In one of his earliest roles, McShane appeared in the 1967 BBC miniseries adaptation of Emily Bronte's Wuthering Heights, in the main role of Heathcliff. He starred opposite Angela Scoular, who plays the role of his doomed love Catherine Earnshaw with particularly deranged intensity. The young McShane offers everything you could hope for in a Heathcliff—wild-eyed and rugged handsomeness, and a convincing performance as the man who brings misery to everyone around him with his hellbent course of revenge.
Roots (1977)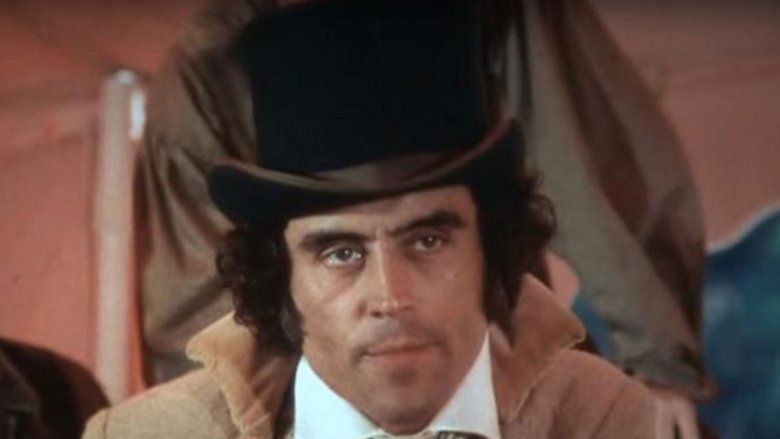 In the epic television miniseries based on Alex Haley's 1976 novel, McShane made an appearance in part five of Roots as wealthy Englishman and cockfighting aficionado Sir Eric Russell. When main character George's owner bets a large amount of money against Russell in a match—and loses—he's forced to make an arrangement with Russell and George that will eventually give George his freedom. George travels to England for a couple of years to work for Russell, training his fighting cocks and his staff, and when he returns to America, he returns as a free man.
Lovejoy (1986–1994)
McShane rose to prominence in the late '80s and early '90s, largely thanks to his role as the title character on the British comedy/mystery series Lovejoy. In the quirky series, Lovejoy is a roguish and intelligent antiques dealer who's constantly roped into solving various mysteries in the course of his daily business. From tracking down ancient treasures to foiling the plots of criminals, Lovejoy did it all—usually while making a tidy bundle of money to boot. After Lovejoy premiered in 1986, it only lasted one season. However, the character proved popular among fans, and the BBC brought Lovejoy back in 1991 for an additional five seasons.
Dallas (1989)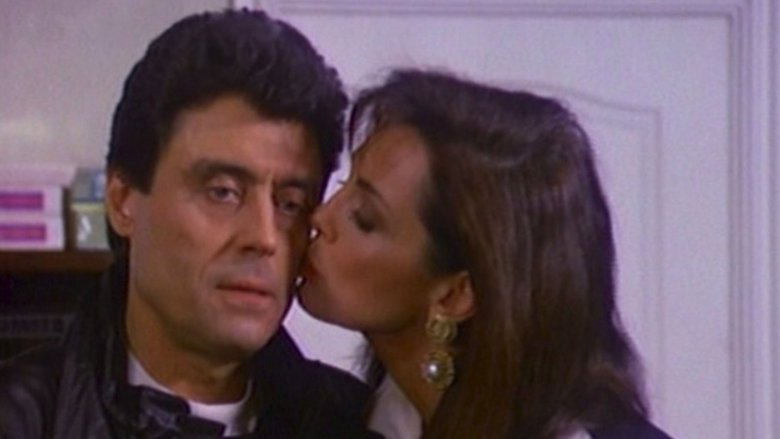 In the classic primetime soap opera Dallas, the tumultuous relationship of J.R. Ewing (Larry Hagman) and his wife Sue Ellen (Linda Gray) played a large role in the overall drama of the series throughout its run. This was especially true during the final years of the show, when Sue Ellen and J.R. divorced for the second time, and Sue Ellen set out to make a movie exposing J.R. to get revenge. She hired screenwriter Don Lockwood (McShane), and the pair fall in love while working together on the film. Eventually Lockwood and Sue Ellen married, and she moved away to live a better life with him in London—although as any soap lover knows, characters never seem to stay happy for long.
Babylon 5: River of Souls (1999)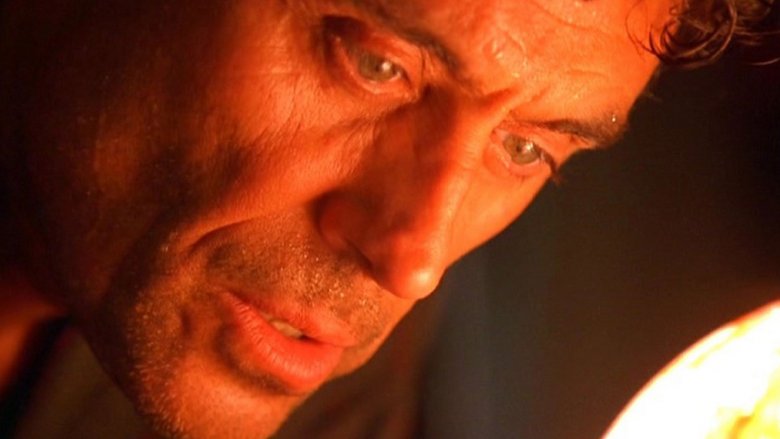 In 1999, McShane made an appearance in the made-for-TV movie Babylon 5: River of Souls, made to fill the gap between the fifth season of Babylon 5 and the first season of the spinoff series Crusade. In the movie, McShane plays the role of Dr. Robert Bryson, who works for Edgars Industries on one of its many black projects—namely research into extending human life with the use of technology employed by the extremely long-lived Soul Hunters.
Voice roles
Like many other prominent actors, McShane has dabbled in voice acting, providing his characteristic gravelly voice to a variety of roles, including Captain Hook in Shrek the Third, Tai Lung in Kung Fu Panda, Mr. Bobinsky in Coraline, and Ragnar Sturlusson in The Golden Compass. In case there was any question of whether McShane has an amazing voice, just check out this video from GQ, which features him giving dramatic readings of the descriptions for a luxury line of scented candles.
Deadwood (2004-2006)
From 2004 to 2006, McShane starred in the hit HBO drama Deadwood as the powerful and influential Al Swearengen, who uses his position as the owner of The Gem Saloon to exert his control over the town. Murderous and violent, Swearengen will stop at nothing to get his way and increase his power. Although the real Al Swearengen was born in Iowa before relocating to Deadwood, for the series, the show creators decided to make the character English like McShane—earning Swearengen the nickname "the slimy Limey" in the series. For his portrayal of Swearengen, McShane won a Golden Globe award and was nominated for both an Emmy and a SAG award in 2005.
Kings (2009)
In 2009, McShane appeared as King Silas Benjamin in the NBC drama series Kings. The show is loosely based on the biblical tale of King David, but set in a fictional country which resembles modern-day America. As the lead character in Kings, McShane earned critical acclaim; as television critic Gordon Haber put it, "whenever Kings seems to falter, McShane appears to put bite marks all over the scenery." Despite the positive critical reaction to the series, it only lasted a single season before the network pulled it—leaving fans wishing for more of McShane's machiavellian antics as Silas.
The Pillars of the Earth (2010)
When Ken Follett's best-selling novel The Pillars of the Earth was adapted as a television miniseries in 2010, McShane was tapped to play the role of Bishop Waleran Bigod, an ambitious and corrupt religious official who isn't content with the considerable power he already wields. You might also spot Eddie Redmayne from Fantastic Beasts and Where to Find Them in The Pillars of the Earth; he plays the apprentice builder Jack. While many changes were made for the TV series, one thing stayed the same—Waleran's hunger for power and the lengthy machinations he'd employ in order to get his way. McShane's portrayal of the corrupt Bishop earned him another Golden Globe nomination in 2011.
Pirates of the Caribbean: On Stranger Tides (2011)
In 2011, McShane landed a lead role in the fourth installment of the popular Pirates of the Caribbean film franchise, On Stranger Tides. In the film, McShane plays the famous pirate Blackbeard, who comes into conflict with Captain Jack Sparrow (Johnny Depp) when they both attempt to discover the location of the famed "Fountain of Youth," which can supposedly add years to the life of anyone who drinks from it—at a price. According to Tides director Rob Marshall, he knew that McShane was perfect for the part because "he can play something evil, but there's always humor behind it as well. He just has his own fresh take on things."
American Horror Story: Asylum (2012)
In the FX horror anthology series American Horror Story, McShane appeared in two episodes of the second season, subtitled Asylum. In the season, McShane plays Leigh Emerson—the real definition of a "Bad Santa." At one time just a petty thief, Emerson went mad from his experiences in prison and later went on a killing spree, murdering 18 people in one night—a spree which eventually lands him at the Briarcliff Manor mental institution. That isn't the end of Emerson's story, however—McShane brings Emerson's psychopathic tendencies to bear in a truly amazing showdown with both Sister Jude (Jessica Lange) and Monsignor Timothy Howard (Joseph Fiennes).
Jack the Giant Slayer (2013)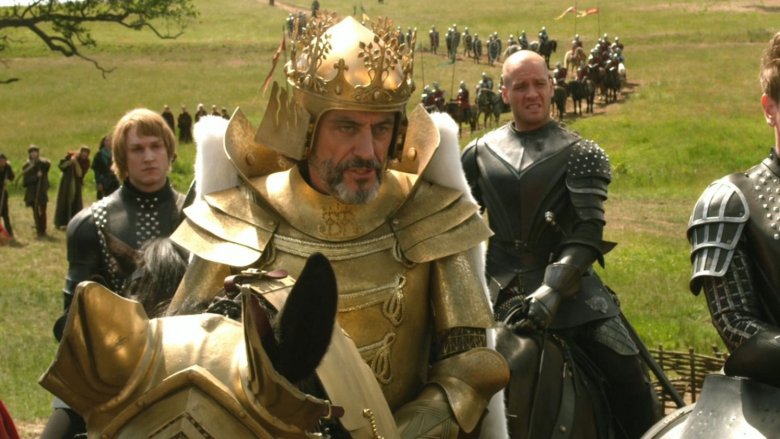 In this reimagining of the classic fairy tales "Jack the Giant Killer" and "Jack and the Beanstalk," Ian McShane plays King Brahmwell, who wants his daughter to marry his advisor, Lord Roderick. When the Princess Isabelle is kidnapped by giants, King Brahmwell sends his finest knights along with Roderick and Jack on a mission to rescue her from their realm. If you're familiar with the fairy tale, you probably know this story has a happy ending—Jack gets a magical crown, rescues Isabelle, and eventually marries her with King Brahmwell's blessing.
Game of Thrones (2016)
In 2016, McShane returned to HBO as "Ray" (Septon Meribald) in the hit fantasy series Game of Thrones. Ray leads a group of humble riverlanders building a Sept in the country, and appears to be well on his way to rehabilitating the Hound (Rory McCann) from his horrible past, but as usual on Game of Thrones, just as things seem to be going well, something comes along to ruin it all. In this case, disaster arrives in the form of some rogue members of the Brotherhood Without Banners, who murder Ray and the others, leading the Hound to return to his violent ways.