Anya Chalotra And Eamon Farren Filled The Witcher's Set With Laughter At All Times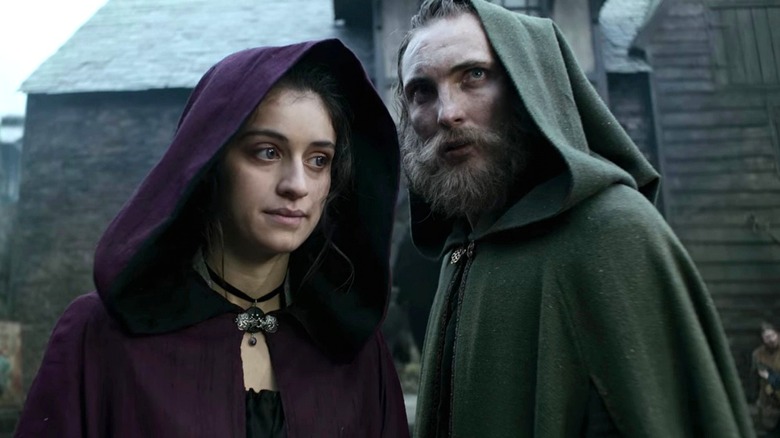 Netflix
When you're an actor working on a project, whatever it may be, it is important to have a good and considerate relationship with your co-stars. The tiniest details can get picked up by the cameras and translate to the screen, and that includes the invisible but palpable chemistry between actors. Therefore, the better the actors get along, the more their scenes together will feel organic and believable.
It is apparent from interviews that, generally speaking, the cast of Netflix's "The Witcher" is friendly with one another and share mutual respect. During Season 2, some cast members got to interact with others they didn't have the opportunity to in the first season. Freya Allan's Princess Cirilla and Henry Cavill's Geralt of Rivia, for instance, who had a very brief meeting scene in Season 1's finale, got to interact more on the screen and develop a sort of parent/child relationship during the second season. Another example can be found in the unlikely duo formed by Anya Chalotra's Yennefer of Vengerberg and Eamon Farren's the Black Knight Cahir, both of whom are impelled by their sticky circumstances to go on the run together and strive to evade pursuers.
A friendship on and off-set
In an interview with The Face, Chalotra was asked who she had the most fun with on set. Some fans may understandably think of Joey Batey, who plays the naturally funny bard Jaskier, and with whom Chalotra had some pretty hilarious improv moments like the "Oh valley of p****" scene back in the first season.
However, Chalotra had another co-star in mind. In her words: "I had a whale of a time with Eamon [...], one of my closest friends on- and off-set. I just loved it. We care and look out for each other. We both come from the theatre, which is really helpful – it's just so fun. We're always aiming to get the best possible scene out of one another, without taking ourselves too seriously. When you find that kind of bond with someone, you don't want to let it go. It's so exciting."
The cast of the fantasy-adventure TV series have a special bond between them, that, Chalotra told Glamour, was strengthened thanks to COVID and "the anxiety that everyone had with their families" which connected them all. "We all stepped up our game to support each other. We will remember that forever," the actress added.
Unfortunately, "The Witcher" cast will be suffering a major change with Cavill's exit after Season 3. However, we can count on the already-established relationships between the other cast members to serve as the glue that will hopefully hold the series together in future seasons.
It has still not been confirmed when Season 3 of "The Witcher" will come out, but the clues that have been sown by cast and crew members point towards the late Summer or early Autumn of 2023.