Fast & Furious Fans Can't Help But Notice Dwayne Johnson's Absence In The Fast X Trailer
On February 10, the first trailer for the 10th "Fast & Furious" franchise film, titled "Fast X," hit the internet, sparking plenty of excitement among the series' ever-growing fanbase. "Fast" movies are big by their very nature, but there are a few reasons to believe that "Fast X" will be the franchise's biggest entry yet, including this first trailer's runtime clocking in at roughly three-and-a-half minutes in total.
Perhaps the clearest indicator of the considerable scale of "Fast X" is its out of control budget. Midway through its production, news broke that "Fast X" had already cost producers $340 million, beating out the budget of the previous film by $140 million. One of the key contributors to this outsized amount of money is its cast, which includes marquee names like Vin Diesel, Michelle Rodriguez, John Cena, Brie Larson, and Jason Momoa, among plenty of others. Two fan favorites are also returning to "Fast X": Charlize Theron and Sung Kang, who portray 2017 addition Cipher and longtime series staple Han Lue respectively.
Absent from the cast of "Fast X" is Dwayne "The Rock" Johnson, whose character Luke Hobbs joined the team in "Fast Five," before eventually separating from the mainline series for spinoff "Fast & Furious Presents: Hobbs & Shaw." While Johnson's unique trajectory through the franchise is well-documented, some fans are nevertheless noting his absence from the first "Fast X" trailer.
Fast fans want Hobbs back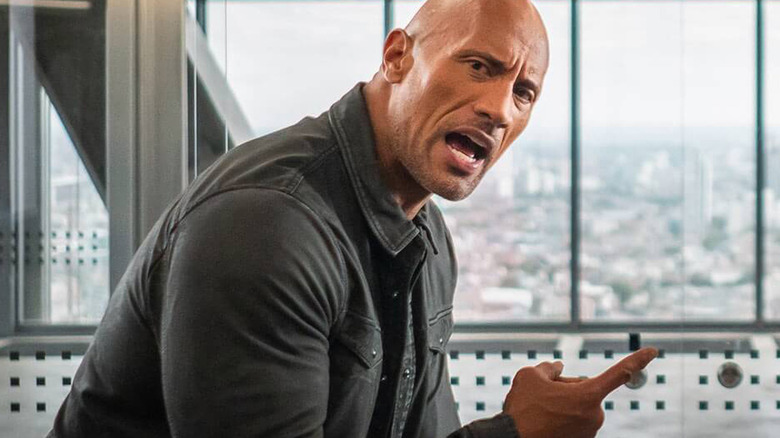 Universal Pictures
On YouTube, plenty of commenters responded to the "Fast X" trailer with excitement about its expansive cast featuring nearly every big name from the franchise's history. However, some users, like Vylkeer, argued that only with the addition of Dwayne "The Rock" Johnson could its cast truly be comprehensive. Similarly, user Vishal Bavne wrote, "Family incomplete without The Rock."
In a Reddit discussion thread about the trailer, a few commenters also described Johnson's absence as a detriment to an otherwise promising preview for the film. For instance, user Calfzilla2000 wrote, "This looks great but it's missing something without Dwayne, IMO." User SKTT1Nimmo then replied that Johnson's Luke Hobbs seems to be the only major character that's not a part of the "Fast X" cast.
Plenty of Twitter users are discussing the lack of Johnson in "Fast X" as well. One user with Johnson in their avatar, for example, shared that they feel the inclusion of Jason Statham's Deckard Shaw makes Johnson's absence particularly unusual. User @niklander2 even argued that Hobbs should appear in "Fast X" for plot reasons, given that he had a hand in killing Jason Momoa's character Dante's father.
Dwayne Johnson is done with the Fast films
By now, Dwayne "The Rock" Johnson's reasons for exiting the mainline "Fast" franchise are well-known among fans of the series. A July 2021 profile of Johnson in The Hollywood Reporter, for example, recounts how Diesel claimed the discord between the two actors resulted from his attempts at eliciting a stronger performance from Johnson. "I laughed and I laughed hard. I think everyone had a laugh at that," the former pro wrestling star told THR. "I wish them the best of luck on 'Fast 10' and 'Fast 11' and the rest of the 'Fast & Furious' movies they do that will be without me."
Then, as recently as November of 2021, Diesel introduced a new complication to his feud with Johnson when he praised his former co-star and encouraged him to join "Fast X" anew. In response, Johnson shared that he felt manipulated, particularly by the fact that Diesel invoked both his children and the memory of Paul Walker (via Billboard). Johnson also revealed that he had privately communicated to Diesel his desire to separate himself from the "Fast" franchise in no uncertain terms a few months prior.
From the sound of it, then, Diesel agrees with fans who have argued that "Fast X" is incomplete without Johnson. Meanwhile, Johnson appears to remain committed to separating himself from the "Fast" films and Diesel in particular for as long as the series continues.