Fast-Ten Your Seatbelts, The First Trailer For Fast X Has Arrived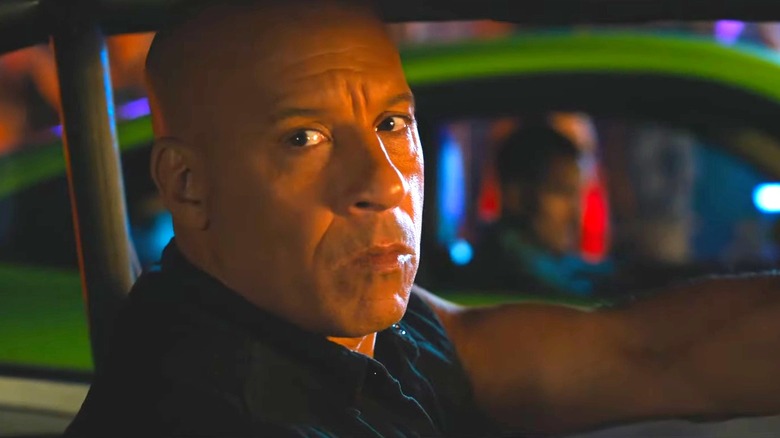 Universal Pictures
Cue "Danza Kuduro" because Universal Pictures just dropped the first trailer for "Fast X" just before Super Bowl LVII. "Fast10 Your Seatbelts" — just kidding, that's not real — sees Dominic Toretto (Vin Diesel) leading his team of loyal followers (ahem, family members) against Cipher (Charlize Theron), who got away from the group at the end of "F9."
The Dwayne Johnson-less film is adding new faces to the ten-quel, including some of entertainment's biggest superhero stars. Jason Momoa is now officially a part of the "Fast" franchise, something he fits in with especially well. Brie Larson is also in the upcoming flick, as is "The Suicide Squad" standout Daniela Melchior. Momoa has admitted he's playing a bad guy in the film, but the details of all three roles are being kept close to the vest. We do get a sense of what's going to happen from the new trailer, which promises to be another heist-action flick that really has nothing to do with cars.
The Fast X trailer delivers on the A-lister hype
"Fast X" is the penultimate movie in the "Fast and Furious" saga, and the franchise is kicking its farewell tour off the right way based on the amazing trailer. Fans who were worried about Louis Letterier helming "Fast X" needn't worry, as all of the action, espionage, and family values these movies are synonymous with are present and accounted for.
We got good glimpses of Cipher, Dom, Roman (Tyrese Gibson), Tej (Chris "Ludacris" Bridges), Letty (Michelle Rodriguez), Mia (Jordana Brewster), and Han (Sung Kang) in the trailer, and we're happy to see the whole gang behind the wheel once again. It looks like Momoa's character has beef with Dom and his crew, which appears to have started during the events of "Fast Five," thanks to flashbacks of Momoa during the vault heist. There's still no clarity on Brie Larson's character, but she does make a brief appearance in the trailer. John Cena is also back as Jakob Torretto, and it looks like the brothers are on good terms.
"Fast X" will speed into theaters on May 19, 2023.