The Snyderverse Had To Die, But We're Going To Miss It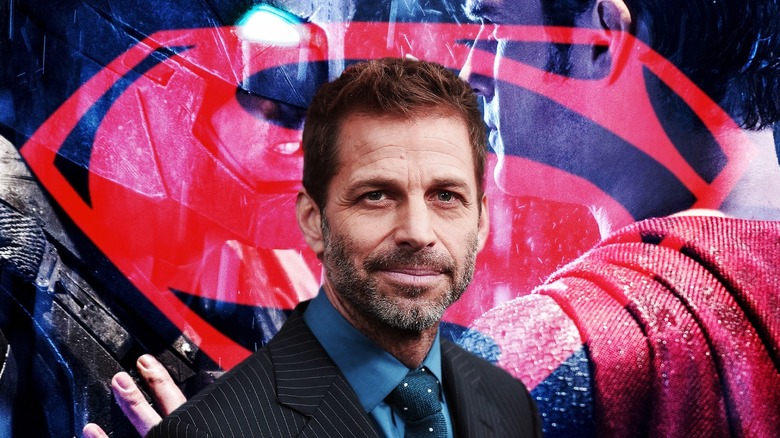 Static Media, Getty
With James Gunn's rebooted DC Universe fast on its way, the DC Extended Universe -– aka the Snyderverse -– is on its last legs. It's no wonder that Gunn wanted a clean slate, either. With its incredibly uneven output, multiple versions of "Justice League," Henry Cavill's revolving door status as Superman, and Michael Keaton's confusing return as Batman in the beleaguered "The Flash," the DCEU was starting to be ... a lot. We completely understand Gunn and Peter Safran's decision to flip the table and set the room on fire, is what we're saying. The Snyderverse canon has long since buckled under its own weight, and the whole thing has mutated into a hundred-headed beast that has no business in the land of the living.
That being said, there was plenty of good in the DCEU, as well. Though it may be easier to remember the incoherent mess that the DC movie universe ultimately became, there's no denying that it was a bold experiment that did lots of things very well. As we wait for its last movies to drop so it can give way to the new DCU, let's take a look at both sides of the complex legacy of Snyderverse –- the live action superhero universe that we loved to hate and hated to love.
The Snyderverse explores how Superman and Batman would work in a realistic world (and ruins this great idea with weird creative decisions)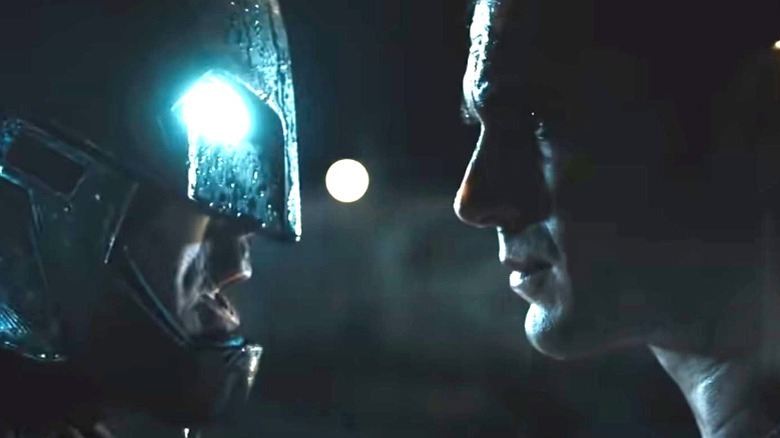 Warner Bros. Pictures/DC Entertainment
Henry Cavill's Superman is great, no notes. Ben Affleck's Batman radiates experience and skill, and is the only live-action incarnation so far who can believably hang with the Justice League's more powerful members. These are both good, memorable things. Now, if only the Snyderverse would have bothered to give either of them a good story that befits the character. Just one little good story, for good fans who (at least at the early stages of the DCEU) mostly behaved themselves. Surely, that's not too much to ask.
As history has proved, it absolutely was too much to ask. In his very first outing, the DCEU Superman straight up murders a guy, and causes immeasurable human suffering and property damage. In "Batman v Superman: Dawn of Justice," Batman — who has every right to be mad at Superman after the latter demolished a city — proves to be just as violent, and the hard-hitting confrontation between the two devolves into ... well, you've seen the Martha memes, right?
"Man of Steel" and "Dawn of Justice" explore how the world would react to a powerful, dangerous superhero. On paper, it's a pretty cool and realistic take, especially compared to the lighthearted way the Marvel Cinematic Universe treated the subject until "Captain America: Civil War" or thereabouts. However, the execution is ham-fisted, to say the least. After introducing two of the biggest DC players in the Snyderverse in such a swing-and-miss fashion, it doesn't really matter how the world around them reacts, and how well Cavill and Affleck do their job. 
At the end of the day, Superman needs to be the ultimate hero, and it's kind of hard to look up to him when he's a legitimate, demonstrable threat to humanity. Gruff and grimdark as this Batman may be, good luck stifling that chuckle when you remember that the man melts into a puddle at the merest mention of mommy. Is it any wonder that Affleck traded the cape and cowl for making movies about Air Jordans?
The Snyderverse gives us the perfect Wonder Woman and the definitive Harley Quinn (and undermines them with demeaning plotlines)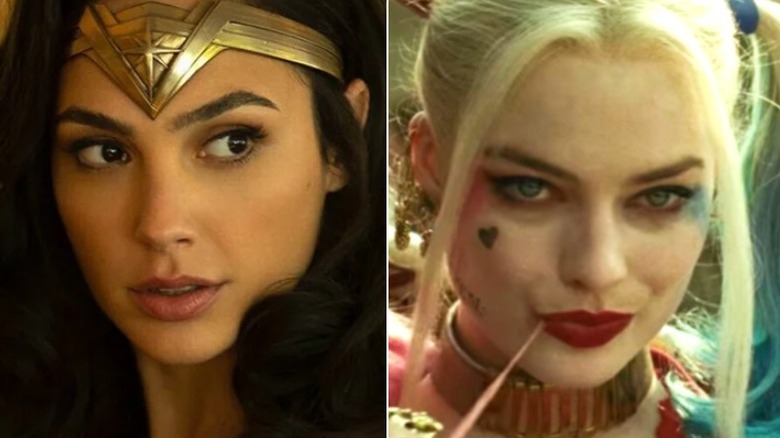 Warner Bros. Pictures/DC Entertainment
Much like Cavill's Batman and Affleck's Superman, Gal Gadot is objectively aces as Wonder Woman. Not only does she look the part, but she manages to convey the kindness, honor, and integrity that are so central to the character. She's also deft at injecting a touch of much-needed humor in order to keep Diana from being too stuffy. The moment she enters the final battle in full Wonder Woman gear is the best scene in "Batman v Superman: Dawn of Justice," and her first solo movie is easily the finest DCEU movie to date. Likewise, Margot Robbie is the perfect Harley Quinn, embodying the chaotic character in a way that's consistently among the best things in any project she appears in — such as "Birds of Prey" and James Gunn's "The Suicide Squad."
Both of these characters are unique, compelling, and skillfully acted ... so, of course the DCEU managed to shoot itself in the foot by sticking them in some of its most embarrassing movies, doing embarrassing things. Wonder Woman's turkey is "Wonder Woman 1984," a sequel that wastes its stellar cast in a plot that revolves around very un-Wonder Woman-y things like envy between women, and the way Diana's greatest wish in the world is a man. Likewise, Harley Quinn spends the entire first "Suicide Squad" longing for Jared Leto's Joker. Sure, that's part of her origin story in the comics, but – Jared Leto's Joker!
It's extremely commendable that the DCEU gave us two of the strongest, most independent female superheroes in live-action movies, and both characters will go down in history as such. Even so, it's extremely DCEU that they still had to spend an embarrassing portion of their screen time pining after a pair of clearly inferior dudes.
The Snyderverse gave Aquaman a much-needed makeover (but unleashed a bland Black Adam upon us)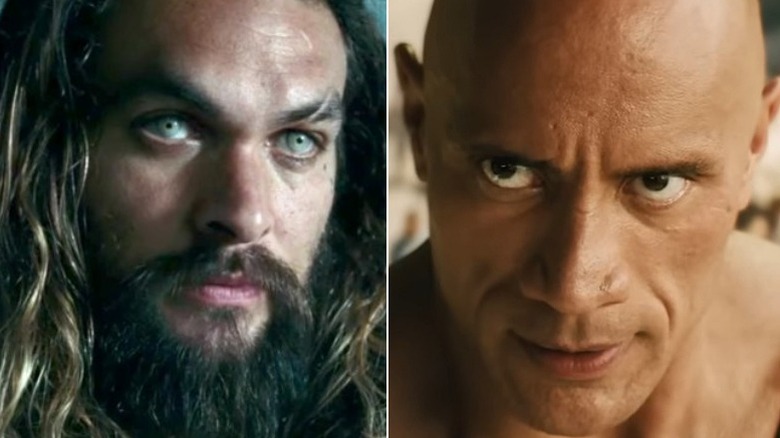 Warner Bros. Pictures/DC Entertainment
The subject of superhero hunks is a very hit-and-miss one for the DCEU, as they have one notorious instance of getting it extremely right, and another where years-long hype fell flat on its behind. You might be able to guess which of those categories Jason Momoa's Aquaman and Dwayne Johnson's Black Adam fall in.
Back in the day, Aquaman used to be the butt of every superhero joke — the kind of profoundly useless character Chace Crawford's The Deep parodies in "The Boys." Then, along came Momoa, with his hulking physique, smoldering looks, and an ever-present smirk that allows him to get away with both and still seem likable. He looks nothing like the classic version of the character, but went on to redefine Aquaman as a complete and utter badass in what must be the biggest, boldest, most successful makeover the DCEU gave to a character. His solo movie is a fun adventure, and he's great in every project he's in. With "Aquaman and the Lost Kingdom" hitting theaters in December 2023, we'll still get to see the character in action at least once. Fortunately, there's plenty of chatter about Momoa staying in Gunn's DCU, so this is one good DCEU thing that may yet be salvaged.
Moving on to less salvageable matters. Black Adam used to be an intense, powerful antihero-slash-supervillain who can and will wreck anyone who comes between him and his. Then, along came Johnson, with his hulking physique, smoldering looks, and an ever-present smirk that allows him to get away with both and still seem likable. What he gave us was ... a cool Doctor Fate (Pierce Brosnan), we guess? Johnson's Black Adam is essentially just a scowling Dwayne Johnson in a black supersuit, which is cool if that's what you're into, but hardly a character that redefines cinema — or, for that matter, changes the hierarchy of power in the DC Universe. Combine this with Johnson's attempted DC takeover that rubbed a bunch of people the wrong way, and his Black Adam isn't likely to stick around after the reboot.
The Snyderverse gave us cleverly reimagined villains (who are memorable for all the wrong reasons)
Warner Bros. Pictures/DC Entertainment
If a movie is just as good as its villain, it's a wonder that the Snyderverse lasted as long as it did. Sure, a few DCEU movies feature memorable antagonists played by capable actors, but almost all of them are remembered for the exact wrong reasons. Michael Shannon's General Zod is a legitimate and terrible threat, but also instrumental in the biggest character-breaking moment in the Snyderverse when Superman is forced to kill him in "The Man of Steel." Ares is precisely as chilling as David Thewlis in full villain mode can be, right up until the point where he becomes a generic CGI monster that still inexplicably retains Thewlis' goofy mustache. 
Then there's the less memorable tier of folks like Dr. Sivana (Mark Strong) and King Orm (Patrick Wilson), who are ... certainly present in their movies. Of course, there's also the third category, but please don't force us to discuss Jared Leto's emo Joker and Jesse Eisenberg's manic take on Lex Luthor. We know, we all know where those two rank in the grand scheme of things.
Sure, there are exceptions. Ewan McGregor consumes scenery by the truckload in a wonderful turn as Roman "Black Mask" Sionis in "Birds of Prey." Yahya Abdul-Mateen II does the impossible task of making the goofy-looking Manta work in live action, and Kristen Wiig and Pedro Pascal do what they can with what they're given in "Wonder Woman 1984." Still, the vast majority of DCEU villains are either utterly forgettable, or so cringeworthy that you may find yourself actively trying to forget them.
The Snyderverse gave us amazing drama (but it was mostly behind the scenes)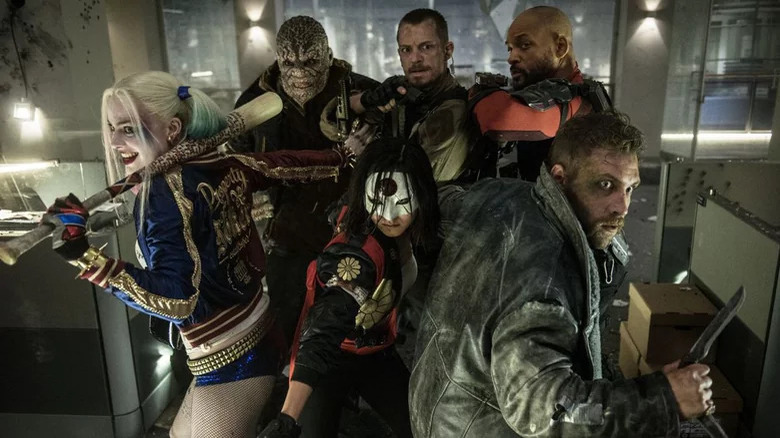 Warner Bros. Pictures/DC Entertainment
That's not to say that the Snyderverse hasn't had noteworthy antagonists, though. It's just that the biggest drama has just always taken place have just happened to take place behind the scenes, and the DCEU's biggest enemy has invariably been the DCEU. All of that vast potential we've discussed, and the way Snyderverse has consistently kept pulling the rug from under itself? It's because at the end of the day, the DCEU really had the making of something really great, but a lack of clear direction behind the scenes undermined the effort. 
There's a frankly absurd amount of reasons why the DC Extended Universe has been struggling, from corporate shenanigans to the aforementioned focus issues and behind-the-scenes tension. Gal Gadot and Cyborg actor Ray Fisher have criticized "Justice League" director Joss Whedon for abusive on-set behavior (which Whedon himself denies). The "Release the Snyder Cut" movement famously bullied Warner Bros. into coughing up a spare $70 million for a superlong, extra-gritty Zack Snyder version of "Justice League," thus further muddying the waters around what, exactly, is going on in the DCEU. And that's not even going into Ezra Miller's history of incidents, problems with the law, and allegations, or Dwayne Johnson's behind-the-scenes dealings during his Black Adam era. To the outside observer, it's sometimes seemed like the DCEU operates like every episode of "Succession" rolled in one. This might seem kind of fascinating, right up until you find out that the end result is a yawn-a-minute Will Smith-a-thon with a 26 percent rating on Rotten Tomatoes. 
Now that the Snyderverse is finally coming to an end, it'll be interesting to see how it holds up under history's unforgiving eye. Perhaps some of its currently underwhelming parts will even be viewed far more affectionately in the future. Still, regardless of what happens, even if all the bad things about the DCEU will deservedly sink into obscurity, the good things will likely last in the hearts and minds of fans. It may not have been a particularly great run, Snyderverse, but it was definitely a fascinating and ambitious one.