An MLB Star Had To Be Written Out Of A Seinfeld Episode Due To Bad Publicity
"Seinfeld" has plenty of hilarious players in its lineup. Whether they are part of the starting squad or frequently recurring off the bench, there is no shortage of hilarious contenders occupying the ranks of the show's team. But a number of guest stars also contributed to the NBC comedy's championship run, including several MLB players, with one big name having to be ejected due to problems off the field.
When it comes to cameos, almost every sitcom has been known to partake in the practice of bringing famous people into the fold to shake things up a bit. "Seinfeld" was no exception, as it wasn't afraid to invite an abundance of Hollywood stars, music artists, and talented athletes into its hilarious narratives in a number of different episodes. And it didn't stop there. Even celebrities have made their presence known on the show early in their career, such as fan-favorite appearances from James Spader, Courteney Cox, and Jennifer Coolidge. But not everyone can make the cut concerning cameos on "Seinfeld," and sometimes those that were chosen were forced to miss out on the opportunity of becoming a part of the Emmy-winning comedy powerhouse's legacy.
It's no secret that "Seinfeld," like most shows, had endured plenty of ups and downs throughout the years, and sometimes controversy would force them to make necessary adjustments. This was the situation regarding a certain well-known baseball player losing his spot on the roster for one of the show's entries.
The Straw Man didn't make the cut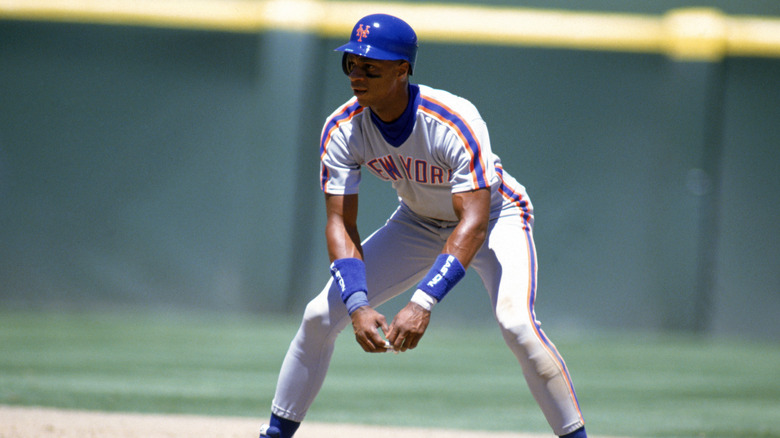 Bernstein Associates/Getty Images
The "Seinfeld" episode "The Boyfriend" features the infamous scene with the parody of Oliver Stone's 1991 movie "JFK" where the characters discuss an incident involving a physics-defying loogie, a disgruntled MLB player in Keith Hernandez, and a possible second spitter. And it turns out there was another MLB star that was almost called up to play in the entry. "When I saw the script about who the second spitter would be, they originally wanted to use Darryl Strawberry," Keith Hernandez revealed in the behind-the-scenes featurette from Season 3 (via YouTube). "But Darryl had some series of bad publicity. And I said are you sure you want to have Darryl do this? Ya know, Darryl's a good friend. I don't think it's the Right time for Darryl to be someone spitting on fans."
While Darryl Strawberry undoubtedly had an impressive baseball career, it isn't surprising he would get written out of "Seinfeld" over bad press. The athlete has not been a stranger to participating in controversial endeavors as his past includes incidents including alcohol and drug abuse, domestic violence arrests, indictments for tax evasion, and solicitation (via ESPN). And the scandals weren't limited to off the field, with one example firmly indicating Hernandez and Strawberry's relationship wasn't always friendly. In spring training in 1989, a frustrated Strawberry punched Hernandez before everyone jumped in to break up the fight.
Strawberry may have missed out, but several other players have been a part of the "Seinfeld" phenomena, like Derek Jeter and Danny Tartabull. Some even impressed Jerry Seinfeld with their acting ability, like Paul O'Neill. And Strawberry wasn't the only big name who didn't make the cut, as Yankees owner George Steinbrenner shot footage for the show that was never used.