The MLB Legend Whose Cameo Was Cut From Seinfeld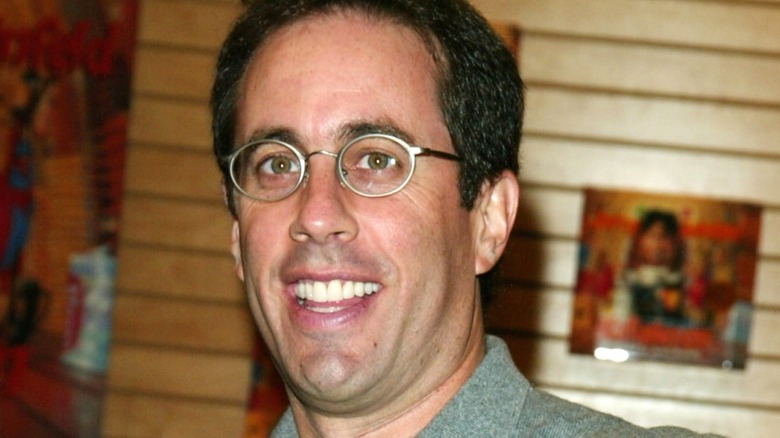 Evan Agostini/Getty
Even though "Seinfeld" might have been "a show about nothing," it definitely had an affinity for baseball. Throughout the sitcom's nine-season run between 1989 and 1998, several episodes involved baseball, or had cameos from actual Major League Baseball players. George Costanza (Jason Alexander) famously got a job as Assistant to the Traveling Secretary for the New York Yankees in Season 5, which led to several current and former Yankees players making appearances.
Outfielder Paul O'Neill made a promise to a sick boy, (or, technically Kramer made it for him), in the Season 7 episode, "The Wink." George gave outfielder Bernie Williams and shortstop Derek Jeter hitting tips in Season 8's "The Abstinence." Outfielder Danny Tartabull appeared in two episodes, "The Chaperone" and "The Pledge Drive." The New York Mets were represented as well, with first baseman Keith Hernandez appearing in the two-part episode, "The Boyfriend," in which he dates Elaine (Julia Louis-Dreyfuss) (via Sportscasting).
All of these moments are some of the most memorable in "Seinfeld's" run. However, there was one cameo that had to be dropped, even after the scenes were shot.
Actual George Steinbrenner shot two scenes for an episode, but they were axed
"George Steinbrenner" was one of the show's most bizarre characters. The fictional version, George's boss, was always filmed from the rear, with actor Lee Bear providing the bodily gestures and co-creator and executive producer Larry David providing the voice.
But at one point, "Seinfeld's" producers convinced the real George Steinbrenner to lend his acting talents to the show. The episode in question was the Season 7 finale, "The Invitations," a.k.a. the one in which George inadvertently poisons his fiancee Susan (Heidi Swedberg) with cheap glue from their wedding invitation envelopes. At one point, there was a planned storyline about Elaine struggling to find a date to accompany her to the wedding. That was where George Steinbrenner came in.
The real Steinbrenner flew to Los Angeles in his private jet and filmed two scenes for the episode. In them, he rants about singles tables at weddings being for "losers," and later says that he doesn't like "to put undue pressure on people"–which, if you know anything about George Steinbrenner, is hilarious.
Problem was, when producers viewed the footage in the editing room, they decided Steinbrenner's performance didn't quite hit the mark. It fell to Larry David to call Steinbrenner and break the news.
"He said in that famous voice of his, 'You can tell me. I can take it like a man,'" David told author Peter Botte in his book, "The Big 50: New York Yankees." "So I said, 'Look, I'm sorry, Mr. Steinbrenner. We have to cut you from the show. I just wanted to let you know.' He didn't seem that disappointed about it. It just didn't work" (via MLB.com).
Steinbrenner's scenes are still available on YouTube, so you can judge for yourself.