Finn Wolfhard Says He Suffered From Anxiety And Panic Attacks While Filming Stranger Things
Finn Wolfhard has come a long way since his 2016 debut on "Stranger Things" and his ensuing teenage years as Mike Wheeler. Now an "adult," as he puts it in a 2023 interview with GQ, Wolfhard has started to open up more about his Hollywood journey and some of the things he's gone through as a young actor, including anxiety and panic attacks.
The "Ghostbusters: Afterlife" and "It: Chapter Two" star recently got to work with Julianne Moore in the Jesse Eisenberg flick "When You Finish Saving the World" after having a supporting role in the Oscar-nominated "Guillermo del Toro's Pinocchio." Wolfhard has appeared in all four seasons of Netflix's "Stranger Things" and is set to star in Season 5, which will be the show's last. With him embarking on a new path within the movie and TV industry, it appears that Wolfhard's future is not only bright but also carefree. However — as the Vancouver native told GQ — there are things like anxiety and panic attacks that still bother him. And they stem from Wolfhard's days growing up as a teen on "Stranger Things," he says.
Wolfhard began having routine panic attacks after Season 2 of Stranger Things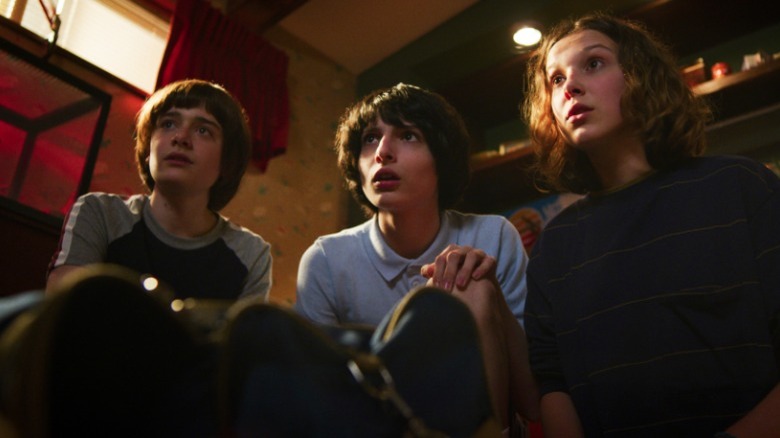 Netflix
In his interview with GQ, Finn Wolfhard said he began suffering from anxiety and panic attacks when he was around 15 or 16, which is right around the same time he was making Seasons 3 and 4 of "Stranger Things." Wolfhard told the magazine that he was feeling things on the inside that were hard to explain at the time, which he now recognizes.
"Did not talk about anything," Wolfhard said. "I just was having this crazy whirlwind career, so there was no time, or at least we didn't feel [there was] at the time," he explained. "Everyone was like, 'Look at him, he's fine. He's having the best time. But in reality, I was probably also developing and things were happening in my brain and anxieties were forming and things that I didn't realize that I had to bury because of how I had to feel at work." Wolfhard admitted he still experiences anxiety and panic attacks. 
Wolfhard also suffered a panic attack on the set of "When You Finish Saving The World." He remembered back to when he was a child actor trying to deal with similar situations. "When things feel really overwhelming and big, it can feel even more big to kid actors who just feel like it all can be gone in an instant," Wolfhard said. 
Jesse Eisenberg reportedly explained to him after the attack that he, too, had suffered a similar episode while making 2009's "Adventureland" and told him it was a natural thing for young actors to go through. "You're doing a job that's very emotionally exposing and very publicly horrible," Eisenberg recalled telling Wolfhard. "I would be surprised if you didn't have that," he said.