Finn Wolfhard Doesn't Foresee Mike Dying In Season 5 Of Stranger Things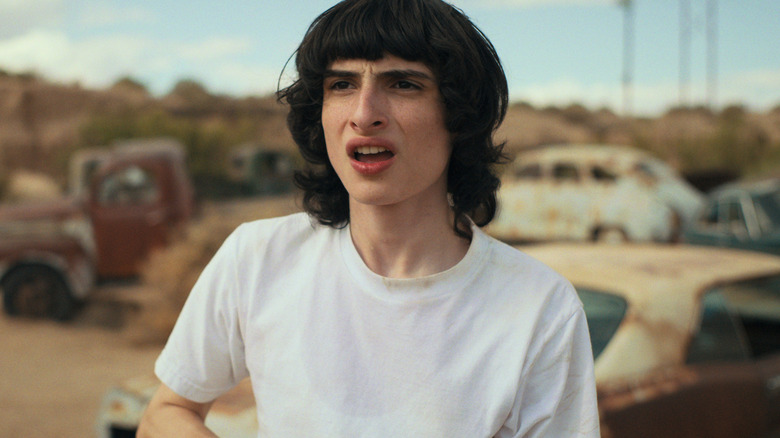 Netflix
It's been a few months since the epic Season 4 finale of "Stranger Things" made its way to streaming land. While the last batch of Season 4 episodes arguably ranks among the series' best to date, the waning moments of the finale left fans with more questions than it did answers. That's saying a lot as Season 4 actually did give up some major details about not only where the Upside Down came from, but who exactly is calling the shots in the creepy alternate dimension. 
Save for the uncertain state of Max Mayfield (Sadie Sink), the season initially still looked to end on a note of optimism, with the Hawkins gang happily reunited after once-again beating back imminent Upside Down doom. The relative joy was tempered, of course, by the Upside Down still breaking through, and doing so right in the middle of Hawkins itself.
That dire event is indeed setting up a Season 5 showdown between Team Hawkins and the minions of big, bad Vecna (Jamie Campbell Bower). And not everyone who calls Hawkins home is expected to survive the coming fight. But even as some "Stranger Things" fans are worried Finn Wolfhard's Mike Wheeler might be among those who don't make it out of the fracas alive, Wolfhard himself is not one of them. In fact, the "Stranger Things" star seems pretty darn confident his character will live to fight another day.
Wolfhard still isn't quite sure what's ahead for Mike in the final season of Stranger Things
It's worth noting that Finn Wolfhard's instincts about "Stranger Things" have proven sort of prophetic in the past. Per series creators Matt and Ross Duffer, the young actor and musician is the only being on Earth to have correctly guessed the idea for their super-secret, in-the-works "Stranger Things" spin-off series. As the Duffers told Variety in 2022, even Netflix hasn't heard that pitch yet, with the pair admitting, "Somehow Finn Wolfhard — who is one crazy smart kid — correctly guessed what it was going to be about. But aside from Finn, no one else knows!"
Take that with a grain of salt if you like. But given the facts, Wolfhard may well possess some Eleven-like telepathic insight into the Duffers '"Stranger Things" hive mind. So if he doesn't foresee Mike meeting an untimely end in the series' final season, we're inclined to believe him. The actor indeed made that assertion replying to a Reddit question during a recent "Actually Me" segment for GQ. When asked if he thought Mike Wheeler would die in the final season, Wolfhard first answered, "I hope not," before briefly changing course on the matter and claiming he might be okay with Mike's death if he went out a world-saving hero.
Conjecture aside, the actor did seem to slam the door on Mike dying pretty definitively in his final response, adding bluntly, "No, I don't think he will." Even still, Wolfhard added that it might be smarter to ask the Duffer Brothers, as they appear to be the only ones who know for sure how "Stranger Things" ends.