Yellowstone Is Ending, But Fans Aren't Ready To Part Ways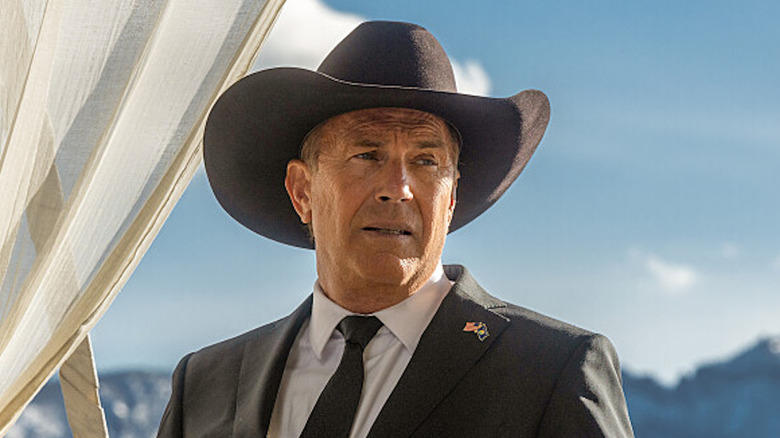 Paramount Network
"Yellowstone" may soon be coming to an end, according to a report from Deadline. This may sound shocking as "Yellowstone" is fresh off of breaking a ratings record with its 5th season premiere, according to The Hollywood Reporter. 
The Paramount Network has not confirmed that "Yellowstone" will soon be wrapping up, but Deadline reported that series creator Taylor Sheridan has reached an impasse with star Kevin Costner as the actor requested shorter and shorter shooting schedules for himself. What makes those requests complicated is the fact that Costner is the lead of the show as John Dutton. The drama would reportedly continue in a new series that would use multiple characters from "Yellowstone," but a new lead would be introduced, potentially being played by a major star.
Sheridan has already proven the "Yellowstone" brand can work without Costner, having already introduced two spinoff prequel shows, "1883" and "1923." Another spinoff titled "6666" is also in the works for Paramount Network. Costner could be preoccupied with his own work behind the camera, as he's busy directing a Western epic called "Horizon," via Variety. 
The end of the show that started it all, though, has fans loudly protesting on social media, despite the potential end of one show coming with the promise of a continuation series with another cinematic legend. 
Fans are shocked Yellowstone could end
The general consensus reaction among "Yellowstone" fans to the news it might be getting axed is pure shock.
"Ummmm.... What the hell?" podcaster Monica Gleberman (aka @Monica1236) tweeted in reaction to the news. Plenty of other users also pointed out the show's massive ratings in light of the news it could be ending, though it doesn't sound like this potential cancellation would have much to do with ratings at all, but rather with finding an actor who can commit the time needed. 
@J712, meanwhile, suggested killing off Kevin Costner's John Dutton and keeping "Yellowstone" chugging along. "I would hope Costner would do one more season of #YellowstoneTV to wrap up the main show before leaving," podcaster Matt Rushing (aka @mattrushing02) tweeted on the topic of Kevin Costner's future with the show. Others simply publicly mourned the thought of losing their favorite show. 
"Nooooo! My beloved #YellowstoneTV!" fan and Screen Rant writer John Orquiola (aka @BackoftheHead) tweeted, a sentiment echoed by numerous other fans. 
Even if "Yellowstone" does end and Costner rides off into the sunset, creator Taylor Sheridan reportedly already has another major actor in mind that the network is negotiating with, and if the rumors are true, Sheridan is not slacking in the casting department. 
Matthew McConaughey could replace Kevin Costner
Kevin Costner's replacement on "Yellowstone" could be Matthew McConaughey, according to the Deadline report. Paramount Network, of course, could not deny this, but they did release a statement acknowledging they'd love to work with McConaughey. They also claimed they want Costner to remain part of "Yellowstone" for years to come.
"Kevin Costner is a big part of 'Yellowstone' and we hope that's the case for a long time to come. Thanks to the brilliant mind of Taylor Sheridan, we are always working on franchise expansions of this incredible world he has built. Matthew McConaughey is a phenomenal talent with whom we'd love to partner," the network said. 
When "Yellowstone" could end is not entirely clear, but Deadline's report suggests its 5th season could actually be its last, with Costner only agreeing to a week of shooting the season's second half. This is down from a shooting schedule on the series that was originally 65 days. 
Despite being a proud Texan, McConaughey doesn't have a lot of experience with Westerns. He appeared in William Friedkin's modern-day Western "Killer Joe," but a Taylor Sheridan series would give the actor his biggest opportunity yet to throw on a cowboy hat and put that Texas twang to work.