The Forgotten Matthew McConaughey Mystery Thriller On Hulu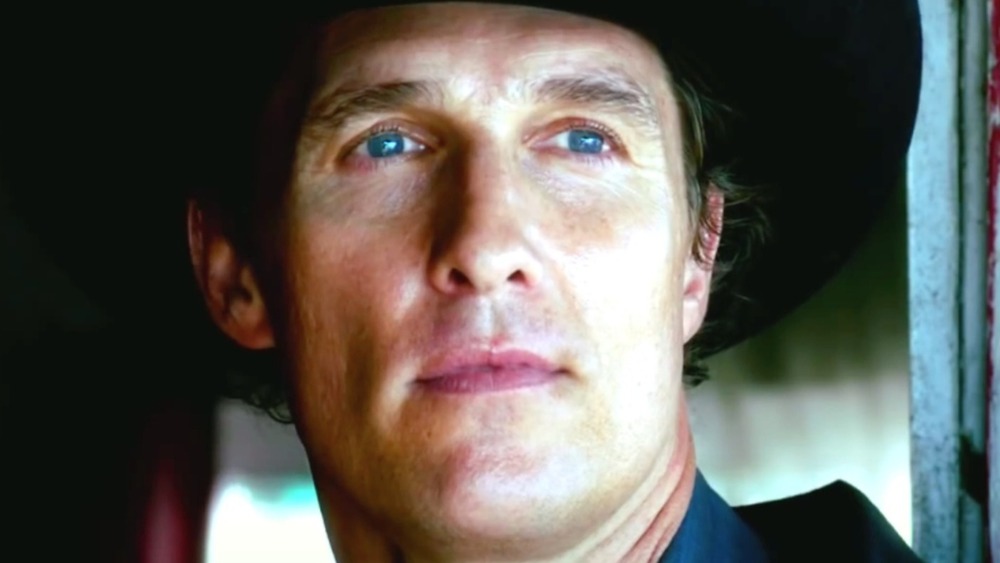 LD Entertainment
Unsettling Doritos commercials aside, the "McConaissance" era has been a lot of fun. It began back in 2011 when, after a decade of appearing in bad romantic comedies, Matthew McConaughey went on a run of appearances in good-to-great movies from some of Hollywood's most acclaimed directors. This period included Bernie, which reunited McConaughey with his Dazed and Confused director Richard Linklater; Magic Mike, Steven Soderbergh's male stripper drama that cleverly played on his sex symbol persona; and his small but memorable appearance in Martin Scorsese's The Wolf of Wall Street as a crooked stockbroker who inspires Jordan Belfort (Leonardo DiCaprio). Heck, he even won a Best Actor Oscar for his performance in Dallas Buyers Club. The period may have reached its peak in 2014 with his starring turns in the fantastic first season of True Detective and Christopher Nolan's mind-bending sci-fi masterpiece Interstellar.
But there's more. The most underrated film of the McConaissance is Killer Joe, a movie that has not been seen by a lot of people because its content is so extreme. It comes from William Friedkin, one of the greatest American directors of all time (he made The Exorcist and The French Connection, along with some minor classics) and Pulitzer Prize-winning playwright Tracy Letts, who adapted his 1993 play of the same name for the screenplay. 
It's available to stream on Hulu, if you can stomach it — and you really should stomach it.
Killer Joe is deeply crazy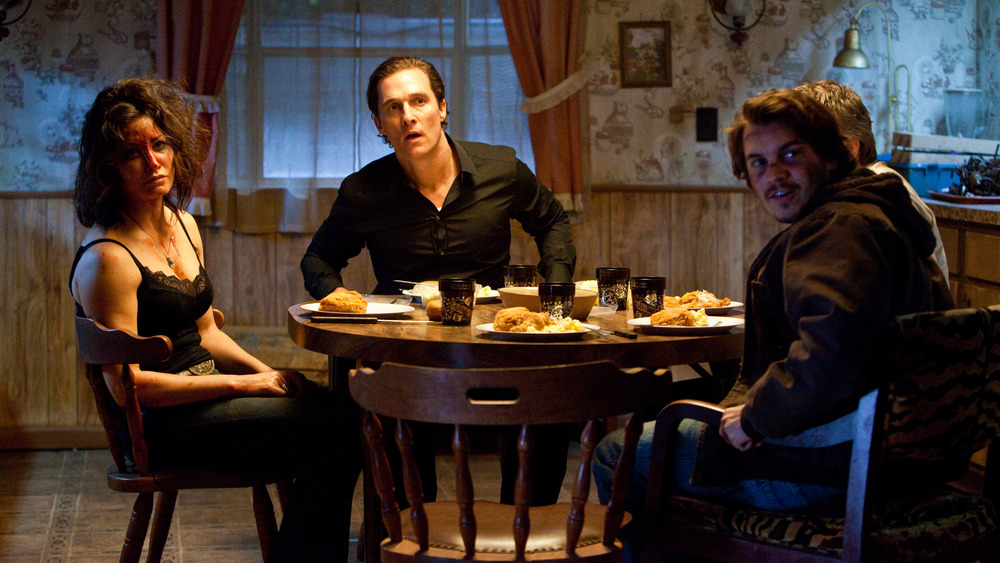 LD Entertainment
Killer Joe is a sleazy, brutal, black-comic crime thriller set in Dallas that follows a drug dealer named Chris Smith (Emile Hirsch), his father Ansel (Thomas Haden Church), and his stepmother Sharla (Gina Gershon) as they come up with a plan to kill Chris' mother and collect her life insurance policy. They hire corrupt cop Joe Cooper (McConaughey), who moonlights as a contract killer, to carry out the deed. When Ansel and Chris can't come up with Joe's payment up front, he opts to take Chris' sister Dottie (Juno Temple) as a "retainer." Things only get more depraved from there.
The MPAA slapped Killer Joe with an NC-17 rating for its violence and sexual content, particularly for a scene in which Joe makes Sharla do something so unspeakable with a chicken drumstick that you may never eat what the characters call "K fried C" ever again. An R-rated version was released on DVD, and the uncut home video release is technically unrated, according to movie-censorship.com. Hulu lists the rating as NC-17, for what it's worth, so you're getting the whole hog if you elect to stream. 
Friedkin refused to edit the movie."Cutting would not have made it mass appeal," Friedkin told Coming Soon. "Cutting it would have been the equivalent of what members of the United States government and military leaders said about the Vietnam War. They said, 'We have to destroy Vietnam in order to save it,' and that's what I would have done to Killer Joe."
The movie, of course, did not do well in theaters, but critics really liked it. It holds a 79% certified fresh rating on Rotten Tomatoes. "If you like your movies filled with twisted humor, sexual perversion, psychological intimidation and sudden violence, Killer Joe is the flick for you," Detroit News' Tom Long wrote in his review of the film, and that really sums it up.