Damien Leone Gives An Update On Terrifier 3 (And A Potential Project With Sam Raimi)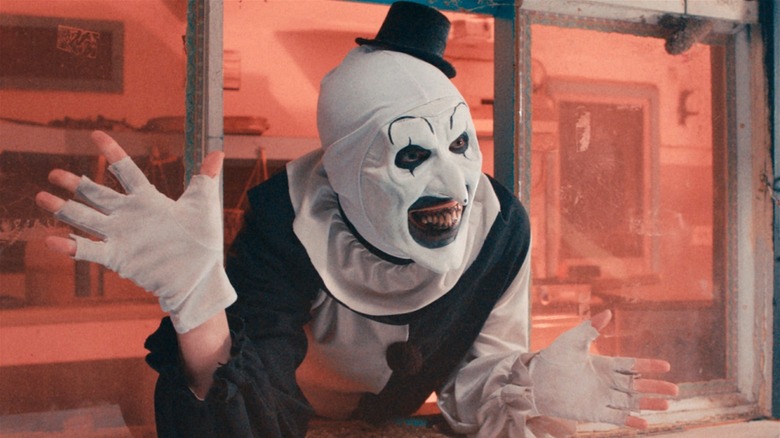 Bloody Disgusting
Is there anyone in Hollywood right now moving the horror needle more than Damien Leone? The "Terrifier" and "Terrifier 2" mastermind has turned his gore level up to 1,000,000 for his wildly beloved slasher franchise — which managed to nab a Rotten Tomatoes critics rating of 86% and an audience score of 81% for its 2022 sequel. The movie series, which is being handled by Bloody Disgusting, focuses on a murder-obsessed clown named Art who keeps finding crazier and crazier ways to kill people. Case in point: Allie's brutal bedroom death in "Terrifier 2."
"Out of all the horror movie deaths that I've seen in my whole life, Allie's death in Terrifier 2 is the most disturbing, sickening and brutal scene I have ever seen," said Twitter user @notdettyp in a November 2022 tweet. "I was literally sweating and felt extremely lightheaded and was on the verge of throwing up right on the seat," the user added.
Outlandish and purposely over-the-top, Leone's "Terrifier" franchise has become a visceral vessel for the SFX-driven filmmaker, who also put out an Art-related anthology movie series called "All Hallows' Eve." Plans have been in place for a third "Terrifier" movie since last year, with Leone reporting that it'll take place immediately after the end of the sequel. Updates surrounding the production and script for "Terrifier 3" have been scarce in recent months, but Leone did finally offer some up recently in a February 2023 interview — along with a reported tease for a possible fourth installment and something special with horror icon Sam Raimi.
Leone is writing Terrifier 3 now, says he wants to make at least one more — and possibly work with Sam Raimi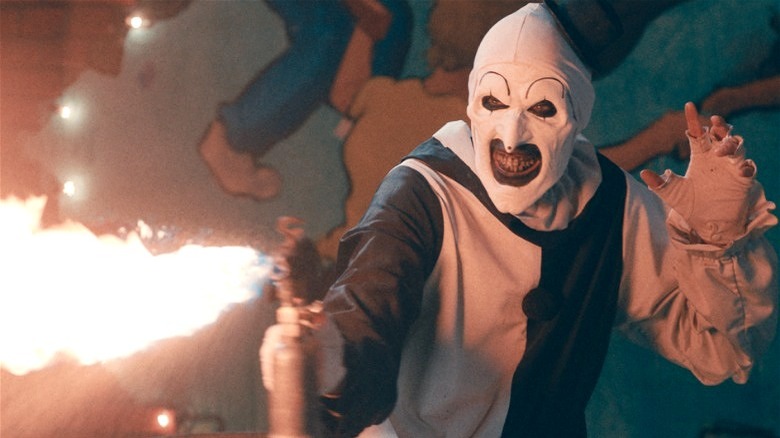 Bloody Disgusting
Speaking to INSIDER, Damien Leone explained how he was currently penning a script for "Terrifier 3" and had high hopes for a possible fourth installment. To make things even sweeter, the indie filmmaker said he has another original project in the works with horror legend Sam Raimi and his production company Ghost House Pictures. 
"I am writing 'Terrifier 3' as we speak," Leone revealed. "I definitely want to make at least one more. There may be two to tell this story and tackle all the ideas that I have in my head." Describing the Raimi-related project, the director added, "If that happens, that would be amazing. I'm really hoping that that could happen before 'Terrifier 3,' or it might happen right after, we'll see." 
For Leone, exploring Art the Clown's motivations and driving force is extremely important to him, which is something he is looking to dive deep into down the line. "There's a lot more to explore with Art the Clown, the pale girl, Victoria, and certainly Sienna as our final girl," he said. "We will be following her journey to the end of this franchise." 
On the surface, the "Terrifier" films may seem like simple B-movie cinema. But a quick look at the box-office results and social media hype surrounding it — especially after "Terrifier 2" — is all it takes to realize that Leone is a serious contender within the world of horror. According to Variety and Box Office Mojo, the sequel was one of 2022's most surprising financial hits with $14.2 million earned worldwide on a crowd-funded budget of $250,000. So no matter what you think of the "Terrifier" flicks or Art the Clown himself, neither appears to be going anywhere.