First Halloween Reboot Poster Reveals Michael Myers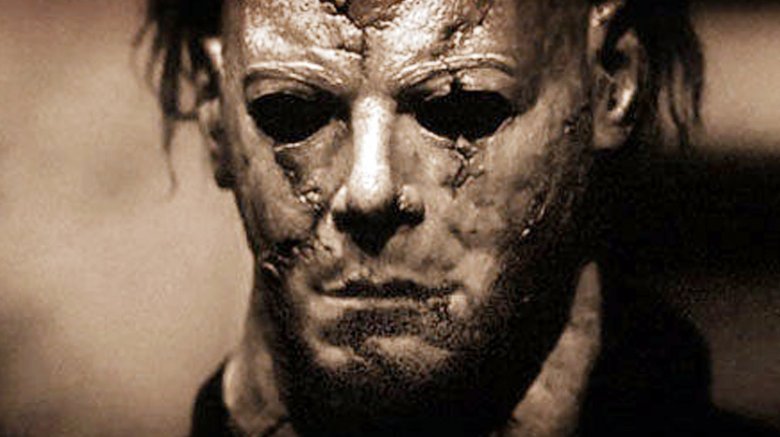 Michael has come back home. 
Blumhouse Productions has unveiled the first poster for the upcoming Halloween reboot, revealing the new version of masked mad man Michael Myers. 
The one-sheet is stunning for its simplicity, showing Michael's iconic mask in the upper lefthand corner, looming ominously over the blank blackness that blankets the bottom right. It's evident that Michael has been through some rough patches in the years since he's stalked his victims on the silver screen, with his mask now time-weathered and cracked as it if has aged, wrinkled, and grown dirty at the same pace he has. Beneath the mask itself are Michael's deep, dark eyes — so dark that they're almost black — staring at the Halloween title stamped below.
Check it out in all its spooky glory at the bottom of this article.
Directed by David Gordon Green and co-written by Danny McBride, the Halloween reboot sees Jamie Lee Curtis reprise her role as Laurie Strode from 1978's Halloween, 1981's Halloween II, 1998's Halloween H20: 20 Years Later, and 2002's Halloween: Resurrection, and reteam with original Michael Myers actor Nick Castle. However, it's another actor, new-to-the-franchise star James Jude Courtney, who serves as the new Mike. As Courtney previously revealed, he and Castle shared scenes, but Castle isn't the star of the upcoming flick. "He did a couple of scenes, and I'm in the scenes with him, which is really beautiful," said Courtney. "He and I were hoping that would happen, because he even said, 'This is the passing of the torch.'"
In terms of what will happen in the forthcoming Halloween refresh, Laurie Strode returns to Haddonfield for her "final confrontation with Michael Myers, the masked figure who has haunted her since she narrowly escaped his killing spree on Halloween night four decades ago." The film will completely ignore the events of all the Halloween sequels, infuse the "creep factor" of the John Carpenter-directed 1970s original, and include an iteration of Michael Myers that isn't a supernatural entity that no one can vanquish. McBride once explained, "I think we're just trying to strip it down and just take it back to what was so good about the original. It was just very simple and just achieved that level of horror that wasn't corny. And it wasn't turning Michael Myers into some supernatural being that couldn't be killed. That stuff, to me, isn't scary. I want to be scared by something that I really think could happen."
The cast of the new Halloween also features Judy Greer as Karen Strode, Laurie's daughter, and Andi Matichak as Allyson Strode, Karen's daughter and Laurie's granddaughter. Virginia "Ginny" Gardner (Project Almanac, Marvel's Runaways), Miles Robbins (Mozart in the Jungle, My Friend Dahmer), Dylan Arnold (Mudbound), and Drew Scheid (The War with Grandpa) star as well, playing friends of Matichak's Allyson Strode. 
Take a trip back to Haddonfield when Halloween arrives in theaters on October 19.