Why Dave Bautista Thinks James Gunn Is The Perfect Person To Take Over DC - Exclusive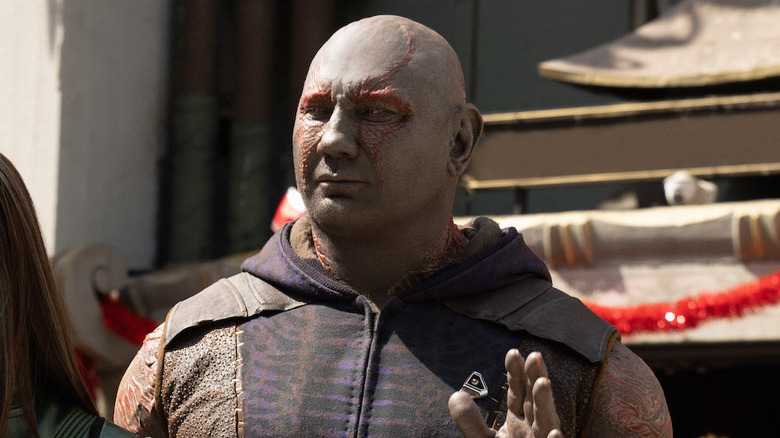 Jessica Miglio/Disney+
DC Studios co-CEOs James Gunn and Peter Safran have finally unveiled the first 10 projects from their reboot of the DC universe, mapping out the first stages of their highly anticipated relaunch of the DC brand across movies, television, animation, and gaming.
The pair has announced an initial slate of five new movies and five new TV shows that span the breadth of the DC comics canon. From the Gunn-penned Man of Steel reboot "Superman: Legacy," to the "Lanterns" and "Booster Gold" TV shows, to the morally questionable superhero team known as "The Authority," the new DC Studios seems poised to encompass more of the comics giant's history than ever before — should Gunn and Safran's gambit prove successful, of course.
Gunn and Safran have already come under fire from a certain subsection of DC fans for, among other things, the exit of Henry Cavill from the role of Superman. Others have argued against them scrapping all remaining elements of the previous regime, aka the Snyderverse. There's even been debate over whether James Gunn has the vision to essentially run an entire studio within a studio (Warner Bros. Pictures).
However, Gunn has the unwavering support of at least one person: actor Dave Bautista, whose fledgling career rocketed upwards when Gunn cast him as Drax in "Guardians of the Galaxy" nearly a decade ago. As the star of the new M. Night Shyamalan-directed thriller "Knock at the Cabin" tells Looper in our exclusive interview, "I think you have to start from scratch and build [DC] again. I think it's absolutely brilliant and it's the right way, and I support him completely."
Dave Bautista is ride or die for James Gunn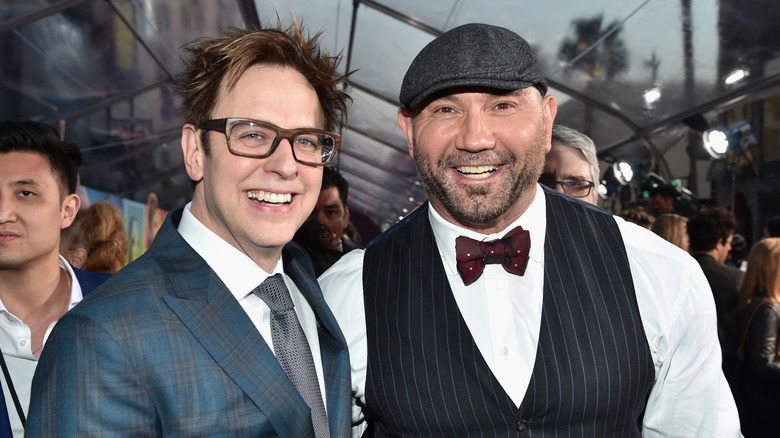 Frazer Harrison/Getty Images
Dave Bautista has been solidly in James Gunn's corner for years, fiercely defending his director after Gunn was temporarily fired from "Guardians of the Galaxy Vol. 3." Even though Bautista recently told GQ that the latter film (which is out in May) is his goodbye to the MCU and the role of Drax, he also told Looper that he'd get back into superhero mode and cross the proverbial street to work for James Gunn at DC.
"Anything that James Gunn comes to me with, I'm going to be interested in talking about," Bautista proclaims, "for one, because I love him, and secondly, because he's brilliant. He's so creative. I think he's where he belongs. Speaking as a fan, DC was taking turns that I wasn't crazy about. I think that he's going to be perfect for them, especially him and Peter as a pair."
Bautista adds that he truly believes Gunn and Safran's plans for DC are going to reinvigorate the franchise. "I know a lot of people are mad at him and don't like the direction he's taken because he's wiped out a lot of what they're comfortable with, what they've known over the past 10 years plus." Bautista says. "But I think for him to completely reboot the DC Universe is such a smart way to go."
Bautista is indeed a DC fan — he wanted to play infamous Bat-villain Bane not too long ago (via Collider) — and reiterates that he's ready to suit up again for his pal: "If [Gunn] gave me the call, I'd be the first guy on the phone to pick up, and most likely would accept whatever he threw my way."
"Knock at the Cabin" is in theaters on February 3.