James Gunn Tackles The Henry Cavill Casting Controversy Head On During DC Slate Reveal
The DC Extended Universe has officially been nuked, with Henry Cavill and the rest of the "Justice League" crew being given new marching orders from Warner Bros. over the past few months — and in Cavill's case, the studio's front door. Now, weeks later, DC Studios co-head James Gunn has finally decided to clear the air about the entire Cavill situation, or how he views it at least.
For those who might've missed what happened last year, DC's Extended Universe went on the chopping block in late 2022 after Gunn was hired to do studio resuscitation for Warner Bros., along with co-head Peter Safran. Right from the start, people expected the new DC Studios duo to flip the entire DCEU on its head. But here's where the controversy comes in: Cavill, on October 24, 2022, posted a video on his Instagram page announcing his return to the DCEU as Superman — just one day before it was announced that Gunn and Safran would lead the DC film division at Warner Bros. He even appeared in a mid-credits scene for "Black Adam." Little did the "Mission: Impossible — Fallout" actor know that the duo's DC creative wheels were already spinning and changing direction rapidly. According to Gunn, there was never a plan in place for Cavill to return as Superman before his departure was announced in December 2022.
'We didn't fire Henry. Henry was never cast'
Speaking at a private press event on January 30, at which DC Studios announced its new movie slate, James Gunn claimed that the Henry Cavill casting controversy was actually not much of a controversy at all — because Cavill was never hired. Gunn told reporters, "We didn't fire Henry. Henry was never cast" (via The Hollywood Reporter). He added, "Henry was just not hired to be Superman in the Superman movie. There was never a deal there for another movie" (via IGN News).
Now, on the surface of the Cavill sacking, it would appear that DC Studios had invited the actor back and asked him to announce his return before the James Gunn and Peter Safran hiring was made public. But to say that Cavill was never hired is a bit of a stretch since Cavill said publicly that Warner Bros. had asked him to return as Superman for future projects. Needless to say, DC fans are ticked off about it. 
Twitter user @HOUSEOFEL38, on January 31, blasted off a tweet saying: "So, James Gunn straight up calling Henry Cavill a liar? Good to know." User @Sciroccojoego said: "This is why to always get something in writing before you commit yourself to something. They Really F'ed Henry over with that announcement." From the beginning, DC fans thought the entire Cavill situation was wrong and handled poorly. Twitter user @itsbloodymarie, back in December 2022, wrote, "I'm a James Gunn fan, but firing Henry Cavill after he let go of 'Witcher' to play Superman again is villain behavior." Meanwhile, Gunn insists that there's no bad blood towards Cavill on his end and that it's all just part of his job.
Gunn likes Henry Cavill, but wants to take Superman in a different direction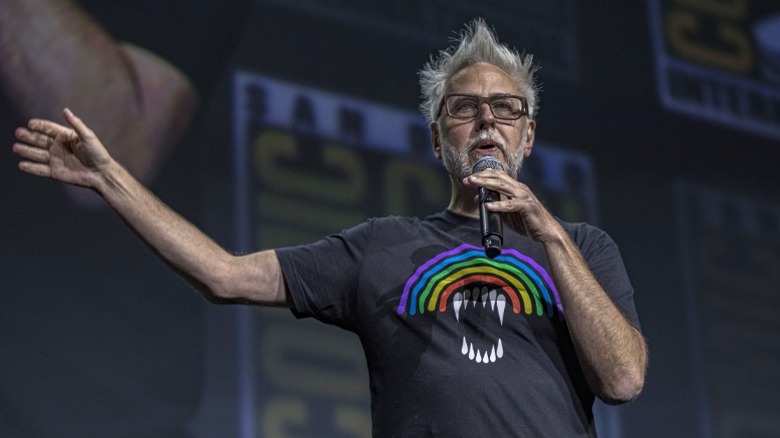 Daniel Knighton/Getty Images
Speaking Monday night at the private press event, James Gunn claimed to be a fan of Henry Cavill and insisted that the decision to go in a different direction with Superman was strictly business. "This Superman is not Henry, for a number of reasons," Gunn said (via The Hollywood Reporter). "For me, it's about who do I want to cast as Superman and who do the filmmakers we have want to cast," he added. "And for me, for this story, it isn't Henry."
Gunn, who is very vocal on social media, revealed in a December Twitter post that he was very truthful to Cavill throughout the entire goodbye process. "I'm anything but cold about it," Gunn tweeted, noting how he had a face-to-face conversation with Cavill before the news broke. "We had a very open and honest and respectful discussion," Gunn remembered. "We've communicated since and he and I are all good." Speaking on Monday night, Gunn showed his admiration for Cavill and what he's been through with Warner Bros. over the past few months — which he ultimately blamed on his predecessors. 
"I like Henry, I think he's a great guy," Gunn said. "I think he's getting d***** around by a lot of people, including the former regime at this company."
As for what the future now holds at DC, Gunn and Peter Safran have announced several new movies and projects for the DC Universe reboot — including new Batman, Superman, and Supergirl movies, a Swamp Thing project, and much more. Overall, the DC Studios roadmap looks bright, and it's only a matter of time before we find out who will eventually be filling Cavill's shoes as the Last Son of Krypton.