DC Fans Think Shazam! Fury Of The Gods' Trailer Points To A Wonder Woman Cameo
"Shazam! Fury of the Gods" is the next DC film to come out in theaters, and it occupies an interesting place in the lineage of DC films. Naturally, it's the sequel to 2019's "Shazam!" that introduced audiences to Billy Batson (Asher Angel), who is granted the powers of Shazam (Zachary Levi). While the DCEU is often seen as pretty hit-and-miss, "Shazam!" felt like a breath of fresh air and was generally well-received by critics and audiences. A sequel was inevitable, but now that James Gunn and Peter Safran have taken over DC Films, it's unclear what the future of the character will be beyond "Fury of the Gods."
Levi has taken to social media to insist he'll stick around as the character past the changing of the guard. But when so many other DC actors have confirmed they won't return, most notably with Henry Cavill losing the mantle of Superman, it's hard not to take Levi's statement with a big grain of salt. Another actor whose future with DC is up in the air is Gal Gadot as Wonder Woman. Plans for a third "Wonder Woman" movie were upended when director Patty Jenkins was told her vision for the threequel didn't fit into the future vision of DC films. It's presently unclear if Gadot or Jenkins will remain in the DC realm, but some fans believe the character could still have life in the forthcoming "Shazam!" sequel.
Is that ... Wonder Woman?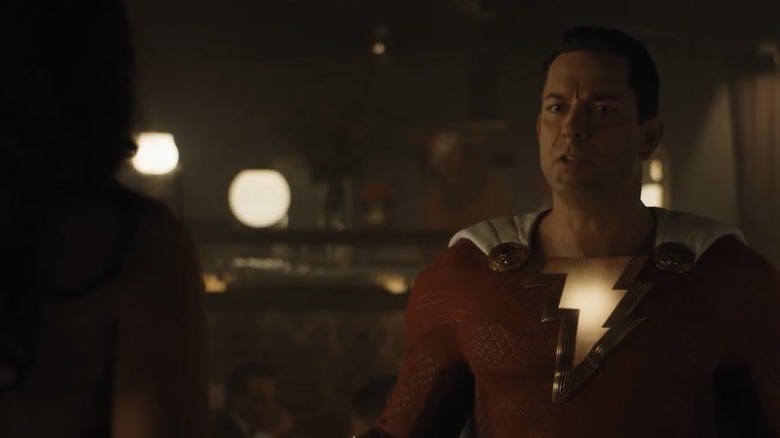 Warner Bros. Pictures/DC Films
A new trailer for "Shazam! Fury of the Gods" dropped on January 26, offering audiences further glimpses into the next DC installment. There was a lot for audiences to take in, including big dragon fights. As such, it would be reasonable to assume one of the quieter moments of the trailer would slip by fans, but many have already taken to social media to posit the theory that Shazam might just meet Wonder Woman during his next adventure.
At around the 54-second mark, Shazam says, "Okay, I feel like maybe I should be writing all this down." He's in a dark room, and while Shazam's in the forefront, he's speaking to a mysterious figure with long hair. He could be speaking to any number of people, but some on Twitter believe (or at the very least really, really hope) that he's talking to Wonder Woman. The Twitter account @ShazamNews posted a screenshot of the trailer moment before posing, "Shazam and... Wonder Woman?" They weren't alone, as @HailEternal wrote, "he's talking to Wonder Woman."
It wouldn't be out of the question for Shazam and Wonder Woman to interact. Wonder Woman borrows heavily from Greek mythology, and the villains in the new "Shazam!" movie are the Daughters of Atlas, a Greek god. Perhaps Shazam goes to Wonder Woman to learn more about the Daughters and how to defeat them. Of course, that's assuming that it is actually Princess Diana of Themyscira. It could be just some random person, but a Wonder Woman cameo would make it clear to audiences that the character will stick around in DC movies despite the upheaval.