Why Rick And Morty Will Be Just Fine Without Justin Roiland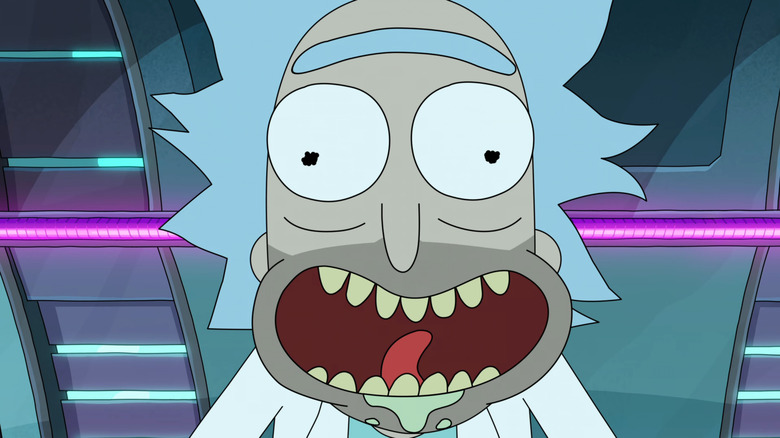 Adult Swim
The other shoe has finally fallen for Justin Roiland, the voice behind both titular characters on the Adult Swim animated comedy "Rick and Morty." After the co-creator and lead voice actor was charged with felony domestic abuse and false imprisonment (via NBC News), it wasn't long before Adult Swim cut ties with Roiland and promised to recast.
Already, many fans are calling "Rick and Morty" dead in the water without its most recognizable voice. After all, wasn't he the heart and soul of the show? How can "Rick and Morty" continue without, you know, Rick and Morty?
Before addressing those questions, let's make one thing clear: even if the show were to fail spectacularly without Roiland, Adult Swim made the right decision. No piece of art is worth the abuse and suffering of others, and no one should continue to enjoy a position of privilege and power to continue that abuse, no matter how talented they are.
But the thing is, it's not clear whether "Rick and Morty" hinges on Roiland's talent. His voice-acting chops seem limited to his signature vocal cord-fraying whines and screeches. Moreover, while he's credited with the co-creation of "Rick and Morty," Roiland is one of many writers for the show and has written surprisingly few episodes himself. Plus, the series is stacked with voice talent who can easily step up to fill any lingering cracks left in Roiland's absence. In the end, "Rick and Morty" is going to be just fine without Justin Roiland. Here's why.
If you or someone you know is dealing with domestic abuse, you can call the National Domestic Violence Hotline at 1−800−799−7233. You can also find more information, resources, and support at their website.
Roiland's voices aren't that hard to do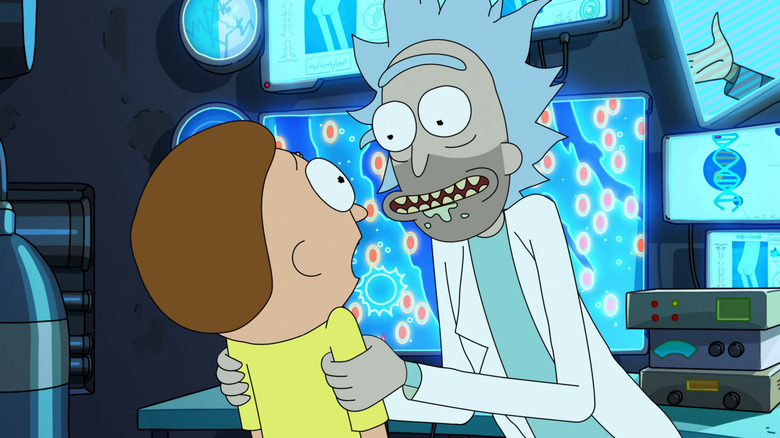 Adult Swim
After six seasons, it's easy to forget that a large part of what initially made "Rick and Morty" appealing was how low effort it all seemed. The scribbled animation and obviously improvised dialogue all contributed to a sense that the creators were phoning it in. In that sense, it was on par with other Adult Swim animations, but it differentiated itself from the pack by telling compelling, complex stories, communicating to viewers that its surface-level irreverence masked a more careful attention to detail beneath the surface.
In that context, Justin Roiland fit right in as the series lead, not because he displayed immense talent but because he did not. His limited range — a high-pitched screech for Morty and a deeper-throated rasp for Rick — felt of the same elemental material as the rest of the show, like someone riffing on a concept that hadn't been fully fleshed out. In recent years, as Roiland added more projects to his CV, his lack of range has become more obvious. His character on "Solar Opposites" sounds the same as his various voices in the video game "High on Life," and all of those sound like Morty or Rick. The satirical news site Hard Drive once encapsulated Roiland's creative limitations with the headline, "Justin Roiland on Cusp of Coming Up With Third Voice."
What that means going forward is that whoever replaces Roiland on "Rick and Morty" will have a relatively easy task ahead of them. Sure, they might need to invest in some throat lozenges, but pretty much every "Rick and Morty" fan can do a decent impression of Rick and Morty. But they're not hiring just anyone — they're going to hire a professional. It's possible some casual fans not following the Roiland debacle won't even notice the swap. For hardcore fans, there may be a bit of an adjustment period, but it's unlikely the difference will be dramatic.
Rick and Morty is more than one man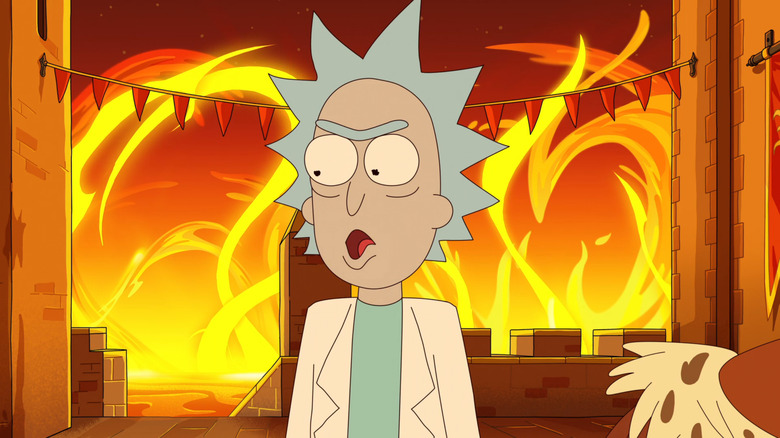 Adult Swim
Let's step away from Roiland for a second, because a television show is more than a single man. There is, of course, "Rick and Morty" co-creator Dan Harmon, whose storytelling sensibilities rest in the show's elemental core. But there are also plenty of other creative voices in the mix. "Rick and Morty" employs a sizable writers' room these days, and they're the ones who make the show sing.
Season 6, the show's most recent, featured a story written by Heather Anne Campbell, who previously wrote for "The Eric Andre Show" and "American Dad," among others. It showcased another episode by Anne Lang, a producer on "Tuca and Bertie," and one by "Key and Peele" and "Big Mouth" writer Alex Rubens. Other writers this season wrote or produced on "Community," "Parks and Recreation," "Workaholics," "It's Always Sunny in Philadelphia," and even "Saturday Night Live." Writers and story editors from previous seasons have included Jessica Gao ("She-Hulk: Attorney at Law"), Jeff Loveness ("Ant-Man and the Wasp: Quantumania"), and Tom Kauffman ("Loki").
It kind of seems like writing for "Rick and Morty" is a direct pipeline to the MCU, but that's a discussion for another time.
Suffice it to say "Rick and Morty," is not wanting for top-tier writing talent. Meanwhile, Roiland has a "written by" credit on just four episodes of the entire series. When you hear his voice blaring from your TV each week, it may seem like Roiland is the biggest presence on the show, but he simply repeats the words of an entire ensemble of arguably funnier talent.
The rest of the cast can shine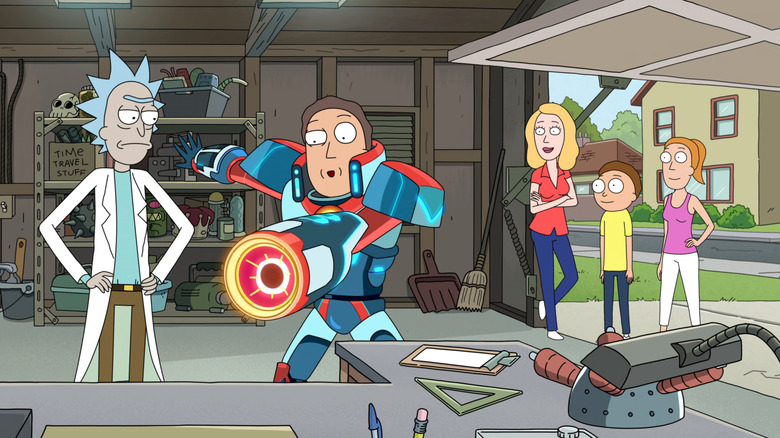 Adult Swim
Sure, the titular characters are important, but the show has plenty of amazing characters other that are neither Rick nor Morty. Chris Parnell of "Archer" fame plays to type as Jerry, Sarah Chalke goes to some seriously emotional places as Beth, and Spencer Grammer remains delightful as the sardonic Summer. The main cast has not only stuck around, but they also seem to genuinely love working on "Rick and Morty." When she was once asked to leave, Grammer said she'd rather do "Rick and Morty" for free than find another job.
Moreover, the stories in which the rest of the main cast get to take the limelight often end up being among the show's best. Season 2's "Total Rickall" finds the Smith-Sanchez family bottled up with parasitical creatures who can retcon themselves into people's memories, and is considered an all-timer by many fans. Season 3's "The ABCs of Beth" has the family matriarch revisiting the darkest portion of her childhood, and is likewise a beloved entry. And the most recent season includes multiple episodes where the rest of the family gets a bit more screen time, leaving the series all the better. Chalke once again does excellent work — opposite herself, no less — in "Bethic Twinstinct" and Parnell gets big chunks of the action in no fewer than three episodes.
The dynamic between Morty and his crazed scientist grandfather will always be the driving force of "Rick and Morty," but Roiland's exit from those roles is the perfect chance to let the rest of the cast more frequently take center stage. Not only would it fill in any gaps left by Roiland, but they're also all immensely talented actors who deserve the spotlight.
A great Season 7 will put fans at ease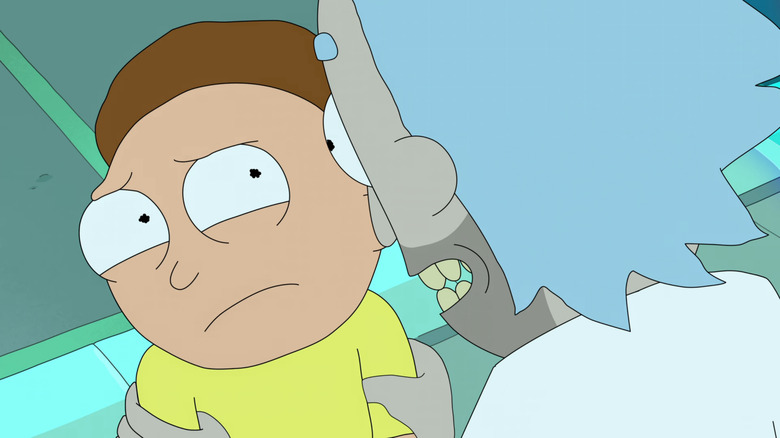 Adult Swim
With a talented replacement for Roiland, a great roomful of the funniest comedy writers on offer, and more room for the rest of the cast to show off their range, it's possible that Season 7 of "Rick and Morty" will be just fine. In fact, it may in fact be the best season yet. Of course, the loudest fans will loudly complain that the show doesn't feel the same without Roiland. They may even be right. But the changes that occur are nearly guaranteed to be negligible, perhaps even positive. And again, the principle of no longer working with Roiland in the wake of these serious charges far outweighs fan desire for familiarity or consistency.
Dan Harmon is still at the helm. There are strong hands at the wheel. And Adult Swim still has 40 episodes of "Rick and Morty" on order, carrying the show through Season 10, giving fans plenty of time to get comfortable with the new voice actor. "Rick and Morty" will carry on without him. It will settle into a new rhythm. It will find itself again. And if it keeps on delivering laughs, one day — sooner than you may think — the naysayers will fade into the background. The show's best days are yet to come.