Captain Marvel: Clark Gregg Starts Filming, Teases Reunion With Samuel L. Jackson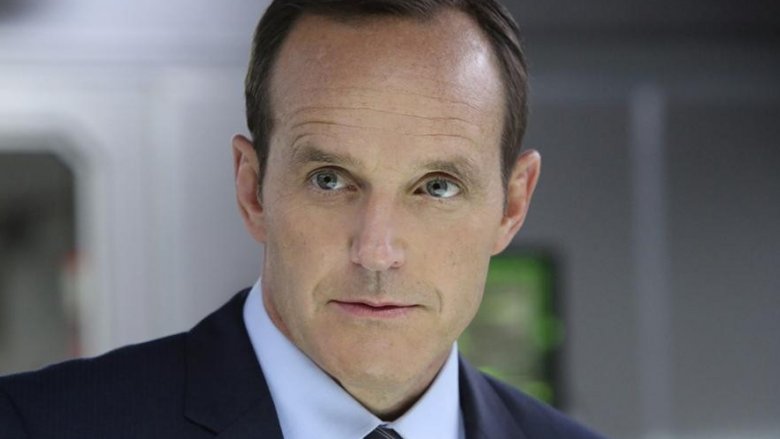 ABC/Danny Feld
Agent Phil Coulson, reporting for duty — and looking for one S.H.I.E.L.D. leader Nick Fury.
Clark Gregg, who stepped into the Marvel Cinematic Universe as the lovable S.H.I.E.L.D. operative Phil Coulson in 2008's Iron Man, took to Instagram on Thursday to announce that he has started filming for Captain Marvel. 
The confirmation snap he posted to social media teases a reunion between his character and Samuel L. Jackson's Nick Fury, the ex-U.S. Army officer, Cold War-era CIA espionage veteran, and former head of the Strategic Homeland Intervention, Enforcement, and Logistics Division (S.H.I.E.L.D.) who first appeared on the silver screen in a post-credits scene in Iron Man. 
"New job, old friends," Gregg wrote in the caption accompanying the photo, a zoomed-in selfie of him standing outside what looks to be a dressing room that has an "N. Fury" nameplate affixed to its door.
Check out the cheeky shot below. 
Gregg's involvement in Captain Marvel, which stars Brie Larson in the title role, was first announced in late March 2018, leaving plenty of Marvel fans surprised by the news. Captain Marvel will mark the first appearance of Agent Coulson in an MCU film since Loki (Tom Hiddleston) "killed" him in 2012's The Avengers, after he served as Nick Fury's right-hand man in Iron Man, Iron Man 2, and Thor. Gregg revived the character in the small-screen corner of the Marvel universe, playing Coulson once more on the ABC drama series Marvel's Agents of S.H.I.E.L.D. Coulson's inexplicable resurrection was one of the biggest ongoing mysteries early in the show's history.
Not only will Gregg join leading lady Larson and his longtime Marvel movie buddy Jackson for Captain Marvel, but he'll also team up with two major villains from the Guardians of the Galaxy movie series: Lee Pace as Ronan the Accuser, the dogmatic member of the Kree alien race, and Djimon Hounsou as Korath the Pursuer, the Kree mercenary who works for Ronan under the order of Thanos, played by Josh Brolin. The fact that Captain Marvel is set in the 1990s and serves as an origin story chronicling how Carol Danvers becomes Captain Marvel, it's easy to see why so many supporting MCU characters like Gregg's Coulson are able to make a comeback.
Rounding out the cast of Captain Marvel are Jude Law as Mar-Vell and Gemma Chan as Minn-Erva, as well as Ben Mendelsohn and Lashana Lynch in unspecified roles. 
Directed by Anna Boden and Ryan Fleck (Half Nelson), Captain Marvel is set to launch on March 8, 2019.