Avengers: Infinity War Merchandise Offers Solid Look At Thanos' Black Order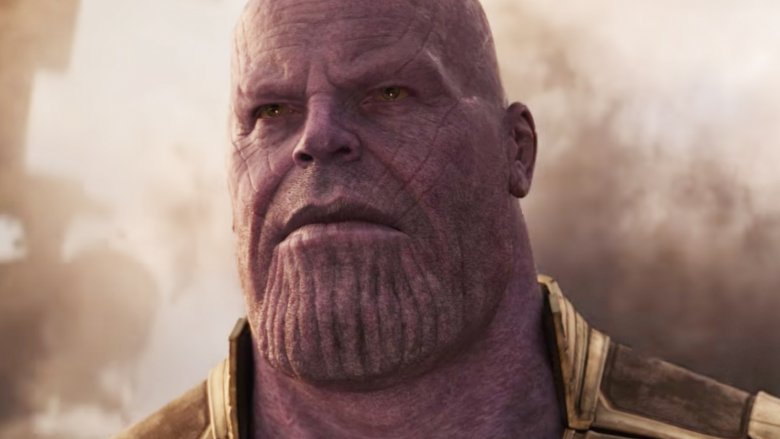 We wouldn't want to bump into any of these black-clad baddies in a dark alley. A line of new Avengers: Infinity War merchandise has given Marvel fans an up-close-and-personal look at the film's menacing malefactors: Thanos' coalition of agents called the Black Order. 
Available for purchase through officially licensed custom wall decal company Fathead, the Avengers: Infinity War Black Order decals are actually updated versions of the key art used for Marvel's now-defunct Avengers Alliance Facebook game, as Screen Rant keenly pointed out. Fathead tweaked each character's costume design but kept their postures, making them both fresh and familiar. 
Corvus Glaive is the first Black Order bad guy we see. One of Thanos' highest ranking military men and a skilled tactician, Corvus Glaive carries — what else? — a glaive, perfect for slicing through anyone and anything that dares cross his path. Given his prowess in fighting and his general ruthlessness, it's no surprise that Corvus Glaive is Thanos' right-hand man. 
Next up is Cull Obsidian, known in the Marvel Comics lore as "Black Dwarf," a hulking brick-house of an antagonist who once headed up Thanos' undertaking of Wakanda, home to the Black Panther. That siege was part of Jonathan Hickman's Infinity comic event, which Avengers: Infinity War seems to have taken a sprinkle of inspiration from (hello, invasion of Wakanda in the third act), so it's likely that we'll see Cull Obsidian causing a great deal of trouble on the big screen. 
The final two members of Thanos' Black Order are the fiercely dangerous Ebony Maw and the skilled warrior Proxima Midnight. Rather than best his opponents in physical combat, Ebony Maw takes an intellectual approach, outwitting them to gain the things he's after. Case in point: Ebony Maw once manipulated Doctor Strange into unleashing a wave of mystical energies onto Earth. Avengers: Infinity War promotional materials and behind-the-scenes snaps have suggested that fans will see the pair face off once more, with the Sorcerer Supreme ending up at the mercy of the malicious Maw. 
Wielding a sharp, blue-tipped staff Thanos forged from a trapped sun, Proxima Midnight makes up for what she lacks in size in brute strength. The lithe combatant was able to take down the Hulk in a single swing, pulling from Bruce Banner's body tons of Gamma energy. That power made Proxima Midnight one of the premiere members of the Back Order, appearing as a villain in the Avengers comic run by Hickman. In Avengers: Infinity War, she'll aid Thanos in capturing (or at least trying to capture) Vision (Paul Bettany), and will tussle with Captain America (Chris Evans) and his Nomads crew. 
There's a fifth decal included in the new Avengers: Infinity War villains collection — but it isn't part of the Black Order. Instead, it's a clear shot of the Marvel Cinematic Universe design for Thanos' Outriders, the genetically engineered creatures seen fighting in the Battle of Wakanda. Avengers: Infinity War trailers have hinted at the Outriders' brutal capabilities, showing them destroying a Hulkbuster. 
Check them all out below. 
Fans can scoop up these new Avengers: Infinity War decals right now, though they'll have to wait until the film is released on April 27 to see the Black Order and the Outriders in action.