Avengers: Infinity War Is Thanos' Movie, Says Director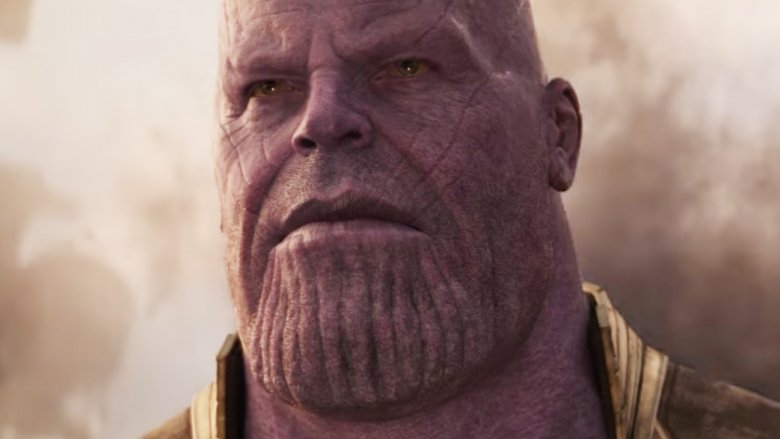 Not only will Thanos steal the Infinity Stones to power his gauntlet in Avengers: Infinity War, he'll also steal the show from the rest of the Marvel heroes. 
Correspondents for the Chinese microblogging website Sina Weibo recently interviewed Avengers: Infinity War directors Joe and Anthony Russo and asked the pair which character they're most eager for fans to see on the silver screen. Joe Russo was quick to bring up Thanos, played by Josh Brolin, whom he notes as a "very interesting and complex" character, and not just a run-of-the-mill baddie hungry for domination and destruction. This complex characterization provides for a more captivating performance, and is what makes Avengers: Infinity War essentially Thanos' movie. 
"I'm going to start with Thanos. I'm most excited for the audience to learn about him. I think he's a very interesting and complex villain. That's why I like him. That's why I'm excited for the audience to learn about him," Joe Russo said (via ComicBook.com). "I think his motivations, albeit psychotic, are compelling. And I think that in a lot of ways this is his movie, so it's going to be very interesting to see how people respond to Thanos in the film."
Brolin is equally as excited about his villainous role, spilling his enthusiasm in a previous interview and stating that he has a good feeling about Avengers: Infinity War. "I can't tell you definitively, but how I feel right now and what I've spoken to the Russos about and [Marvel Studios president Kevin] Feige, absolutely [I feel good about it]," the actor stated. "It actually more than pulls off, and I think what they're coming up with based on what I've done, I think is next level." 
He then mentioned that he's had an incredible time portraying the purple-skinned antagonist, and doesn't mind if Avengers fans don't love him. "I'm in a position just personally where not everybody loves me and that's okay," Brolin said with a laugh. "Look, not everybody can be on your side all the time and that's okay. When playing a character like this, dude, it's like there's something–I don't know any other way to put it, it really turned out to be one of the greatest experiences I've had."
However, it seems that Brolin's "viewers won't like me" train of thought was a few miles ahead of reality. Fans recently voted Thanos as the villain they're most excited to see in 2018. 
Avengers: Infinity War brings together a ton of Marvel alumni, including Steve Rogers/Captain America (Chris Evans), Bruce Banner/the Hulk (Mark Ruffalo), Natasha Romanoff/Black Widow (Scarlett Johansson), Peter Parker/Spider-Man (Tom Holland), Tony Stark/Iron Man (Robert Downey Jr.), Thor (Chris Hemsworth), Loki (Tom Hiddleston), Peter Quill/Star-Lord (Chris Pratt), Gamora (Zoe Saldana), Nebula (Karen Gillan), Groot (Vin Diesel), Rocket (Bradley Cooper), Drax (Dave Bautista), Mantis (Pom Klementieff), Scott Lang/Ant-Man (Paul Rudd), Stephen Strange/Doctor Strange (Benedict Cumberbatch), T'Challa/Black Panther (Chadwick Boseman), Bucky Barnes/the Winter Soldier (Sebastian Stan), Vision (Paul Bettany), Wanda Maximoff/Scarlet Witch (Elizabeth Olson), Clint Barton/Hawkeye (Jeremy Renner), Agent Maria Hill (Cobie Smulders), The Collector (Benicio del Toro), James Rhodes/War Machine (Don Cheadle), Sam Wilson/Falcon (Anthony Mackie), and Wong (Benedict Wong). 
Avengers: Infinity War is due out on May 4, 2018.