Acting With The Undead On iZombie Helped Set Rose McIver Up For Success On Ghosts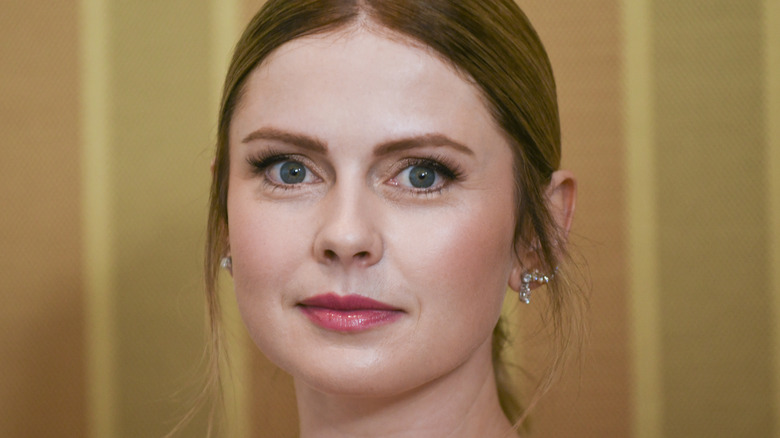 Rodin Eckenroth/Getty Images
"Ghosts" is the latest hit sitcom airing on CBS. The series is an adaptation of the popular British show sharing the same name. It follows Samantha (Rose McIver) and Jay Arondekar (Utkarsh Ambudkar), who give up their life in Manhattan to inherit a large country house from Sam's distant relative. Sam, a writer, and Jay, an aspiring chef, decide to work together to turn it into a bed and breakfast. After a scary fall down the stairs, Sam gains the ability to see and communicate with the ghosts stuck on the estate's grounds. 
"Ghosts" received positive reviews following its premiere, earning a certified fresh 92% rating on Rotten Tomatoes. Outlets like Variety said that while the show starts as a one-for-one adaptation of the British version, it eventually takes the time to distinguish itself from the original. "Ghosts" is entertaining and easy to watch, specifically because of its impressive character work done by McIver, Ambudkar, and their ghost ensemble. 
McIver is a stand-out on "Ghosts," which is no surprise given her extensive history on TV. Like many others, the New Zealand actress got her start playing side characters on numerous shows and television films. She featured on many popular shows like "Masters of Sex" and "Once Upon a Time," but many fans know her for playing Liv Moore on the supernatural crime drama "iZombie." 
McIver credits her time on "iZombie" with preparing her for a more mainstream series like "Ghosts." 
Rose McIver jokes about only getting roles centered around the undead
Rose McIver is best known for two supernatural-based shows, "iZombie" and "Ghosts," and she's very aware of this coincidental type-casting. During an interview with Collider, she reflected on how her time working with zombies prepared her for her ghost co-stars.
"I'm starting to doubt I'm ever gonna get a show without undead characters again now," McIver joked. "There are very technical components when you're acting to people who visually might appear or not appear to be there. We had divisions and all the ins and outs with 'iZombie.' It actually really did help me, technically, in preparing for this ["Ghosts"], which is pretty complicated on set. We've dealt with ghosts and without ghosts, and with various clusters all over the room. It's certainly set me up as a bit more of a technical actor than I would've been otherwise."
In "iZombie," McIver played Liv Moore, an aspiring doctor who transitions to a coroner's assistant after becoming a zombie, in order to have direct access to human brains. After eating brains, she gets flashes of memories from the victims, which she uses to help a detective (Malcolm Goodwin) solve cases. She also takes on the victims' personalities, allowing McIver to really flex her acting skills, practically becoming a new character every episode.
McIver told BUILD Series that playing Liv on "iZombie" was a privilege and a role that all actors dream of finding. Playing a new character each week left the actress feeling very lucky, and it has since paid off, as seen by her performance on "Ghosts."