The Sean Giambrone Running Gag That The Goldberg Fans Can't Help But Love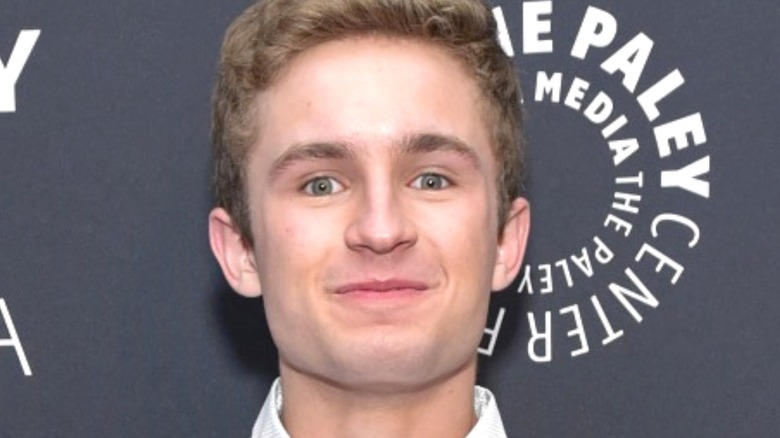 Michael Tullberg/Getty
Running gags are a staple of any great comedy series. At first glance, repeating the same joke over and over again might seem like the television equivalent of beating a dead horse, but these jokes seem to get better and better every time they appear. Some of the best examples of running gags include Dean Pelton's (Jim Rash) constantly changing costumes on "Community," and Michael Scott's (Steve Carell) seemingly inexplicable hatred for Toby Flenderson (Paul Lieberstein) on "The Office."
Not only is a running gag a great way to build up a joke over time, but it's also a great source of payoff for fans who have been watching the series since the beginning. A great example of this is the running gag from "It's Always Sunny in Philadelphia" where the gang continually tapes over the same VHS tape whenever they need to use a video camera, so every time they film something you'll see clips from older episodes.
Unsurprisingly, there's also a decent amount of ru​​nning gags present in "The Goldbergs," the highly popular sitcom from ABC — though perhaps the best one is actually the running gag related to the promotional posters for each season.
Giambrone has his eyes closed in every promotional poster
"The Goldbergs" is a sitcom created by Adam F. Goldberg, based on Goldberg's own experiences growing up in 1980s Pennsylvania. Despite the mediocre response the series' first season received back in 2013, the series has gone on to achieve critical acclaim throughout its subsequent eight seasons, becoming one of the most popular shows that ABC has to offer. The announcement for each new season of "The Goldbergs" is accompanied by a promotional poster featuring the titular family — and some of the more eagle-eyed fans of the series will notice that the childhood version of Adam (Sean Giambrone) has his eyes closed in every single one of those posters.
Fans on Reddit found the gag incredibly funny once they realized that Adam's eyes are closed in every single picture, especially since the posters never actually appear in the show itself. "Love how Sean's eyes are always closed lol," wrote u/Keepitrealzski. "It's on purpose," replied u/Super_Description169. "I think it makes the poster." Other users gave their opinions about why Adam's eyes are closed in every poster. "I wonder if the real Adam did this when he was younger or if it was only for the show," wrote u/NormanRB.
Regardless of the reason behind Giambrone's perpetually closed eyes, it's still incredibly funny that the team decided to create an entire running gag just for their promotional photos.