Alec Baldwin's 2021 Rust Shooting Interview Is Not Aging Well After Involuntary Manslaughter Bombshell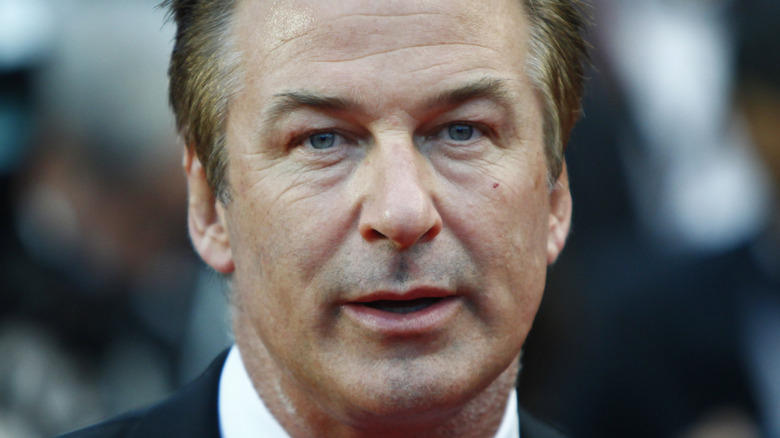 Vahan Stepanyan/Shutterstock
Alec Baldwin's emotionally-charged interview with ABC's George Stephanopoulos after the "Rust" shooting — in which he boldly declared things like "I didn't pull the trigger" and "I would never point a gun at anyone" — is not aging very well now that he's gotten hit with an involuntary manslaughter charge.
"This interview should have never been done, as Baldwin's lawyers likely advised," wrote Joe Concha, media and politics columnist for The Hill, on Twitter Thursday, January 19, after the Santa Fe District Attorney's Office announced the charges. "Now this statement about not pulling the trigger could be used against him."
Baldwin, 64, got hit with a fourth-degree felony charge of involuntary manslaughter on Thursday morning, which is punishable by up to 18 months in jail and a monetary fine under New Mexico law (via Associated Press). The charge stems from his involvement in the tragic October 2021 "Rust" shooting incident that left cinematographer Halyna Hutchins dead.  One of the prosecution's biggest assets in the case is said to be assistant director David Halls, who allegedly handled the firearm that Baldwin used to shoot Hutchins and was the one who personally gave the weapon to the "30 Rock" star before the incident. Halls has reportedly signed plea deal for negligent use of a deadly weapon and will be testifying against Baldwin, per AP News. 
Looking back at his interview with Stephanopoulos, it's easy to see why folks may think it'll come back to haunt him at some point, seeing how he made so many bold statements without the presence of a lawyer by his side to intervene. Now, the entire thing is being picked apart by the masses — and likely prosecutors, as well. 
Baldwin should've never said anything about 'cocking' or handling the gun during Stephanopoulos interview
As pointed out by numerous experts both at the time of the interview and now, it was not very smart of Alec Baldwin to make bold and brash claims during his George Stephanopoulos interview about what happened during the "Rust" incident — especially when it comes to "cocking" and handling the gun that was allegedly used. 
"I would never point a gun at anyone and pull a trigger," Baldwin proclaimed during the sit-down. "Never."
What the Hollywood legend fails to realize is that, by simply making such a statement, he opens himself up to severe questioning by authorities and the prosecution, who will try and see if his story holds up and makes sense during his manslaughter trial, if there is one. Writer Ola Okewumi, aka @Olas_Truth on Twitter, said, "Alec Baldwin set himself up during his interview with George Stephanopoulos, claiming he didn't pull the trigger. It does not matter how famous you are or how badly you want to clear your name. The golden rule is never to speak to the media when under criminal investigation." 
Popular law account @lawyer4laws echoed this sentiment and drew attention to some of the things that Baldwin claimed during the interview, tweeting: "December 2021 ... Alec Baldwin said in the interview with George Stephanopoulos ... I cocked the gun during a marking rehearsal but didn't pull the trigger." 
It's ultimately unclear if anything from the Stephanopoulos sit-down led prosecutors to filing the involuntary manslaughter charge against Baldwin. Armorer Hannah Gutierrez-Reed has also been hit with the same charge, with the DA's office citing a "criminal disregard for safety" in regards to both parties. Baldwin and Gutierrez-Reed will both be issued a summons to appear in court by the end of January and a judge will eventually decide if there's enough evidence and probable cause for a criminal trial (via AP News).