Vikings: Valhalla's Leo Suter And Sam Corlett Discuss The Challenges Of Filming Season 2's Frozen River Scenes - Exclusive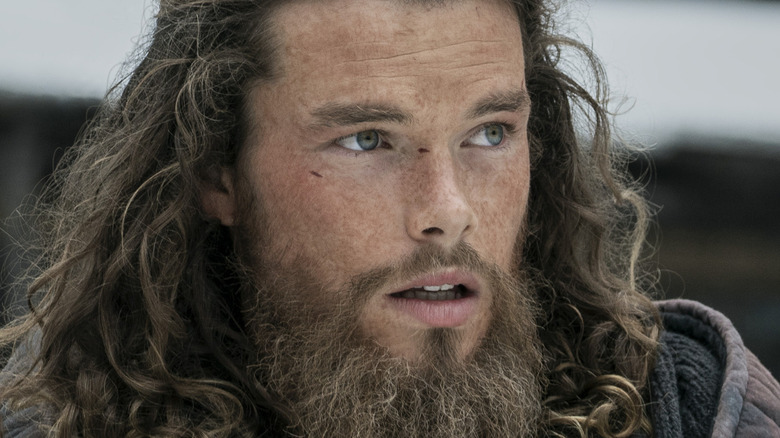 Bernard Walsh/Netflix
Immersing fans into an entirely new world is the primary purpose of TV shows. Whether it's drastic weather or a particularly intense action sequence, it's easy to feel like we're right there with the characters during their most daunting hours. Yet, at the end of the day, we know these scenarios are fabricated and the filming vibe is entirely different than what we see in the final product.
The "Vikings: Vallhalla" actors are all too familiar with this concept, as some of the iciest moments in the show were quite the opposite on set. Looper spoke to Leo Suter and Sam Corlett about Season 2's frozen river scenes and how those moments were vastly different than they seem.
At the mention of how cold and frozen the river scenes look, Suter said, "Looks can be deceiving. It was an Irish heat wave that summer. ... The skies [were] clear blue, and it [looked] like a crisp winter's morn, and it was completely the opposite. We were sweating buckets."
The challenges were welcome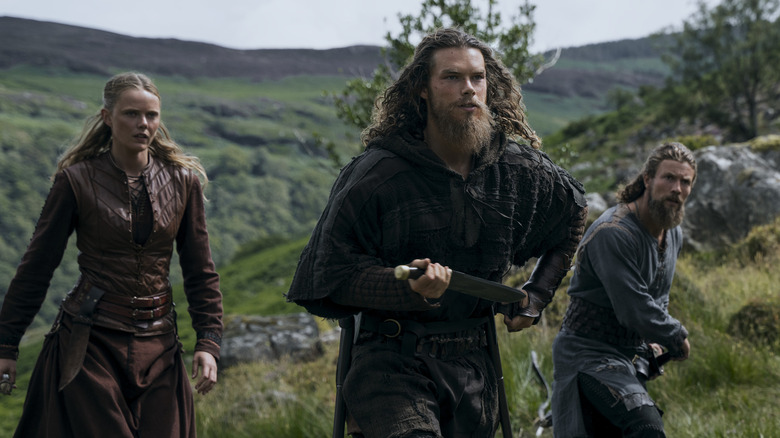 Bernard Walsh/Netflix
On the challenges of shooting in those conditions when the environment on-screen is supposed to be the opposite, Sam Corlett explained, "Often on this show, the challenges actually contribute to the expression of the characters. Whenever it's hard, it actually is a welcomed hardness for us to express the characters more truthfully."
Of course, with the amenities of the 21st century, even rough filming conditions are a significant step up from what actual Vikings lived through. Corlett added, "We haven't got much to complain about in terms of the life that we are living. We can say 'cut' and get a drink of water and warm up next to a heater. That didn't exist back in those times."
Most actors love a good challenge, and Corlett is no different. He reiterated, "Anytime there was a challenge on the physical side, it was certainly a welcomed challenge, whether it be to do with the water we were jumping in ..."
A sunny demeanor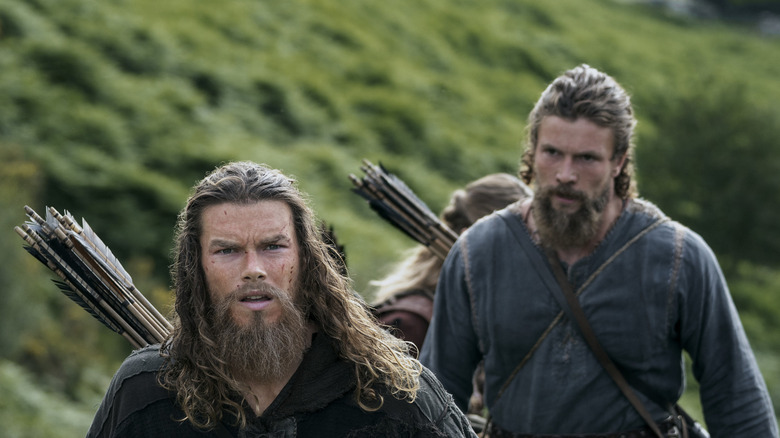 Bernard Walsh/Netflix
Sam Corlett continued, "We ended up going over a waterfall into water. We were shooting a sequence. I remember the first-aid guy watches us like a hawk because if we shiver, we have to come out, warm up, and then go back in again. So we're trying to get it done as quickly as possible."
Leo Suter asked Corlett if he remembered swimming on the beach. Corlett confirmed, and Suter explained, "At the end of the 1st episode of Season 2, we're stranded on a beach, and we've got to escape. It was the most beautiful beach. This heat wave lasted for weeks and weeks, so the heat wave [was] still going on. At the end of the day, we got a quick dip, and then we had to be bused back to Dublin."
Freydis actress Frida Gustavsson chimed in with, "So nice." 
Suter wasn't about to shade the warm weather, noting, "That was [a] perk of the job. It was a warm one this time around."
"Vikings: Valhalla" Season 2 is now streaming on Netflix.