Vikings: Valhalla's Frida Gustavsson On Freydis' Happier, More Vulnerable Season 2 Arc - Exclusive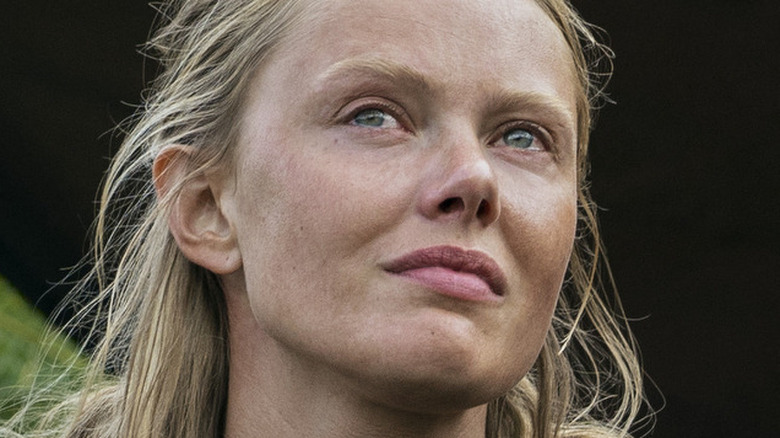 Bernard Walsh/Netflix
This article contains spoilers for Season 2 of "Vikings: Valhalla."
Fans of the Netflix series "Vikings: Valhalla" may be well-versed in Freydis' warrior side, but in Season 2, Frida Gustavsson's character doesn't have the luxury of her allies. As a result, she has to dive into her fighting skills to survive. With her Season 2 pregnancy, Freydis has more than a few hurdles to climb over — and she can't approach her personal life, her work, or her physicality the same way she's done in the past. So how exactly does Freydis handle her new circumstances this season? Well, Gustavsson has some ideas on the subject.
Looper spoke to Frida Gustavsson during an exclusive interview in which she discussed her character's transformation in Season 2 and how Freydis' pregnancy and isolation impact her choices. Leo Suter, who plays her on-screen love interest, also weighed in on Gustavsson's arc and her action sequences during the season.
A pregnant warrior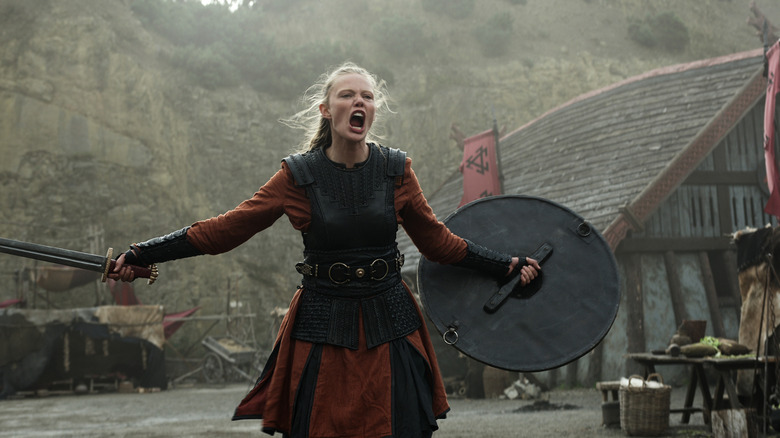 Netflix
On how Frida Gustavsson understands Freydis' more vulnerable choices this season, she said, "Freydis — having grown up [on] the outskirts of the Viking world, she's a hunter, and coming into Kattegat last season, she's trained by Jarl Haakon to become a legendary shield-maiden. Her physicality is something that she's always relied on." 
However, Freydis is in a much more vulnerable position this season. As Gustavsson noted, "Being pregnant alone in a new place, you're robbed of the possibility to fend for yourself, and that was a very vulnerable place to be in."
But it's not just Freydis' newfound vulnerability that Gustavsson had to get used to. The physical limitations weren't a walk in the park. "Relearning how to do all the fights with the prosthetics — I worked with Susan O'Connor Cave, our costume designer, to make these prosthetics the actual weight of what [they] would be at the different stages of the pregnancy — it shifts your balance, but it also gives you a very different way of fighting, where you're not only fighting for yourself but you're really protecting yourself," Gustavsson explained. "It's a very vulnerable season for Freydis this time around."
Surrender to the trust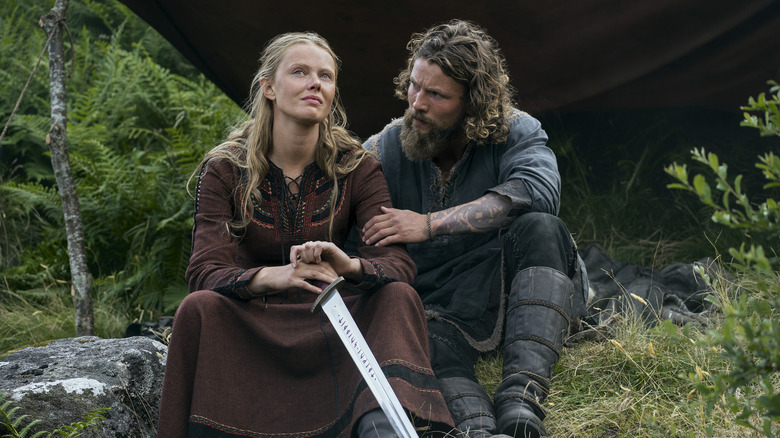 Bernard Walsh/Netflix
"There [are] some fights further down the season where she's in very rough shape," Frida Gustavsson continued. "She's just given birth, she's not been very well taken care of, and she's fighting with every little last ounce of energy that she has. I'm not going to say what happens, but it's beautiful to see. Just like Harald, she has to go through a journey of realizing that she can't do it all by herself. She needs to trust and believe in the people around her and surrender to that."
Even Leo Suter was impressed with Gustavsson's action work this season — and the believability of her pregnant battles. He chimed in, "When I've seen your fights in the early episodes when you're pregnant with our child, I'm [like], 'Whoa! Be careful!' I think you did an amazing job protecting two people, not just one."
Season 2 of "Vikings: Valhalla" is now streaming on Netflix.