Ghostbusters Director Ivan Reitman Settles The Debate On Whether It's A Comedy Or Horror Film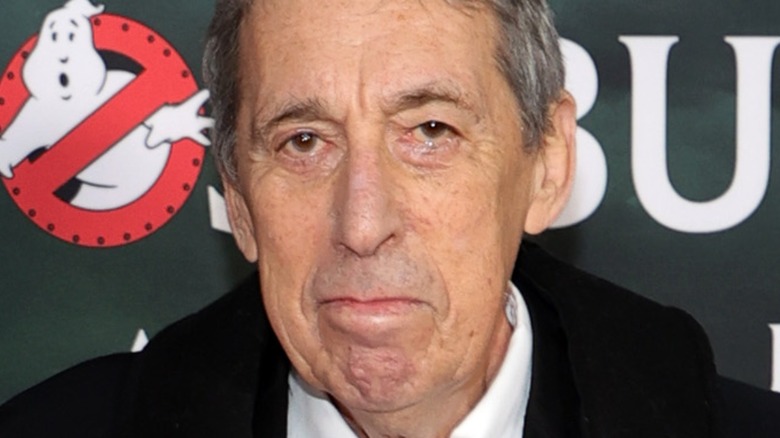 Mike Coppola/Getty Images
Ivan Reitman's "Ghostbusters" is a movie that's basically divided society for decades now, with people arguing constantly over whether it's technically a horror film or a comedy. Well, we're here to inform all you genre geeks that there's actually an answer to that, which was offered up by Reitman in a 2021 interview.
"Wife and I are having a HEATED debate," wrote Tony from HR, aka @medium_tony, in an October 2022 tweet, which came with a comedy vs. horror poll. "Need the masses to weigh in since google is torn as well," he said. "Is OG Ghostbusters comedy or horror?" Everyone who took part in the poll chose comedy. 
Scattered around Twitter are countless other users asking the same thing. One poll from 2020 that saw 140 votes being cast officially declared the movie a comedy, with 55.7% of voters saying so. Another 37.1% viewed it as both, and only 7% thought it was a horror flick. "I always saw it as a comedy lol but I guess I can see horror a bit," said @HorrorQueenNeve, who tweeted out the poll.
On the surface, it would seem that calling "Ghostbusters" a horror-comedy or comedy-horror would be perfectly fine for most regular movie fans. But for the cinema-loving diehards, it's a whole different story. Luckily, in February 2022, the late great Reitman decided to finally choose a side.
Ghostbusters is a comedy, says Ivan Reitman
When it boils down to it, Ivan Reitman has no other choice but to view "Ghostbusters" as a comedy, just like the majority of his films. He told CinemaBlend in November 2021: "Look, I've mostly made comedy films in terms of my sort of genre, so I have to think of it as a comedy." But that doesn't mean the legendary "Meatballs" and "Stripes" director didn't draw elements from the world of horror, which is where he actually got his start.
"I was a real horror movie fan," Reitman said while promoting "Ghostbusters: Afterlife" with his son, Jason Reitman, who is the movie's director. "And you cut your teeth on horror films," Jason pointed out. "I think I came to it as a fan of horror," the elder Reitman added, in reference to the 1984 "Ghostbusters." Looking back on his career, it's easy to see why.
Reitman's earliest work in Hollywood came as a producer and director in the '70s on horror movies like "Shivers," "The House by the Lake," and "Rabid" (via IMDb). His third project as a director, "Cannibal Girls" starring Eugene Levy, is considered both a comedy and horror. Its official tagline was: "THESE GIRLS EAT MEN." 
Reitman died at the age of 75 on February 12, 2022. His work on "Ghostbusters: Afterlife" marked his very last Hollywood film project, with his son saying it will live on as an ode to him and their life together (via Variety). As for the "Ghostbusters" franchise, fans will be seeing a major expansion in the coming years, with plans in place for an animated film and an "Afterlife" sequel.