Christian Slater Details The Thrills Of Entering The World Of Lucasfilm With Willow - Exclusive Interview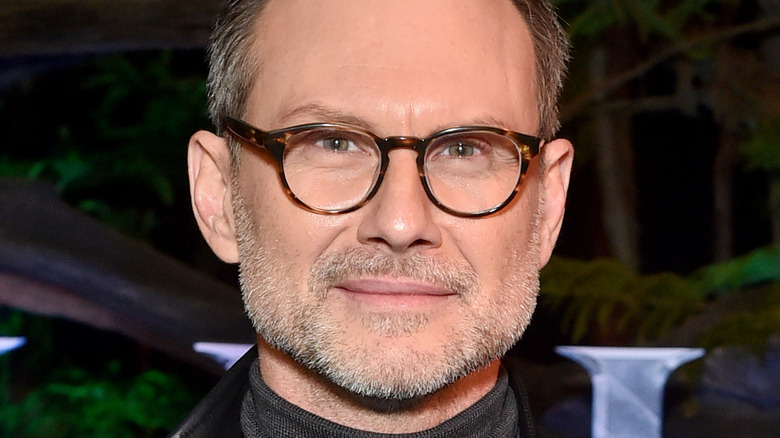 Alberto E. Rodriguez/Getty Images
The 1st season of the sequel series to the 1988 fantasy film classic "Willow" has wrapped after eight episodes on Disney, and among those basking in the warm memories of appearing on the show are acclaimed actor Christian Slater.
Slater, who has amassed more than 130 film and TV credits throughout his impressive career, with roles in such classics as "Heathers," "True Romance," "Interview with the Vampire," and more recently, "Mr. Robot," is introduced to the world of "Willow" in the series' 6th episode as a mysterious scoundrel named Allagash. Fancying himself as "the world's last great troubadour," Allagash is imprisoned deep below the surface in the Dread Mines of Skellin, where he's been locked in a hanging cage for the last 10 years by an army of trolls.
Taken prisoner by the trolls as well, Willow (Warwick Davis) and Princess Kit (Ruby Cruz) discover that Allagash has close ties to Kit's and Prince Airk's (Dempsey Bryk) long-lost father, Madmartigan (played in the "Willow" film by Val Kilmer), and claims to know how to find him. Before Allagash can help, though, the trio first has to escape the trolls' confines, and he needs to settle a contentious score with his old pal Boorman (Amar Chadha-Patel).
In an exclusive interview with Looper, Slater discusses his memories of the original "Willow" film as an actor on the rise in Hollywood, his history with Kilmer, and his wishes for the type of character he would like to play in a "Star Wars" project now that he's entered the world of Lucasfilm with his role in "Willow."
Slater's memories of the original Willow are tied to his work on a Coppola film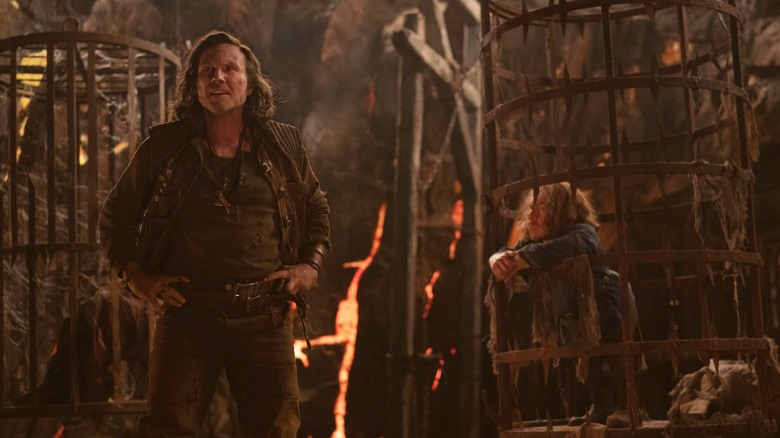 Lucasfilm/Disney+
You were well on your way to becoming established in the movie business around the time "Willow" came out. Was it one of those situations where you recall with some envy thinking, "I wish I would've had an opportunity to be in that"?
For sure. At the time, I had been working on "Tucker: The Man and His Dream." So I was in this world of Francis Ford Coppola and George Lucas and Ron Howard, and I remember them all coming to the set, and I don't really even know if "Heathers" had come out yet, but they had been talking about it or something. Then they did a big screening of "Willow" and we were all invited to go, and it was great. 
It was San Francisco; it was 1988 and I was 16 years old, and the movie was so fun. It was so fun, and Warwick [Davis] was great, and Val [Kilmer] was fantastic and brought such wonderful energy and charisma to it and such a different, quirky performance that was very special and adorable. You couldn't help but fall in love with the character.
I loved it, and when I heard about this show and Jon Kasdan approached me about it, I thought, "There's an opportunity here that we could create a character and have some fun with it."
And 35 years later, you're hanging out with Warwick Davis — in hanging cages!
Crazy, crazy life. Crazy, crazy deal. What a business.
Allagash brings clarity to the mystery of where Madmartigan is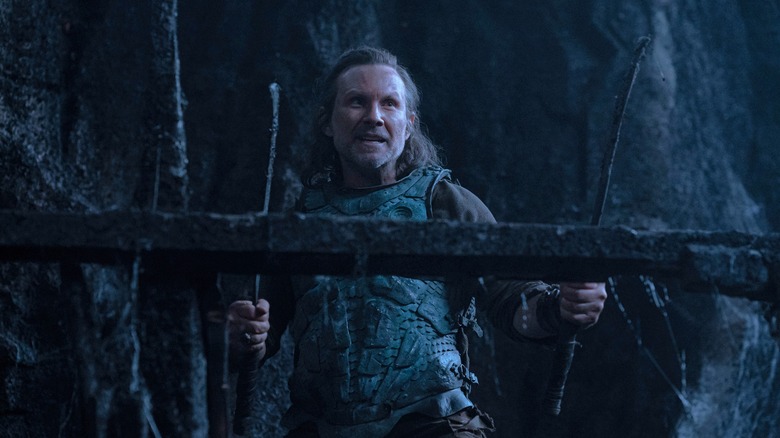 Lucasfilm/Disney+
One of the biggest mysteries of the series has been the whereabouts of Val Kilmer's Madmartigan, and Allagash is dangling this huge carrot for "Willow" fans because [he] claim[s] to know the whereabouts of Madmartigan. How thrilling was it for you to take on the role of Allagash knowing that Madmartigans's fate was tied to yours in a way?
They did throw that in there, which was exciting. One of the most important things in considering this was knowing that there was never going to ever be a replacement for Madmartigan. No one could ever step into the shoes of Madmartigan; that would be impossible. But Madmartigan could have a friend that he could have had during his adventures — and Allagash, being the type of guy who's unpredictable and a little nutty and a little offbeat as well, seemed like the type of person that Madmartigan attracted into his adventures. 
That made sense, and then you put a character like Allagash making a huge sacrifice for Madmartigan and getting stuck in a crow's cage for 10 years. The guy's really going to be out of his mind. He's been talking only to himself and the skeletons surrounding him for the last 10 years. I'm not sure what world Allagash is living in, but definitely, he's created a universe within his own mind that he is having a lot of fun with.
Sharing the screen with Val Kilmer again would provide a True Romance reunion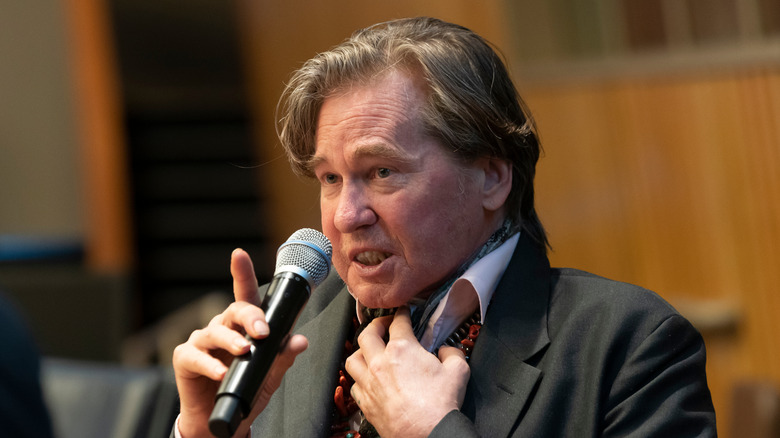 lev radin/Shutterstock
You were [also] dangling a carrot for fans of "True Romance" hoping for a screen reunion [between] you and Val Kilmer. Did you ever give that a thought?
All of that was in our heads as an opportunity. If this show hypothetically were to continue and there was a way to incorporate Madmartigan and Val Kilmer into the show [in a] 2nd, 3rd, whatever season, I would fly to the ends of the earth to make sure that it would happen — not only for myself but for the viewers, the fans — and try to make whatever we could possible because life should present every opportunity and leave us nothing but hope for the future.
I have to ask you as a quick aside: The scene with your Clarence and Val's Elvis-Mentor in "True Romance" [is legendary]. That has to be up there for career favorites of yours, right?
Oh, man. Yeah, that was certainly remarkable. When he showed up on set as Elvis, he was brilliant. He was brilliant, and we had some wonderful moments together, and our paths have intertwined over the years; we're friends. It felt like a nice opportunity here to pay some real homage to him, to our history, and if there was a way to continue on in that adventure, it would be wonderful.
Slater would like to play a scoundrel if he were cast in a Star Wars project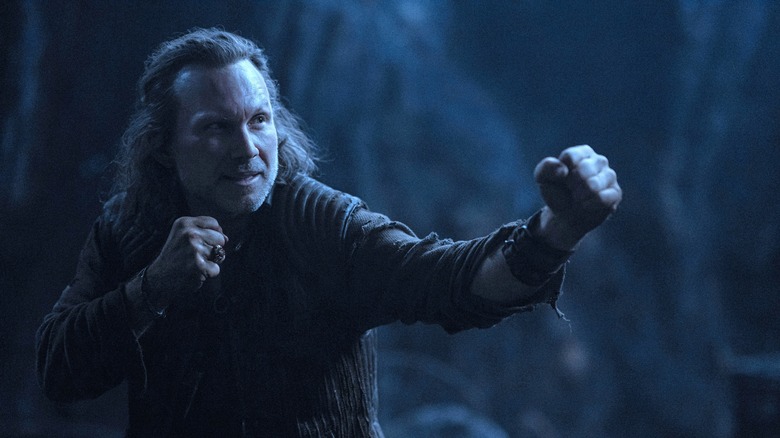 Lucasfilm/Disney+
I know you've done the voice for "Lego Star Wars: Terrifying Tales," but now that you've taken your first step into the live-action world of Lucasfilm with "Willow," do you hope to do a "Star Wars" project? If so, would you want to play a hero or villain?
I've always felt like I'm the type of character that would say, "There's no match for a good blaster at your side, kid." If I could deliver a line like that in a "Star Wars" movie, it would be fantastic.
That's Han Solo-ish, and after all, you're playing a scoundrel in "Willow," so it makes complete sense.
I like it. I think it would be a lot of fun, but who knows? I'm just having a good time, and I was glad to get the opportunity to be able to create a character from the ground up for this show. [It] was fun.
All eight episodes of "Willow" Season 1 are streaming exclusively on Disney+.
This interview has been edited for clarity.