What Is The Song At The End Of Willow Episode 8?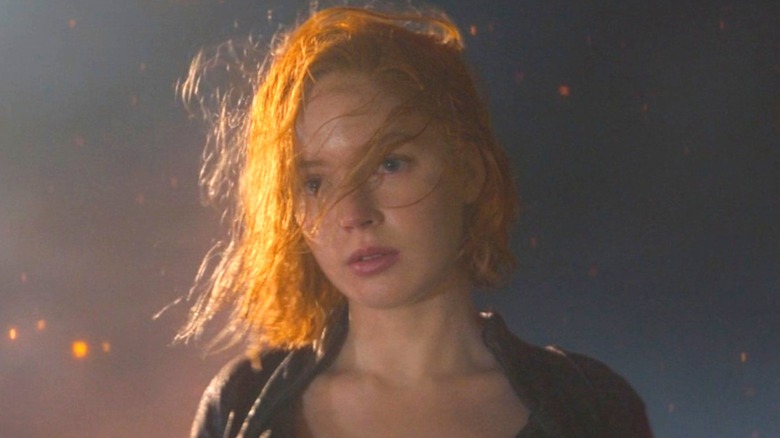 Disney+
Contains spoilers for "Willow" Season 1, Episode 8
The "Willow" sequel series on Disney+ is certainly a wild ride that almost never breaks pace as Willow Ufgood (Warwick Davis), Elora Danan (Ellie Bamber), Kit Tanthalos (Ruby Cruz), Jade Claymore (Erin Kellyman), Graydon Hastur (Tony Revolori), and Thraxus Boorman (Amar Chadha-Patel) seek to reach the Immemorial City and free Kit's brother, Airk (Dempsey Bryk). Along the way, the intrepid adventurers visit locations from the original movie, navigate ancient puzzles, make contact with long-lost relatives, and recover powerful relics all while fighting off hordes of different kinds of monsters. All in a day's work, right?
Having now wrapped up eight episodes, one of the most interesting choices when it comes to the production of "Willow" is that modern-day music is often selected for the show's credits. While the series has a typical orchestral-style score, some episodes have ended on such tracks as female-led covers of Metallica's "Enter Sandman" or Donovan's "Hurdy Gurdy Man." Of course, with that shocking stinger at the end of Season 1 of "Willow," some may be wondering where they know its accompanying song from, and it certainly was popular in the 1980s.
This 1980s song helped MTV gain popularity
Having finally reached Airk, Kit and Elora come face-to-face with the Crone (Jane Carr), who has been in disguise as Lili (Rosabell Laurenti Sellers). Eventually, an epic battle ensues that sees the Crone apparently defeated and Graydon cast into an alternate dimension. Though Elora and her protectors think they have earned a temporary reprieve, the final moments of "Willow" show Graydon wandering a battlefield where he is confronted by what appears to be Elora leading a great host of demons and monsters. As the camera pans out, Dire Straits' "Money for Nothing" begins to play.
"Money for Nothing" was written by Mark Knopfler, one of the members of Dire Straits, and Sting, the famous singer from the Police. Its music video should help some recognize the famous song since it won Video of the Year at the 1986 MTV Video Music Awards (via IMDb), and the phrase "I want my MTV" was one of the hallmarks of the channel for quite some time. In an interview for "I Want My MTV: The Uncensored Story of the Music Video Revolution," Steve Barron, who directed the music video, said of its production, "The song is damning to MTV in a way. That was an ironic video. The characters we created were made of televisions, and they were slagging off television. Videos were getting a bit boring, they needed some waking up. And MTV went nuts for it. It was like a big advertisement for them."