Janine's Iconic Glasses In Ghostbusters Were Not Originally Part Of Her Costume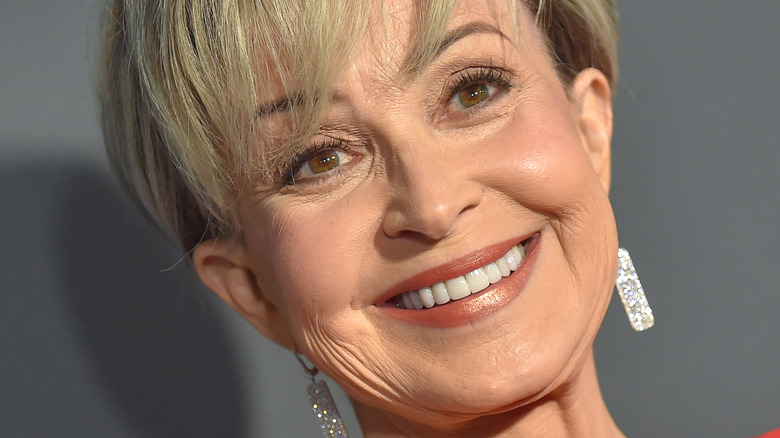 DFree/Shutterstock
Just like plenty of other iconic Hollywood movies, there are countless easily recognizable elements from 1984's "Ghostbusters" that fans can easily point out. Plenty of people familiar with the franchise can easily identify and point out items such as the proton pack, ghost traps, the red and white logo, Stay Puft Marshmallows, and even an entire firehouse. Some of these iconic "Ghostbusters" pieces even have a direct connection to a specific character of the film. For example, when fans combine ghosts with large, red-framed prescription glasses, all arrows point to Annie Potts's character, Janine.
Potts, along with many of the actors involved in the original blockbuster, was forever movie-immortalized after the film was released, as was the long list of highly familiar scenes, creatures, and props. As you probably know, "Ghostbusters" featured comedy actors Dan Aykroyd, Bill Murray, Harold Ramis, and Ernie Hudson as they played the paranormal exterminators tasked to save New York from an interdimensional takeover. Over the years, the film spawned sequels and spin-offs, including the latest installment, "Ghostbusters: Afterlife," which recently created new momentum for the continuing story.
As for Potts, she had been popping up on different TV series shortly before booking the role of Janine, the "Ghostbusters" secretary. Afterward, she reached new levels of success in the industry, most notably starring in the hit TV series "Designing Women" (via IMDb). 
However, that role, as well as future roles, barely resembled her iconic character Janine, who complimented those big red glasses perfectly. What fans may not know is that those glasses were not originally part of Janine's wardrobe.
A split second decision forever changed Janine
When Annie Potts was first stepping in front of the camera as Janine, the "Ghostbuster" team's brand new secretary, she explained to Glamour that she had not gone to the set to film any scenes that day. "I was in New York for one of my costume fittings, and they were shooting a big scene at the fire station," she recalled. "I finished my fitting, and they said, 'Come on down and watch the scene; it'll be fun.'" When Director Ivan Reitman saw that Potts was on set, he decided to throw her into the scene.
As Potts was about to jump in front of the camera for the first time in "Ghostbusters," she quickly turned to one of the crew to help her visually become Janine. "The costume designer was there with me, and she had these big Coke-bottle glasses on, so I said, 'Can I use your glasses,'" she explained. "And then I was stuck with these prescription glasses that I could barely see out of. That's how that started." Well, despite her lack of sight, the rest was history for Janine's iconic look. 
Of course, this improvised decision was on par with how much of the film was created. Thanks to the comedic geniuses around her, much of the film was improvised on set, deviating a lot from the script. "My training is not in sketch comedy, so it was terrifying to me because even though the script was so good, the guys would come on set and just make s*** up. And I was like, Wait, what? Where's the script? It was new for me," she said. But just like those iconic glasses, Potts's comedy chops caught on pretty quickly.