Who Plays Paula Hill On Blue Bloods?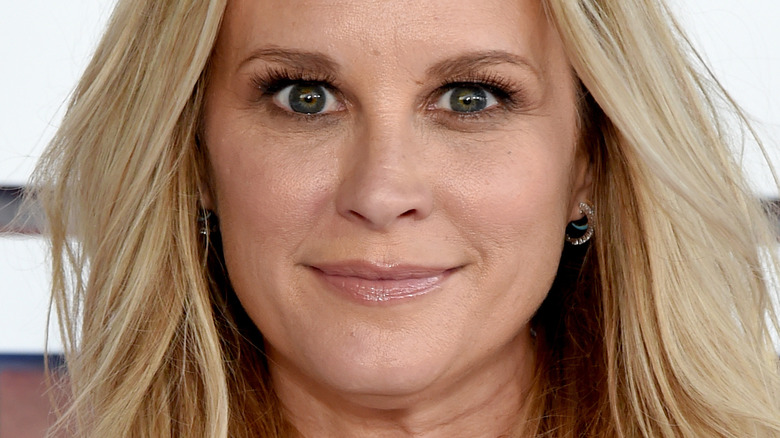 Michael Kovac/Getty Images
"Blue Bloods" is a long-running CBS crime drama series about a Catholic, Irish-American family in New York City that has spent generations in law enforcement. The show centers around the Reagan clan, whose patriarch, Frank Reagan (Tom Selleck), is the New York Police Commissioner. Two of his sons are also in the NYPD, while his daughter works as a district attorney. Dozens of other family members and supporting characters weave in and out of their lives.
Not seen in the show, but referenced, is Frank Reagan's son Joseph. His death in the line of duty predates the series but has had continuing ramifications throughout its 13 seasons. One of those ramifications, revealed in "Family Secrets," the Season 10 finale, is that Joseph has a son who was unknown to the rest of the Reagans. Named Joe Hill (Will Hochman), he is the child of Joseph and Paula Hill, with whom Joseph had a brief affair while the two were both training at the Police Academy. Like his parents, he's also in law enforcement, in the firearms division.
Joe Hill's true identity is revealed when he comes up on a DNA match as a Reagan cousin and his mother asks Frank Reagan to transfer him to a different assignment out of concern for his safety. When Frank refuses — despite being Joe's grandfather — Paula tells him that she does not wish for Joe to have any contact with the Reagan family. That changes, however, when Sean Reagan (the cousin who discovered the DNA match) invites him over for a famous "Blue Bloods" Sunday dinner.
Paula Hill is played by Bonnie Somerville, who has appeared in four "Blue Bloods" episodes but has a lot more to show in her extensive resume. Let's take a look.
Blue Bloods is not the first Blue series on Bonnie Somerville's resume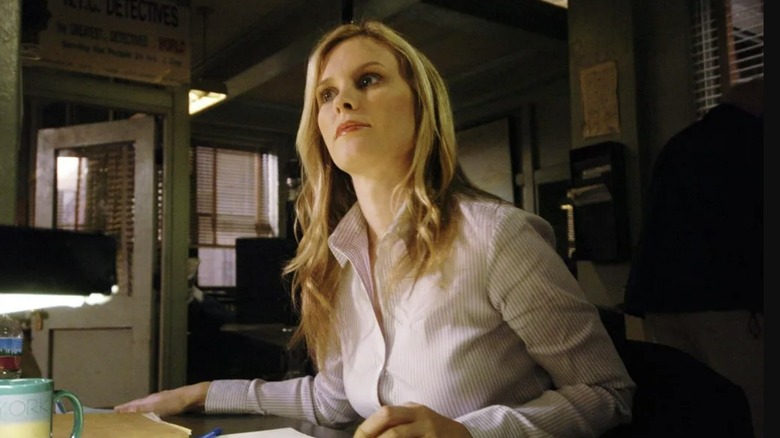 ABC-TV
Bonnie Somerville's most recent appearance on "Blue Bloods" was in "Nothing Sacred," Episode 9 of Season 13 (premiering January 6, 2023), but her acting career stretches back to the late '90s, when the New York City native made her television debut on an episode of "Two Guys and a Girl." Her big break came in 1999, in the two-part miniseries "Shake, Rattle, and Roll: An American Love Story," in which she played the lead role of a young woman who fronts a band and ends up becoming a successful music producer. The project utilized Somerville's talents as a singer, a profession she also pursues to this day.
Somerville next appeared in the 2000-2001 sitcom "Grosse Pointe," a spoof of the day-to-day production of nighttime soaps spearheaded by "Beverly Hills, 90210" creator Darren Star. Somerville played a character loosely inspired by "90210" star Jennie Garth during the show's 17-episode run, according to Paste magazine.
Her next major role might be the one that most viewers recognize her from: Mona, the girlfriend of Ross (David Schwimmer) during Season 8 (2001-2002) of "Friends." Somerville appeared in seven episodes, during which Ross and Mona's relationship is constantly in turmoil due to Ross fathering Rachel's baby and still being deeply involved in their lives. Somerville told the Independent in 2021, "I'm still Mona, and now more than ever because of [the show streaming on] Netflix."
Somerville's next big role was as Detective Laura Murphy during Season 12 — the final year — of the now-classic ABC crime series "NYPD Blue," with her character appearing in all 20 episodes of the 2004-2005 run. Coming from a family of firefighters, Murphy is initially perceived as flirting too much with the male cops by her partner, Rita Ortiz (Jacqueline Obradors), although the two eventually settle into their partnership.
Somerville has been working steadily on the screen for nearly 25 years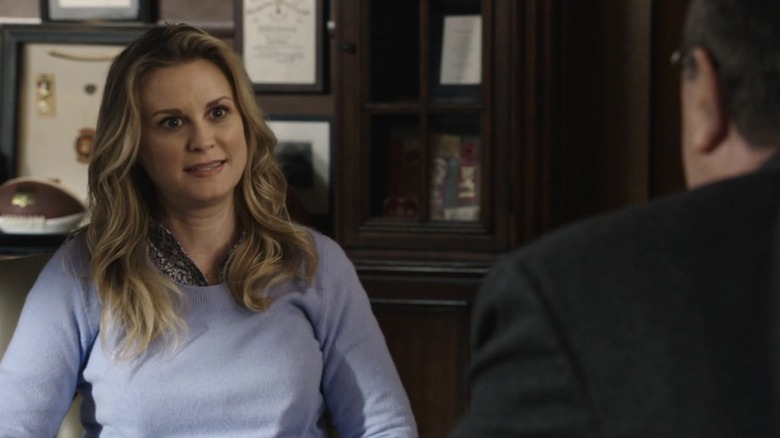 CBS
While "NYPD Blue" might be Bonnie Somerville's highest-profile series to date, she has appeared frequently on the small screen (and in a number of films) ever since. She played the head waitress of a restaurant in the short-lived sitcom "Kitchen Confidential," starring opposite a pre-stardom Bradley Cooper as a fictionalized version of chef Anthony Bourdain. She then had a seven-episode stint on the fashion-based sitcom "Cashmere Mafia" in 2008.
She returned to the world of crime dramas — and NYPD politics — in 2013 as a detective on "Golden Boy," a series starring Theo James as the youngest police commissioner in the city's history. From 2015 to 2018, she starred as Dr. Christa Lorenson — who becomes a doctor after losing her son to cancer and her husband to divorce — on the CBS medical series "Code Black," set in an overworked Los Angeles emergency room.
Aside from those regular series stints, Somerville has also landed recurring or single-episode guest spots on programs like "The O.C.," "The Mentalist," "Law and Order: Special Victims Unit," and many more. While fans will likely hope to see more of her on "Blue Bloods," you might also catch her singing around Los Angeles.