Looper Survey: The Absolute Best Blue Bloods Family Dinner Moment According To Fans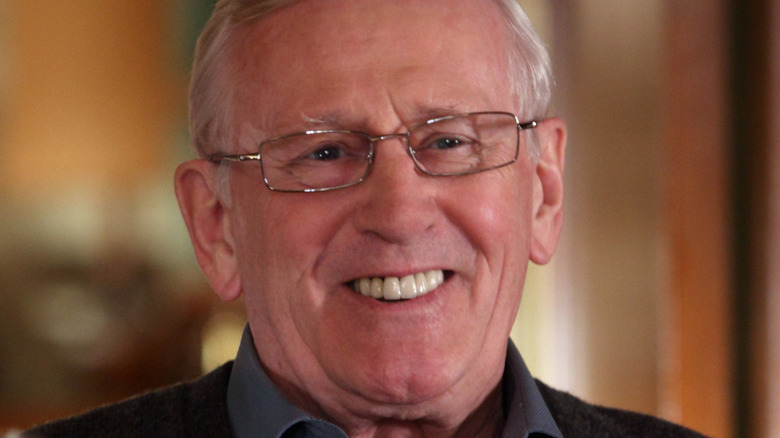 Eric Liebowitz/CBS
If you're a "Blue Bloods" fan, you're probably used to watching the family pass around more than the potatoes every Sunday night at Henry Reagan's (Len Cariou) house. These family dinners allow for displays of unity, conflict, and sometimes a funny reprieve from what can be midnight-dark work. Any and everything can happen during those repasts — from Nicky Reagan-Boyle (Sami Gayle) telling the whole family about her hidden (and nonexistent) tattoo to long debates about what justice, family, and love really mean. No matter what happens or what's on the menu, one can always expect a wild and wooly time when the whole clan gets together to talk and nosh. It's a moment where fans can really relate to their favorite characters and feel like they're breaking bread with them, even if they don't have a family that's like the ever-boisterous Reagans.
But which Reagan family meal is the most memorable? Which outing tugged the hardest at fans' heartstrings? To figure that out, Looper conducted a survey of 607 people around the country and asked them which Reagan family dinner was their absolute favorite.
The Reagans rallying around Linda still warms fans' hearts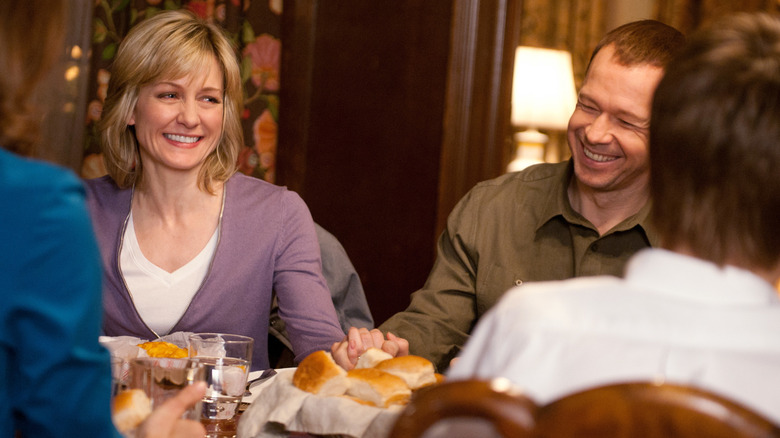 Jojo Whilden/CBS
Coming in at the head of the pack is the dinner scene that concludes "To Tell The Truth," which occurs during Episode 18 of Season 1. Linda Reagan (Amy Carlson) has just been freed after being kidnapped by the underlings of a mob boss who's trying to convince Danny Reagan (Donnie Wahlberg) not to hit the witness stand and testify to his crimes. Linda is ultimately rescued before the unthinkable can happen (at least in that episode), but it's a heart-pounding close call for the whole family. The dinner which occurs at Pops' afterward is joyous, as Linda's reunited with her kids for the first time since she was abducted. 24.88% of our readers loved this moment.
Fans picked the very first Reagan family dinner they witnessed — the one that took place after Jamie Reagan (Will Estes) graduates from the police academy in the pilot — as their second favorite dinner. The meal turns into a battlefield when Danny feels the need to grill Jamie to make sure that he has all of his fundamentals down pat. Since everyone else is very happy for him, things get awkward very quickly, even though Danny is just doing this to prepare Jamie for the reality of his beat cop life. That dinner grabbed 22.08% of the vote.
Next is the very moment mentioned in this article's preamble — Nicky Reagan's attempt at keeping the peace by talking about her tattoo. Occurring during Season 4's "Justice Served," the silence occurs because Jamie and Frank Reagan (Tom Selleck) are all suffering from different work-related issues they cannot share. Nicky later informs her family that she's joking; 18.95% of our readers chuckled, and this was also named our favorite Reagan dinner for Season 4.
Uniforms, a singleton's Valentines, and a speakerphone meal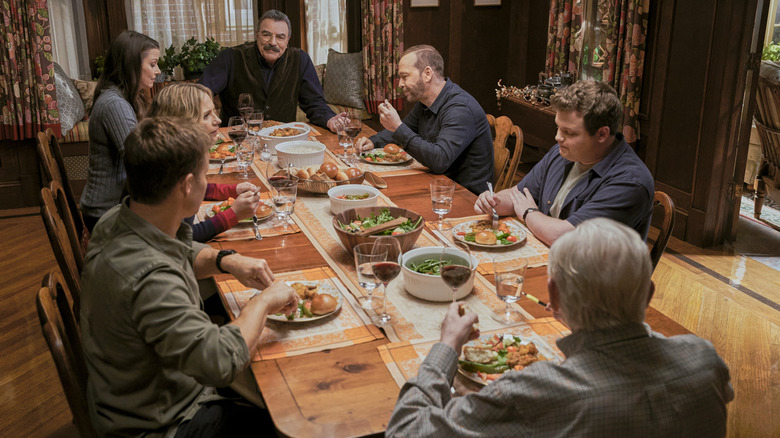 Patrick Harbron/CBS
Next up is a Valentines Day to remember, as Frank, Jamie, Henry, Nicky, and Erin Reagan (Bridget Moynahan) gather at a fancy restaurant to celebrate their singleton status during Season 1's "My Funny Valentine." 13.01% of our readers cheered on their happy meeting and hope that the next year they could 'try again.'
During the Season 4 finale, "Exiles," everyone returns home after Frank Reagan speaks a police academy graduation. This results in every single Reagan on the block wearing their dress blues at the dinner table. 12.36% of our readers liked this dinner the best.
Bringing up the rear is Linda and Danny Reagan's emotional dinner together at the hospital after Linda was shot during her rounds during Season 5, Episode 22, "The Art of War, Part 2." Linda survives being shot by a gang member and ends up surviving trauma surgery as well, and when the Reagans gather at Henry's for Sunday dinner she and Danny participate via speakerphones. 8.73% of our readers were touched by this moment.