What Has Danny Huston Been Up To Since Leaving Yellowstone?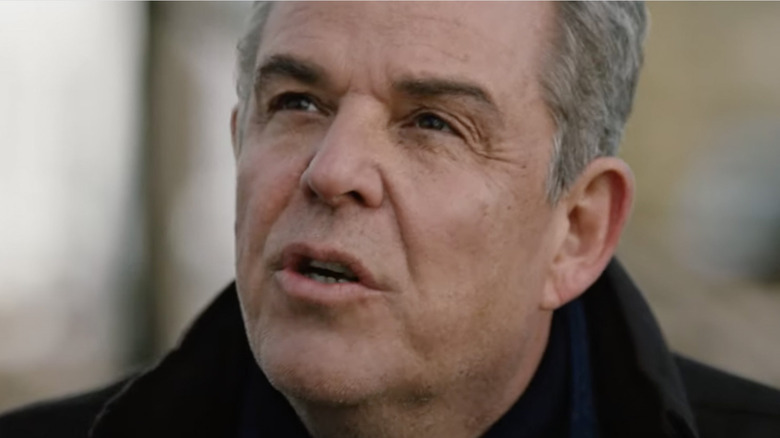 Paramount Network
One of the earliest adversaries to the Dutton family introduced in "Yellowstone," real estate developer Dan Jenkins (played by Danny Huston) never fully fit in with his new surroundings in Montana, becoming an instant adversary to John Dutton (Kevin Costner). In fact, it could be said that Jenkins acted as one of the first personifications of the future that Dutton had to grapple with in his home state. 
Jenkins seemingly escaped death after Dutton left him hanging from a tree in the "Yellowstone" Season 1 finale. The act was a warning — Jenkins drove on, sporting rope burns around his neck "Hang 'Em High"-style, only to later be mowed down by assassins in "Yellowstone" Season 2 Episode 10 ("Sins of the Father"), hired by the Beck brothers (Neal McDonough and Terry Serpico), two more business titans who'd decided to stare down the Dutton family. 
Huston's appearances on "Yellowstone" took place before the series became a bona fide hit; Paramount Network has since decided to spin off in multiple directions. An accomplished, Golden Globe-nominated actor (who has excelled as a villain in everything from "X-Men Origins: Wolverine" to "Wonder Woman" to "Edge of Darkness" and "Children of Men") who comes from Hollywood royalty (his father was John Huston, his sister is Angelica Huston, his nephew is Jack Huston and he was once married to Virginia Madsen), Huston has been in dozens of films and TV series since the early '90s.
From Martin Scorsese's "The Aviator" to the Nick Cave-penned Australian Western "The Proposition," the thespian was plenty busy before his stint on "Yellowstone." Unsurprisingly, he continues to be in high demand. Below, a look at what Danny Huston has been up to since leaving Montana ranching politics behind.
Danny Huston had a run on Succession
Huston jumped from one critically acclaimed drama to the next by following up his run on "Yellowstone" with HBO's "Succession." Huston appeared in six episodes of the second season of the HBO drama as Jamie Laird, a banker and advisor to Logan Roy (Brian Cox).
Laird is an advisor to Roy, but he's always angling for his own victories, making him as cutthroat as any other character in the series. Laird tries pushing Roy to take his company private in the second season, leading to friction within the Roy family since the conniving Laird and his firm stand to profit handsomely on such advice. The character is mentioned in "Succession" Season 3 as still being in the background of Roy's business dealings, but Huston's final "Succession" appearance was in the second season finale, titled "This Is Not for Tears." 
A teaser trailer has revealed that "Succession" Season 4 is arriving in Spring 2023, with Roy agreeing to sell Waystar Royco to a tech giant. Could Huston be slated to appear as Laird once again?
Danny Huston joined two major adaptations, one closing a circle started by his legendary father
Since leaving "Yellowstone," Danny Huston has also returned to the big screen, the source of much of his family's success over the generations.
Huston joined Liam Neeson for "Marlowe," which is scheduled for release on February 15, 2023 and is the latest in a long line of Raymond Chandler adaptations of his beloved detective character Philip Marlowe. Prior to Neeson, Marlowe has been portrayed by Elliott Gould in "The Long Goodbye" and James Caan in "Poodle Springs," among others. 
Huston is part of the latest adaptation's supporting cast, along with names like Jessica Lange and Diane Kruger. "Marlowe" premiered at the San Sebastian Film Festival in September 2022, where director Neil Jordan cited "Blade Runner" as an inspiration and Deadline reviewed it as "fun and it's fast: Information and wisecracks are packed into every minute of every scene to the point of giddiness."
Among other projects that have kept Huston busy since leaving "Yellowstone" is "Across the River and Into the Trees," another film pulling inspiration from a legendary writer, this time an adaptation of an Ernest Hemingway novel. Huston joined a stacked cast which also includes Liev Schreiber and Josh Hutcherson in February 2021 (per The Hollywood Reporter). Huston's father, "Maltese Falcon" director John Huston, optioned Hemingway's book before his death. 
So, since leaving "Yellowstone," Huston has occupied himself with another major drama series and two major film adaptations (one of which is helping to fulfill a dream of his father) — not bad for a man who once found himself on the wrong end of John Dutton's rope.