12 Movies To Watch If You Loved The Maltese Falcon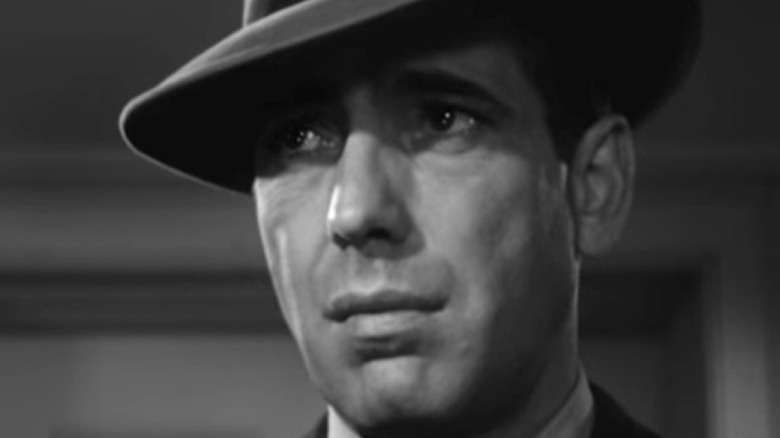 Warner Bros.
If film noir is defined by its icons – a hardboiled private eye, a femme fatale, a dark city full of sin – then "The Maltese Falcon" is one of the most iconic films of all time. The directorial debut of Academy Award-winning filmmaker John Huston, 1941's "The Maltese Falcon" helped launch leading man Humphrey Bogart into superstardom and has defined a genre for nearly a century.
Based on the classic crime novel by Dashiell Hammett, "The Maltese Falcon" stars Bogart as the world-weary San Francisco private detective Sam Spade. The beguiling Brigid O'Shaughnessy (Mary Astor) appears in his office asking for help and soon plunges Spade into a murderous plot involving the eccentric criminals Joel Cairo (Peter Lorre) and Kasper Gutman (Sydney Greenstreet). Spade must rely on his wits if he is to survive this deadly trio and recover the object of all their schemes and double-crosses: the priceless artifact known as the Maltese Falcon.
While "The Maltese Falcon" is one of the definitive entries in the crime film canon, anyone interested in cynical heroes, dangerous women, silvery cinematography, and an atmosphere of corruption has many more movies to explore. If you love "The Maltese Falcon," here are 12 films that will take you on a journey to the dark heart of film noir.
The Big Sleep (1946)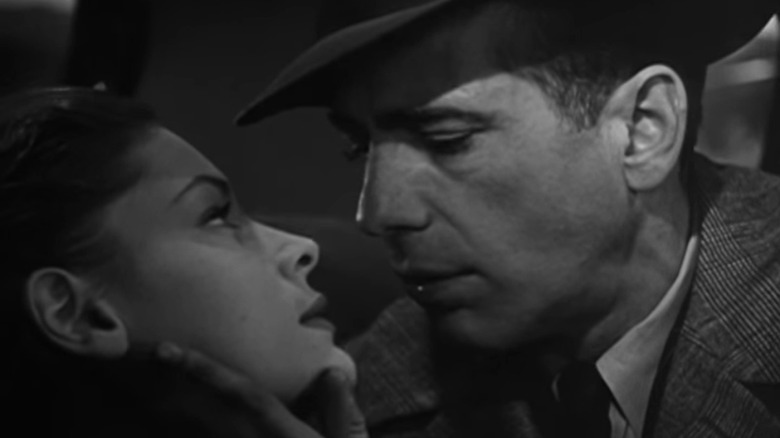 Warner Bros.
Between 1941 and 1946, Humphrey Bogart played two of pulp fiction's greatest detectives — Sam Spade and Philip Marlowe — on the big screen. Eight decades later, Bogart's filmography still boasts that unique distinction, making "The Maltese Falcon" and "The Big Sleep" a kind of matched set. Fans of classic film noir cannot talk about one film without recommending the other.
Based on the famously labyrinthine novel by Raymond Chandler, "The Big Sleep" sends Marlowe on a journey through the Los Angeles underworld on the heels of the wealthy Sternwood sisters. Sultry Vivian Sternwood (Lauren Bacall) is a match for Marlowe, but her younger sister Carmen (Martha Vickers) has the personality of a feral cat – and both may be murderers. That is just the start of the film's plot, but the central mystery is not meant to be solved so much as experienced.
Skillfully directed by Howard Hawks, "The Big Sleep" delivers action, tension, and vice. But the biggest pleasure may be found in watching two charismatic performers — in love both on and off the screen — dance verbal circles around each other. ("What's wrong with you?" "Nothing you can't fix.") "The Big Sleep" is the best of the four features real-life married couple Bogart and Bacall made together, automatically making it one of the greatest film romances of all time.
The Glass Key (1942)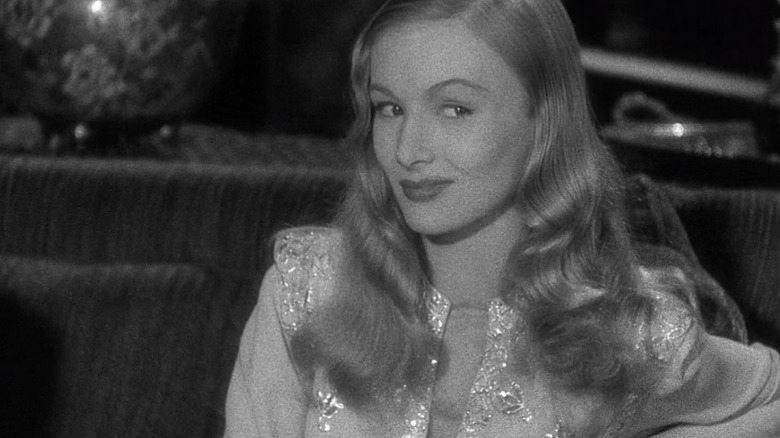 Paramount Pictures
Following the success of "The Maltese Falcon," another Dashiell Hammett book adaptation stormed the silver screen with 1942's "The Glass Key." Exchanging private detectives and a jewel-encrusted bird for shady politicians and a dead body, the film hides a few surprises beneath the brim of its fedora.
Political fixer Paul Madvig (Brian Donlevy) plans to give up his criminal connections when he falls in love with Janet Henry (Veronica Lake), the beautiful and enigmatic daughter of gubernatorial candidate Ralph Henry (Moroni Olsen). Madvig's right-hand man, Ed Beaumont (a deadpan Alan Ladd), is suspicious of the wealthy and well-connected Henrys, arguing that the fragile "glass key" to their home could break in Madvig's hand at any time.
One night, Ed stumbles on the corpse of Janet's brother, whose contentious relationship with Madvig was well known. As Ed tries to find the identity of the murderer and clear his best friend's name, an unusual love triangle unfolds, with Ed torn between his loyalty to Madvig and his growing attraction to Janet. Hammett's storylines and characters — both equally complicated — shine in this worthy adaptation. Silver screen siren Veronica Lake has one of the most memorable entrances in film noir history, slapping Paul Madvig at first sight.
The Killers (1946)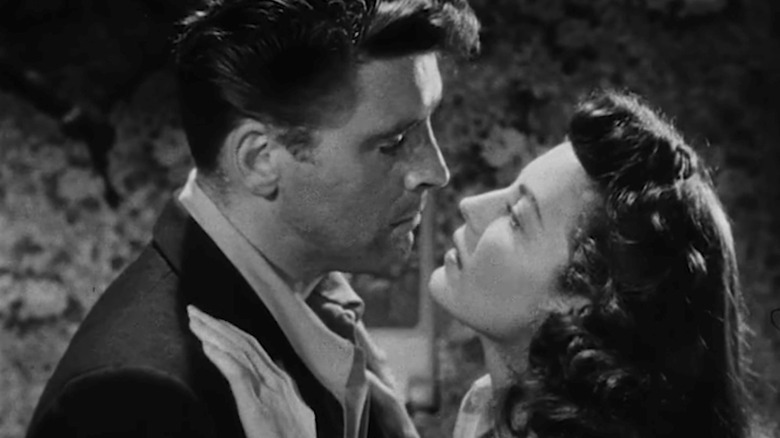 Universal Pictures
Robert Siodmak's 1946 film noir "The Killers" has an unusual literary pedigree. The film is based on a short story by famed author Ernest Hemingway, but where the story — about a pair of contract killers who arrive in a small town to execute a disgraced ex-prizefighter — ends, the film is just beginning. "The Killers" is a testament to the power of film adaptations and what they can add to a story.
The audience knows that the Swede (a towering Burt Lancaster in his first movie role) is doomed from the start, but multiple flashbacks illuminate the facts of his short, brutal life. After an injury that ended his boxing career, the Swede fell in love with the glamorous Kitty Collins (Ava Gardner in a star-making performance). Kitty also caught the eye of crime boss Big Jim Colfax (Albert Dekker), and when the Swede helps Colfax win a big score, she urges the besotted Swede to take the money and run. But the Swede was alone when the hired killers found him — what happened to Kitty? And the money? Insurance investigator Jim Reardon (Edmund O'Brien) is on the case, but the killers are now after him too. Tense and atmospheric, "The Killers" is anchored by Burt Lancaster's powerful performance as a dead man walking.
Double Indemnity (1944)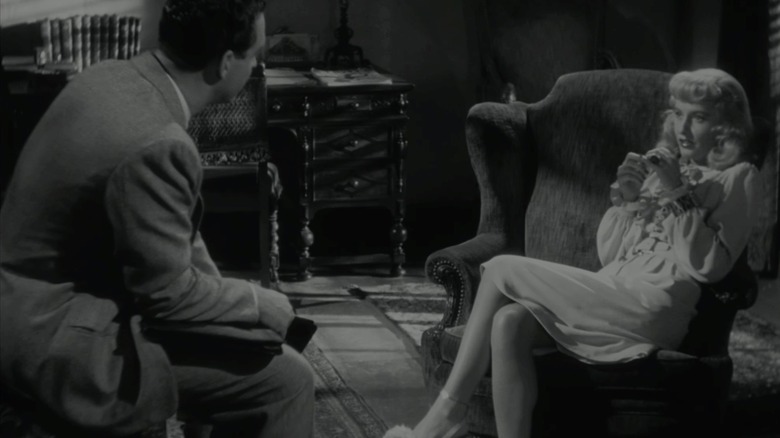 Paramount Pictures
Greed and lust are two of the deadliest sins in film noir, dooming many a hard-boiled protagonist. In "Double Indemnity," insurance salesman Walter Neff (Fred MacMurray) explains his motivation for murder: "I killed him for money — and a woman – and I didn't get the money, and I didn't get the woman." Don't worry, that isn't a spoiler. Directed by the legendary Billy Wilder, "Double Indemnity" is narrated by Neff and told in flashback, a quintessential noir trick.
Neff's fate is sealed when, during a routine house call, he meets platinum-blonde bombshell Phyllis Dietrichson (Barbara Stanwyck). Dietrichson seduces Neff, drawing him into a plot to murder her husband. By strangling the husband and staging his death as an accident, they intend to trigger his life insurance policy's double indemnity clause, netting Dietrichson – and Neff – a hefty fortune. The perfect crime, except Neff's colleague and close friend, Keyes (Edward G. Robinson) has been assigned to the case. And how far can Neff trust the icy black widow?
Anchored by Wilder's sardonic sense of humor and a script co-written by "The Big Sleep" scribe Raymond Chandler, "Double Indemnity" has often been imitated but never replaced. It is film noir at its very best: shadowy, seductive, and sinister.
Out of the Past (1947)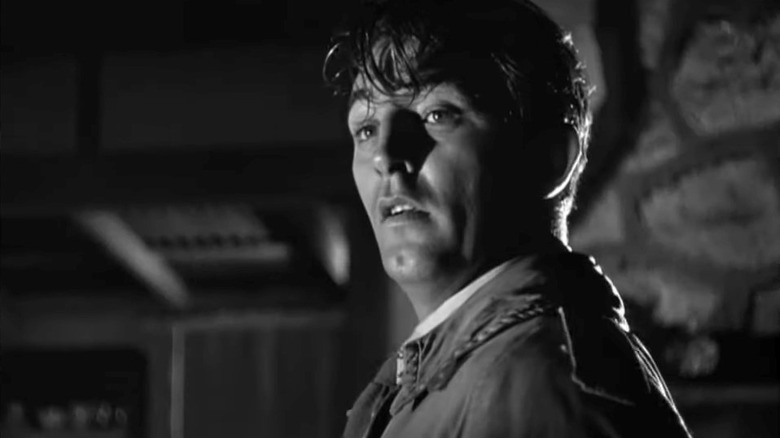 RKO Radio Pictures
Called "one of the greatest of all film noirs" by Roger Ebert, "Out of the Past" is about a man who can delay his fate, but not escape it. The 1947 film stars Robert Mitchum in the archetypal role of a cynical, world-weary private eye. Late in "Out of the Past," Mitchum's Jeff Markham realizes he has fallen into a trap, but he is unable — or unwilling — to slip out of it. He knows his fate is sealed, and he must follow it to the bitter end.
Told partially in flashback, Jacques Tourneur's "Out of the Past" unfolds like a dream that dissipates in reality's harsh morning light. Jeff was once hired by crime boss Whit Sterling (Kirk Douglas) to bring back his girlfriend Kathie Moffat (Jane Greer) after she supposedly shot him and ran away with $40,000. Upon finding Kathie, Jeff falls in love with her, but their brief affair ends with a man's death. Jeff goes on the lam, starting a new life as "Jeff Bailey" in a small town, but a chance encounter soon pulls Jeff back into Kathie and Whit's criminal orbit.
"Out of the Past" is one of the most fatalistic entries of the film noir canon, with a script that shoots off hip, tough guy banter like sparks. Only someone as effortlessly cool as Robert Mitchum can make a line like "Baby, I don't care" sound like a profession of love.
In a Lonely Place (1950)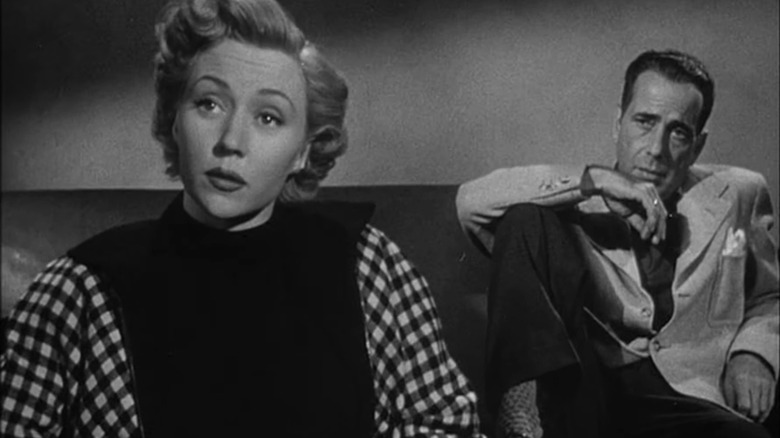 Columbia Pictures
Dixon Steele (Humphrey Bogart) is a screenwriter whose once-promising career has turned sour, along with his temperament. Reluctantly taking on the job of adapting a book into a major film, Dixon invites a hatcheck girl to his apartment to explain the plot. The next day, the girl is found murdered and Dixon — known for his violent outbursts — is the prime suspect. Dixon's neighbor, the actress Laurel Gray (Gloria Grahame), vouches for him, and the two fall passionately in love. But the murder remains unsolved, and with Dixon's jealousy and possessiveness taking a toll on Laurel, she becomes unsure of his innocence. What terrible secret is buried "In a Lonely Place?"
Directed by Nicholas Ray, "In a Lonely Place" is essential viewing for anyone who wants to see the darker side of Humphrey Bogart. Gloria Grahame also gives an extraordinary, tightly-wound performance as the conflicted Laurel Gray; her marriage to Nicholas Ray was disintegrating during filming, and the tension is palpable onscreen. Dixon's mournful refrain, "I was born when she kissed me. I died when she left me. I lived a few weeks while she loved me" doubles as an epitaph for every doomed love affair in film noir.
Phantom Lady (1944)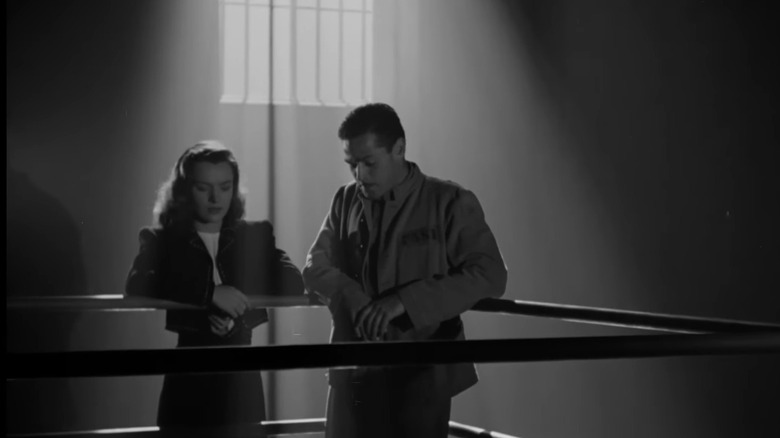 Universal Pictures
The success of "The Maltese Falcon" spawned countless cinematic detectives; whether in "The Big Sleep" or "Out of the Past," they prowl the neon-soaked streets in search of killers and clues. Robert Siodmak's 1944 mystery "Phantom Lady" is a sly, subversive take on the formula, not the least because this time, the sleuth is a young woman in love with a possible homme fatale.
Carol Richman (Ella Raines) is a young secretary smitten with her boss, Scott Henderson (Alan Curtis), who affectionately calls her "Kansas." When Scott's unfaithful wife is murdered with one of his neckties, he protests his innocence. But his alibi rests on a stranger whose name he does not know, a woman who can only be identified by her unusual hat. With Scott arrested and sentenced to death, Carol probes the city's dark underbelly in search of the "Phantom Lady" who can save him.
"Phantom Lady" is a haunting, atmospheric film noir buoyed by Ella Raines' performance as the plucky and resourceful girl Friday. The film also has some impressive mystery credentials behind-the-scenes — it was produced by frequent Alfred Hitchcock collaborator Joan Harrison, one of the first female producers in Hollywood. Fans of "The Maltese Falcon" should keep an eye out for the great character actor Elisha Cook Jr. (who played Wilmer in "Falcon") as a strung-out drummer who gives Carol the performance of a lifetime.
Three Strangers (1946)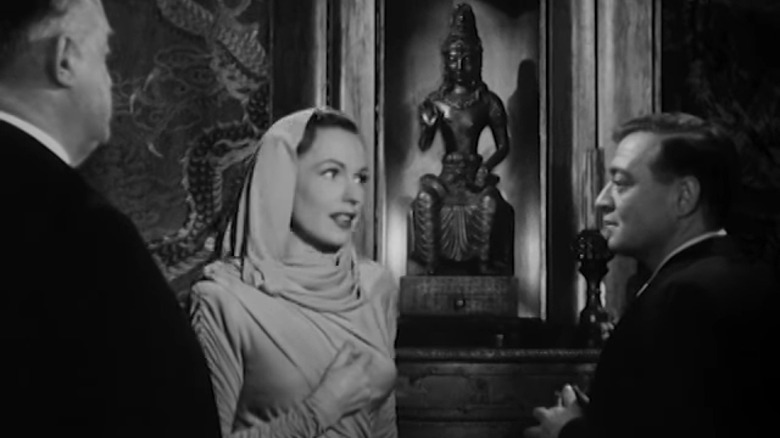 Warner Bros.
"The Maltese Falcon" was the first of nine feature films that co-starred the iconic character actors Peter Lorre and Sydney Greenstreet. The cinematic partnership that began with Joel Cairo and Kasper Gutman continued in films as varied as the legendary "Casablanca" and the eccentric "Beat the Devil," but the 1946 crime drama "Three Strangers" is both an overlooked gem and a thematic sequel to "The Maltese Falcon."
Co-written by John Huston, "Three Strangers" puts Lorre and Greenstreet once again under the thrall of a mysterious statue. Crystal (Geraldine Fitzgerald) summons strangers Johnny (Lorre) and Jerome (Greenstreet) to her home with the belief that if they make the same wish to an idol of a Chinese goddess, they will be granted good fortune. As silly as it may sound, all three desperately need money: Crystal wants to win her husband back, Jerome has been embezzling funds, and Johnny's criminal connections have returned to haunt him and the girl he loves. When a winning sweepstakes ticket comes between them, the tentative arrangement between the three strangers comes crashing down. An engrossing melodrama with an ironic finish, "Three Strangers" is also a must-see for fans of Peter Lorre in particular. The film gives the actor best known for his unconventional and villainous roles a rare and memorable chance to play the romantic lead.
Gun Crazy (1950)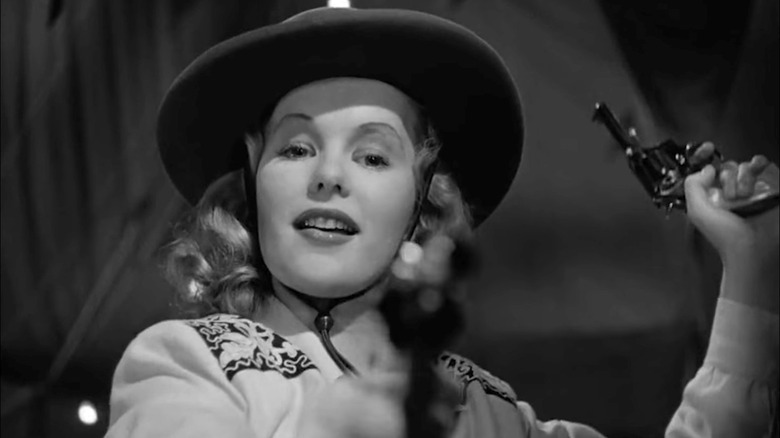 United Artists
There are several dangerous dames who make an appearance on this list, but none of them put the "fatale" in femme fatale like Annie Laurie Starr. Irresistibly played by Peggy Cummins, Laurie is a sharpshooter at a traveling carnival when she meets her destiny in the form of Bart Tare (John Dall). Fresh out of the army, Bart has a troubled past but is an expert shot. When he challenges her to a shooting contest, they are already in love — she has found the one person in the world as "Gun Crazy" as her.
Sporting a script by blacklisted screenwriter Dalton Trumbo, 1950's "Gun Crazy" is a propulsive crime thriller buoyed by the passionate performances of its two young leads. Though Laurie drags Bart into a dark world of petty robberies and inexplicable thrill killings, they are completely convincing as two doomed kids in love. Among its many exciting sequences, "Gun Crazy" features a nail-biting uninterrupted shot in which Bart and Laurie — dressed in their carnival cowboy costumes — pull up to a bank in a sedan and rob it in broad daylight.
Blood Simple (1984)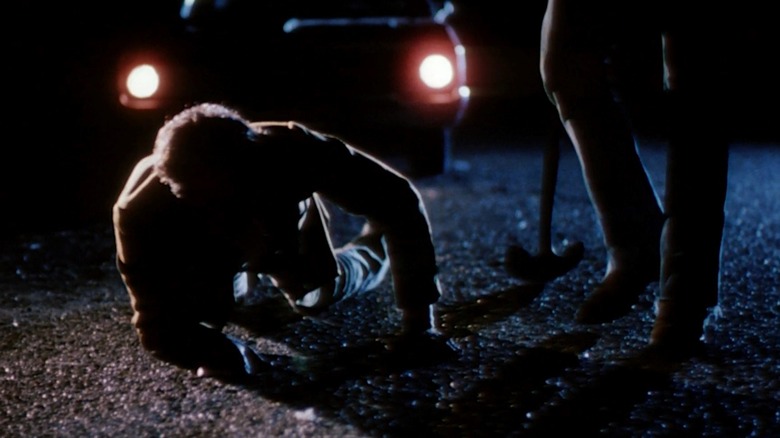 Circle Films
Blood flows freely in "Blood Simple," but the story — featuring a pair of cheating lovers, a deadly double-cross, and a shallow grave — is the opposite of simple. The first feature film by Joel and Ethan Coen, 1984's "Blood Simple" is a gutsy neo-noir filmed in frightening full-color.
Unhappy housewife Abby (Frances McDormand, also in her feature film debut) begins an affair with Ray (John Getz), a bartender working for her sleazy husband Julian Marty (Dan Hedaya). Suspicious, Marty hires the private investigator Loren Visser (M. Emmett Walsh) to trail them and, once he has proof of the affair, to kill them. While other cinematic private eyes on this list, like Philip Marlowe and Jeff Markham, are cynical but ultimately scrupulous, Visser is utterly cold-blooded. His machinations soon trap Marty, Abby, and Ray in a dark web of betrayal and death. As for the title? "Blood Simple" is nicked from a term in Dashiell Hammett's crime novel "Red Harvest," referring to the frenzied state of mind that follows committing the act of murder. A confident debut by two of independent cinema's greatest filmmakers, "Blood Simple" wears its hardboiled influences on its blood-splattered sleeve.
Pickup on South Street (1953)
20th Century Fox
The central framework of "The Maltese Falcon" — a motley crew of crooks and crime-solvers in search of a mysterious MacGuffin — is updated for the Cold War era in 1953's "Pickup on South Street." Jean Peters stars as Candy, a young woman unknowingly transporting microfilm containing government secrets on behalf of her ex-boyfriend, a Communist spy. On a crowded subway train, rakish pickpocket Skip McCoy (Richard Widmark) steals her wallet – and the microfilm – leading to an intense cat-and-mouse game in New York City's criminal underworld. When Candy's appeal to Skip's patriotism fails, she makes a play for his heart, and the two unlikely lovers make an explosive combination.
Running at a tight 80 minutes, "Pickup on South Street" is a lean, mean, and effective spy thriller. Director Samuel Fuller's fascination with the criminals living on the margins of society gives his characters gritty realism. That's especially apparent in police informer Moe (Thelma Ritter, in an Academy Award-nominated performance), who saves her underhanded earnings to pay for her own funeral. The fact that petty crooks like Candy, Moe, and Skip potentially hold the fate of the world in their hands gives "Pickup in South Street" a shocking complexity and an existential edge that distinguishes it from pure pulp fiction.
The Maltese Falcon (1931)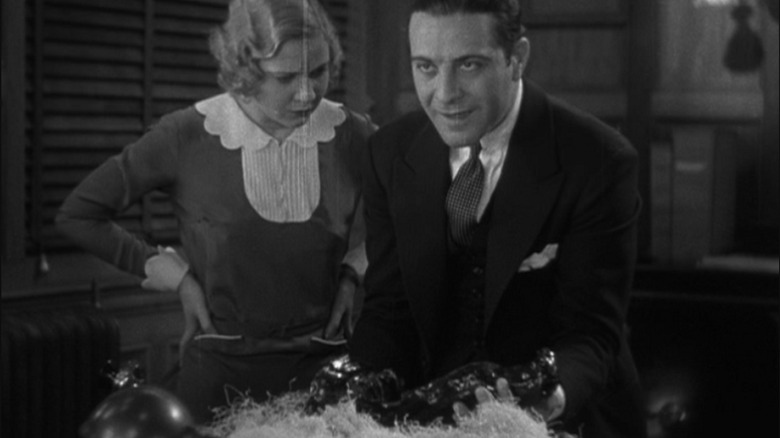 Warner Bros.
No, you aren't seeing double. John Huston's 1941 version of "The Maltese Falcon" is actually the third adaptation of Dashiell Hammett's novel, following a 1931 film and 1936's "Satan Met a Lady," starring Bette Davis. (That three Hollywood adaptations were filmed in a ten-year span speaks to the popularity and impact of the book.) "Satan Met a Lady" is an especially loose adaptation, with the all-important Maltese Falcon turned into a ram's horn stuffed with jewels, but the 1931 version of "The Maltese Falcon" is worth watching for fans of its more famous remake.
An example of pre-Code Hollywood, the 1931 "Falcon" is a faithful but lurid adaptation that amplifies the book's pulpy sensuality. Ricardo Cortez's Sam Spade is a womanizer strongly implied to sleep with his clients, while lead actress Bebe Daniels stars in a then-provocative bath scene and is strip-searched by the shady private detective. Without the censorious boundaries of the production code, the original "The Maltese Falcon" is suggestive but also surprisingly sentimental towards its criminal characters. It ends on a softer, more bittersweet note than the film that followed it, and while 1941's "The Maltese Falcon" will never be overshadowed, the story is still the stuff that dreams are made of.