March 2018 Trailers That'll Blow You Away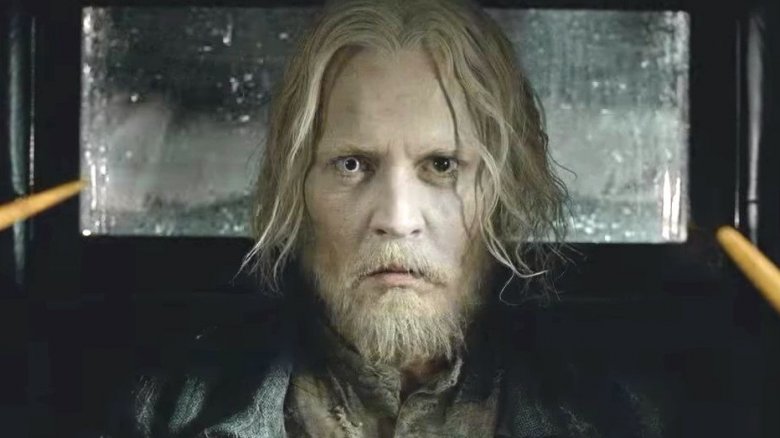 March 2018 has been a fire sale month for new movie trailers, with each studio eager to build as much hype as possible before their films are released. How many times can the Jackass crew laugh in the face of death? Who are all the new mutants joining Deadpool's team? And most importantly, what has Hawkeye been up to over the last couple of months? March's hottest trailers have some of the answers, and they're ready to blow you away.
Over the course of the month, we saw new trailers for high-profile releases like Infinity War, Deadpool 2, and Fantastic Beasts: The Crimes of Grindelwald, along with some exciting first looks for upcoming films like the Sicario sequel and the Jackass-esque Action Point, to name a few. With so many movies big and small on their way to theaters in 2018, it's a lot to go through. Here's a look at the trailers released in March 2018 for films that we're getting excited about.
Wildling — April 13
From IFC Midnight, Wildling is a horror thriller about a young girl named Anna who is thrust into the modern world after spending her whole life being raised by her father in the woods. She's put in the care of a police officer named Ellen (Liv Tyler), who soon realizes that there's something strange about the girl. In particular, Anna can't seem to shake her fear of a local legend about a ferocious beast called the Wildling.
There's a lot to take in from the trailer, which kind of sort of hints that Anna may have been the Wildling all along, or at least one of whatever species they are. Hopefully that isn't the movie's main plot twist, but even if it turns out to be, Wildling at least looks like an enjoyable ride. Brad Dourif, most famous for voicing Chucky, co-stars, and Wildling hits theaters and video-on-demand services on April 13.
Avengers: Infinity War — April 27
With another full-length trailer for Infinity War released this March, Marvel is definitely cashing in on the hype for what Chris Pratt is calling "the biggest movie of all time." Set to an emotional rendition of the original Avengers theme, the newest trailer hints at a plan to make Thanos come to the Avengers' home field to secure his Infinity Stones, and of course offers more glimpses of the epic superhero team-ups we're all waiting for.
Tony Stark and Peter Parker hash out a plan with Peter Quill and Drax. Captain America rides into battle alongside T'Challa. Thor brings the lightning with Rocket and Groot. It's like getting all the ice cream flavors on one cone (minus whatever flavor Hawkeye is. Very Berry?). This is reportedly the final trailer before the film's big release on April 27, so drink it in, fans. It won't be long before this is just another Marvel movie that already happened.
Terminal — May 11
What the heck is this movie about? The teaser gives nothing away (which is, admittedly, what teasers are supposed to do) and most of the visuals cover a pair of feet in high heels walking down a candlelit aisle. Fortunately, we feel pretty safe in assuming that those feet belong to Margot Robbie, who headlines Terminal as "a waitress with a double life," according to the similarly vague IMDb description.
Robbie's voiceover in the clip hints at dark happenings with some Alice in Wonderland rhetoric, and the brief, 30-second teaser has no shortage of visual style. As far as plot details, we'll just have to wait for a more involved trailer — or, preferably, just wait until the movie comes out on May 11. Mike Myers and Simon Pegg are also slated to star in the film, although their roles are still just as much a mystery as the rest of Terminal.
Deadpool 2 — May 18
Deadpool 2's trailers have all been great, and some of the best parts come from a surprising place: the YouTube descriptions. According to the official synopsis, this movie is about a "disfigured cafeteria chef" on a mission to become "Mayberry's hottest bartender." But as amazing as that film would be, we're pretty sure that the actual story for Deadpool 2 isn't going to disappoint, either.
This trailer sees Deadpool putting together the X-Force team and features plenty of action and jokes along the way — including a ridiculously obscure Van Wilder gag, because why not?
And while the first trailer was mostly filled with jokes about the film's CG and writing, this one touches on the story a little more, revealing that Cable is on a mission involving Julian Dennison's as-yet unnamed character (although our money's still on Thunderbird) and giving a little more screen time to Zazie Beetz's Domino as well as Terry Crews, Bill Skarsgård, and Shioli Kutsuna's characters. At this point, we're all definitely hyped for Deadpool's second coming.
Action Point — June 1
Judging by the trailer, Action Point will lie somewhere between a scripted film and a Jackass stunt showcase. The film draws from the real-life Action Park, a notorious New Jersey waterpark. The park featured such attractions as Cannonball Loop, a rickety waterslide that began with a steep 45-degree drop and ended in a bone-crunching full 360-degree loop before ejecting patrons onto a plastic tarp being sprayed down by an employee with a garden hose.
Legend has it that the park had a special parking lot reserved for ambulances (totally unverified, of course), and if you didn't end your day of fun in the sun with a few cuts and bruises, well, you weren't doing it right.
Yeah, it was that kind of waterpark. So it should be no surprise that Johnny Knoxville honed in on Action Park as the subject for his newest movie. It's the perfect canvas for painful, epic stunts, and with Jackass mainstays like Chris Pontius along for the ride, we're crossing our fingers that the movie production suffers fewer casualties than the park itself.
Tag — June 15
Go ahead and make all the Hawkeye jokes you want, but you can't deny that Tag looks like a fun film. The story centers on five friends who have spent most of the last 30 years playing the same game of tag — for one month every year, they engage in a no-holds-barred game of "you're it," ignoring all social conventions while the game is on. Wedding ceremony? Funeral for a father? It doesn't matter as long as they can get within tapping distance of each other.
Starring Jeremy Renner, Jon Hamm, Ed Helms, and Hannibal Buress — along with a massive supporting cast — the film covers the final year of the game due to the fact that Renner's character is getting married and throwing in the towel.
Believe it or not, Tag is actually based on a true story that was first covered in The Wall Street Journal about a group of friends who have been doing this exact same thing for decades. It's not all lighthearted playground antics, either. It was this film, and not Infinity War, that saw Renner break both of his arms performing a stunt. That's a little more hardcore than getting together with your old friends for a game of Yahtzee.
Under the Silver Lake — June 22
From David Robert Mitchell, the writer and director who brought us 2015's It Follows, Under the Silver Lake is a surreal neo-noir mystery comedy about a young man (Andrew Garfield) in L.A. who starts searching for clues about a woman's (Riley Keough) disappearance. The deeper he digs, the more he begins to believe that there's a secret code embedded in the world's media, with everything from pop songs to cereal boxes hiding messages for him to decode. Even though everybody thinks he's losing his mind, he's determined to figure out the truth — no matter what the cost.
From the looks of the trailer, Under the Silver Lake will be a swan dive into paranoia, centered on a man who may have discovered the world's biggest, darkest secret...or, he might just be crazy. Either way, the trailer promises plenty of suspense, violence, and conspiracies, all wrapped up in a quirky comedy.
Sicario: Day of the Soldado — June 29
2015's Sicario raked in huge amounts of critical praise for its unflinching portrayal of Mexico in the grip of a cartel war, although it wasn't exactly the kind of movie that screamed for a sequel. Day of the Soldado will see Josh Brolin and Benicio del Toro reprising their roles as federal agent Matt Graver and the enigmatic Alejandro Gillick. Their job in Soldado is to push the Mexican cartels into a full-on war, no matter who gets caught in the crossfire.
Denis Villeneuve, who helmed the first film, won't be returning as director, with the reins instead going to Stefano Sollima, an Italian director whose previous credits include 2015's Suburra and the TV series Gomorrah, both of which focus heavily on organized crime. In other words, he should be a good match for the Sicario brand. And with a script from Taylor Sheridan, screenwriter of the original, Sicario: Day of the Soldado ought to be just as powerful as its predecessor.
The Legacy of a Whitetail Deer Hunter — July 6
From the team behind HBO's Eastbound & Down, The Legacy of a Whitetail Deer Hunter certainly looks like a movie to get pumped for. Not only is it the third pre-release clip this month to feature Josh Brolin (all for different films), it also reunites Danny McBride with director Jody Hill.
In The Legacy of a Whitetail Deer Hunter, Brolin stars as Buck Ferguson, a veteran hunter and TV personality who takes his son out on a hunting trip in an effort to bond. Along for the ride is Danny McBride, Buck's cameraman. This clip from the film focuses on these three sitting around a campfire having a conversation about Buck's divorce, and manages to be both touching and hilarious in barely a minute of run time. If that's any indication of how the full movie will turn out, we'll definitely be watching when The Legacy of a Whitetail Deer Hunter shows up on Netflix on July 6.
The House with a Clock in its Walls — September 21
As a director, Eli Roth is best known for movies like Cabin Fever, Hostel, and Green Inferno — you know, not the kind of stuff you'd take your kids to. So it may be surprising that Roth is set to direct this upcoming children's fantasy film, although if he was going to make the break into children's films, The House with a Clock in its Walls isn't the worst place to start. Based on a young adult horror novel by John Bellairs, the book is filled with ghosts, monsters, and black magic, right up any horror lover's alley.
The story centers on a young boy who moves in with his uncle, a mid-level warlock, who enlists the boy to help him find a magical clock in the house that has to power to bring about the end of the world.
In the trailer, we get our first look at Jack Black as the uncle and Cate Blanchett as the powerful witch who lives next door. From the looks of it, The House with a Clock in its Walls is turning into a slightly creepier A Series of Unfortunate Events, which honestly sounds pretty fantastic, especially with Steven Spielberg's production company Amblin Entertainment behind the film.
Fantastic Beasts: The Crimes of Grindelwald — November 16
Newt Scamander is heading to Paris in the latest trailer for Fantastic Beasts: The Crimes of Grindelwald, where he apparently bumps into a young, handsome Albus Dumbledore, played by Jude Law. Dumbledore is aware of the threat posed by the escaped Grindelwald, and he recruits Scamander to help him put a stop to his plans.
This looks like the start of a magical journey that will traverse the globe and, of course, feature plenty of fantastic beasts to both help and hinder our heroes. From new shots of Johnny Depp as Grindelwald to several scenes inside Hogwarts, the trailer offers just enough to give Potterphiles a thrill of excitement.
But if you're hoping to go into this one spoiler-free, don't scour the trailer too hard. One scene may have revealed a major plot point concerning the identity of one of the returning characters from the first film (If you just have to know, you can read about it here.)