The Only Time On Modern Family That Sarah Hyland Felt Connected To Her Character Haley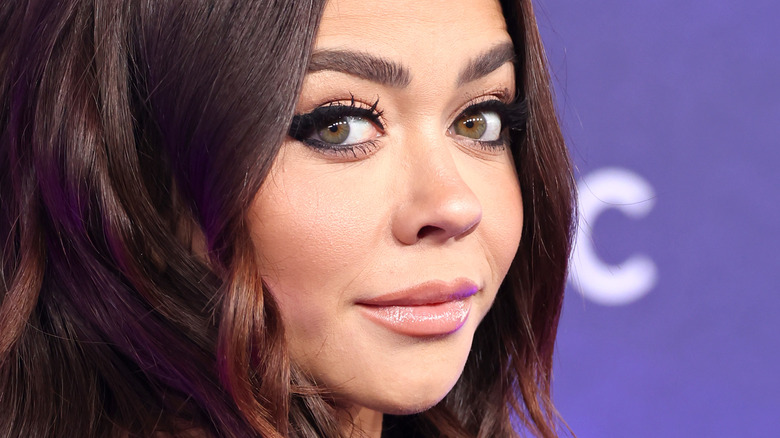 Amy Sussman/Getty Images
Although it's been a few years now since "Modern Family" aired its final episode on ABC, fans continue to look back on it with a smile. But for Sarah Hyland, her look back is obviously much more unique than the average viewer. Hyland recalled her realization that she wasn't physically where she needed to be in order to get cast in TV shows (via Glamour). "I was always told that the reason I didn't book roles in L.A. every pilot season was because I wasn't a local hire," she said. "So in the span of a couple [of] months, I learned how to drive, got my driver's license, and moved to California."
Clearly, that move changed her life since she snagged the role of Haley Dunphy a few months later, in February 2009, and "Modern Family" would go on to become the beloved award-winning series we now all know and love, with 250 episodes spanning 11 seasons. "When I signed on for the pilot, though, I never could have predicted we'd be on the air for 11 years," she admitted. "I was even staying at a friend's house because I didn't have my own place yet."
At this point, it's pretty well-known that Hyland's 11 years on the show proved to be far from a smooth experience. She had to endure chronic pain from dealing with multiple health issues, including kidney dysplasia. While recovering from a kidney transplant, her medication altered her appearance, making her hate the way she looked – not an easy issue to deal with for a teenager who has millions of people watching them at home. While Hyland persevered and continued to develop her character, Haley, flawlessly, fans may not know how different she really was in real life from her well-known character.
Sarah Hyland's connection to Haley could only be found in the kitchen
For fans at home, there's nothing quite like finding out that the actor behind one of your favorite TV characters has a completely different personality. That's the case with Sarah Hyland, who is nothing like Haley Dunphy. "I thought she was funny," Hyland told Glamour, "but I didn't relate to her a lot." However, there was one thing Hyland could easily connect to her character over: her lack of skill in the kitchen. "I think the only time I ever really connected with Haley was the episode where she's not good at cooking," Hyland admitted.
But Hyland's real-life mismatch with her "Modern Family" character isn't a reflection of the relationships she developed with her co-stars. She explained how amazing it was to have Sofía Vergara and Julie Bowen to look up to as role models, and her relationship with Ariel Winter, who plays her on-screen sister, Alex, is the complete opposite compared to their scripted clashes. "Ariel is like my little sister. So I love her so, so much," she told Entertainment Tonight.
Post "Modern Family," Hyland has had a supporting role in the rom-com "My Fake Boyfriend," executive produced and starred on the podcast series "Bone, Marry, Bury," and reunited with fellow "Modern Family" star Adam Devine for Peacock's "Pitch Perfect: Bumper in Berlin." However, there is no word yet on whether or not she has learned to cook.