Are Sarah Hyland And Ariel Winter From Modern Family Friends In Real Life?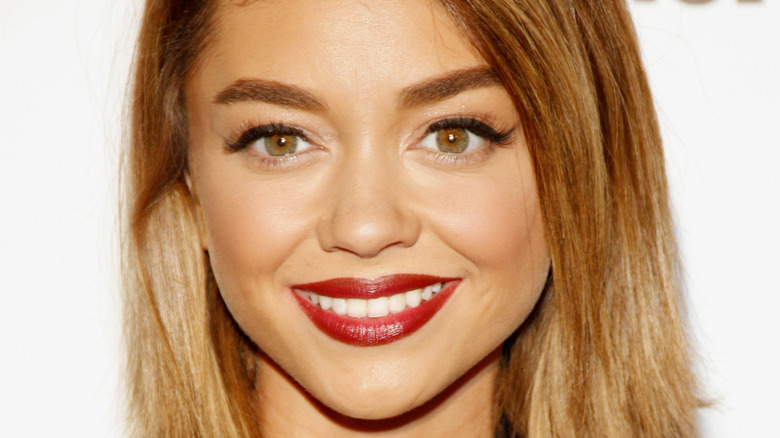 Tinseltown/Shutterstock
For over a decade, the relatable characters of "Modern Family" shared their lives and personal interactions on screen, making viewers at home feel like, well, family. With a perfect blend of hilariously awkward moments and the kind of emotional situations that only tight families would understand, the series offered a welcoming hand to fans who were thrilled to be included.
When a show is in production for as long as "Modern Family" was, one of the most interesting behind-the-scenes questions to answer is whether or not the actors who portray these characters are actually friends in real life. This curiosity can intensify when the gig comes to an end. For the kids of this ABC series, 12 years of their childhood was spent on set, practically growing up together. So, when it came to the conclusion of the series, did these young actors continue on with their relationships afterward, or did they see it as an excuse to sever ties?
Actor Nolan Gould, who played Luke Dunphy on the show, explains how he has mostly kept connected with his TV sister, Ariel Winter, who played Alex. However, in an interview with Hollywood Life, Gould explains this post-series connection stemmed from geographical convenience. "I definitely keep in touch with Ariel the most. We moved, like, into the same neighborhood ... She's like three minutes away from me." Well, that makes keeping up a relationship easy, but what about the other Dunphy sibling?
Sarah Hyland and Ariel Winter's sisterly bond remains intact
Sarah Hyland, who played Haley Dunphy, makes it clear that she continues to share a close sisterly bond with Ariel Winter. In an interview with Entertainment Tonight, Hyland proclaimed, "Ariel is like my little sister. So, I love her so much."
And just like a big sister would, Hyland proved this protective bond when she defended Winter, following some social media shade she received relating to her choice of revealing outfits. Hyland explained why there is no reason to go after her former costar like that. "She's beautiful inside and out ... I'm very proud of her," she said. In addition to this defense, Hyland once again embodied her sisterly bond, saying she hoped to continue to be a person Winter can look up to, especially when it comes to being outspoken in the public eye. "I would hope that she's actually learned things from me, from being so outspoken myself about certain things," she declared.
Just to solidify their ongoing friendship even more, People reported in August 2022 on an Instagram post and Instagram story released by Mitchell Pritchard himself, Jesse Tyler Ferguson. The photo in his Instagram story, taken at Hyland's wedding (at which Ferguson officiated the ceremony) shows Hyland and Winter enjoying a one-on-one moment together. Ferguson captioned that photo on his story with "Sisters For-eves."