What Happened To Sarah Hyland After Modern Family?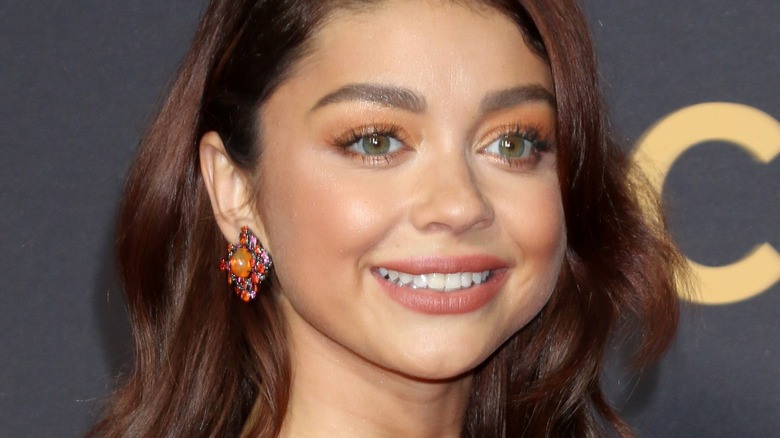 Kathy Hutchins/Shutterstock
"Modern Family" was a textbook example of ensemble comedy. For most of the series' run, no one character took center stage at the expense of others. Each brought a unique eccentricity or cluelessness or curmudgeonliness to the table, first conflicting and butting heads with another until common ground was found and balance was restored.
This, naturally, included Haley Dunphy. Played by Sarah Hyland, the eldest Dunphy daughter caused her fair share of absurd chaos during the full run of "Modern Family." Whether it was her series of colorful boyfriends, her typical teenager's relationship with her parents Claire (Julie Bowen) and Phil (Ty Burrell), or her journey from college dropout to a career in fashion, it is difficult to imagine the "Modern Family" clans without her.
Hyland's performance was a memorable one. On top of being included in four Screen Actors Guild Awards to the cast for best comedy ensemble, she was also nominated for a Critics' Choice Television Award for Best Supporting Actress in a Comedy Series (via IMDb).
"Modern Family" came to an end in 2020, with most other actors moving on to other projects. Hyland, however, has taken something of a low profile. Perhaps this shouldn't be surprising. TV shooting schedules can be demanding, never mind for one that lasted more than a decade. Still, given the fans she garnered, some might be wondering what exactly Sarah Hyland has been up to since "Modern Family."
Haley was less of a presence in the final season of Modern Family
Sarah Hyland was already a bit of a ghost even before the "Modern Family" finale. While the finale for Season 10 saw Haley give birth to twins Poppy and George, her and husband Dylan's (Reid Ewing) struggles as new parents became something of a background plot in Season 11.
Hyland herself expressed disappointment in this, both in interviews and on Twitter. At issue wasn't just every actor's hope for screen time. Rather, Hyland would have liked to see Haley not just embrace motherhood but also excel at a career in fashion, which had played a major role in the character's arc previously.
"There are so many amazing mothers who are also hard workers and excel at their jobs and kill it every day in both aspects," said Hyland. "That would have been a really cool thing to see, especially from someone like Haley."
Unsurprisingly, the end of "Modern Family" also caused Hyland a great amount of anxiety. "The thing as an actor, is it's like, 'Will I have a job tomorrow?'" she told Cosmo. Not being cast is every actor's greatest fear. Luckily for Hyland, that ultimately hasn't been the case.
Sarah Hyland has kept busy, but not just as an actor
June 2022 saw the release of romantic comedy "My Fake Boyfriend" on Amazon Prime, in which Hyland played the supporting role of Kelly. According to IMDb, it's her first film or television show work since the "Modern Family" finale in 2020, though she also provided the voice of main character Allie in the Dear Media comedy-mystery podcast "Bone, Marry, Bury," which she also executive produced. She also appeared alongside Joe Keery of "Stranger Things" in the horror-parody Taco Bell commercial "The Craving."
Hyland has also been busy getting married to husband, former "Bachelorette" contestant and "Bachelor In Paradise" bartender Wells Adams – which she did in August of 2022 – and launching her chocolate vitamin brand Sourse (via People). That said, Hyland's low profile contrasts with her frequent presence in other projects outside of "Modern Family" during the series' run, during which she appeared in everything from "Scary Movie 5" to "Vampire Academy" to an episode of "Veronica Mars."
Hyland will be returning to the world of TV series, though. Coming to Peacock is "Pitch Perfect: Bumper In Berlin," which will see the comedic a cappella film series brought to the small screen with the return of Adam Devine's lovably irritating character Bumper Allen. Hyland will be playing the role of Heidi (via IMDb), so fans will soon seen much more of the actress.