How Sarah Hyland's Health Struggles Informed Her Acting Decisions On Modern Family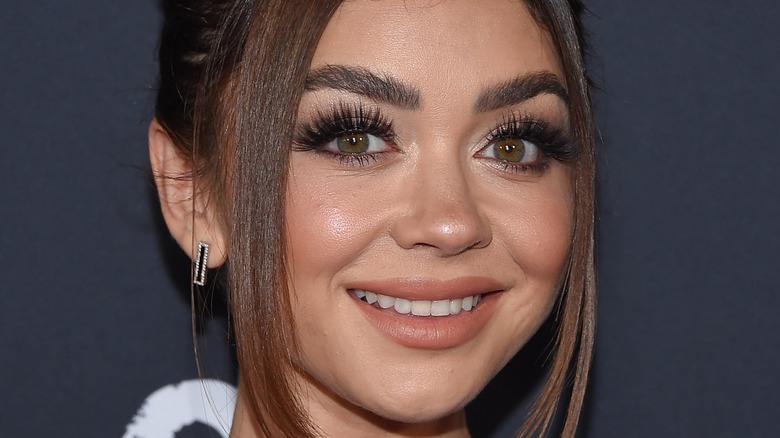 DFree/Shutterstock
The following article includes a brief mention of suicidal thoughts.
"Modern Family" is easily one of the most popular sitcoms of the last decade, per Parrot Analytics. The ABC comedy series ran for an impressive 11 seasons and aired a staggering 250 episodes over the course of the series. The sitcom also boasts a mind-blowing 85 Emmy nominations, 22 of which it took home. "Modern Family" follows the multiple offshoots of the Dunphy family tree in a sort of faux-documentary style as the three main family groups navigate life, love, and the occasional bit of awkwardness. Sarah Hyland played Haley Dunphy, the eldest daughter of the nuclear family at the center of much of the series.
Though Haley is known for being somewhat shallow and occasionally dim, Hyland played her with a charm and charisma that always kept the character likable. This factor is all the more impressive when you consider that the actor was navigating some complex health issues for nearly the entire time she was on the show. "I have an amazing job and an amazing support system, but after ... 27 years of just always being sick and being in chronic pain every single day, and you don't know when you're going to have the next good day," Hyland explained on "The Ellen DeGeneres Show" in 2019. "It's really, really hard."
Here's how Sarah Hyland's health struggles informed her acting decisions on the fan-favorite series.
Sarah Hyland powered through her poor health for the show
Sarah Hyland has never been shy about speaking up about her health problems, which have included kidney dysplasia, endometriosis, and suicidal ideation, per Self. Ed O'Neill, who played patriarch Jay Dunphy on "Modern Family," was particularly supportive of Hyland and admired her continued professionalism while dealing with chronic pain. "There were lots of days when she'd be in the makeup chair in the morning, and you could see she wasn't feeling good," he recalled in Marc Freeman's 2020 book "Modern Family: The Untold Oral History of One of Television's Groundbreaking Sitcoms." "And you felt so bad. You'd think, 'Can you do anything, say anything, bring her anything?' But she was there. She showed up, all the time, unless she was in the hospital."
Hyland has often credited the series as a positive distraction, but viewers may not have noticed one of her main coping mechanisms to try and hide her discomfort while on set. "The first few seasons, you'll see a lot of Haley leaning on stuff — against a table, with her arm on the wall, at the end of the staircase banister," she revealed in the same book. "... It helped with the pain a lot because it was very hard to stand up straight on my own."
While fans undoubtedly hope that Sarah Hyland's health has continued to improve with time, the level of commitment she showed by putting in her best efforts for the cast and crew of "Modern Family," even under such considerable duress, must be commended.
If you or anyone you know is having suicidal thoughts, please call the National Suicide Prevention Lifeline​ by dialing 988 or by calling 1-800-273-TALK (8255)​.