Every Cameo In Glass Onion: A Knives Out Mystery, Ranked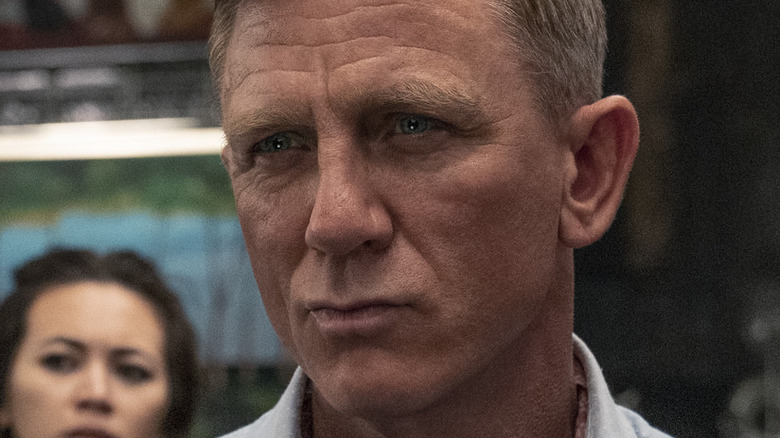 John Wilson/Netflix
One of the most shocking twists in Rian Johnson's "Glass Onion: A Knives Out Mystery" is how many actors and celebrities appear throughout the movie in hilarious cameos that don't overstay their welcome. The stacked cast has Kate Hudson, Edward Norton, Janelle Monáe, and (of course) Daniel Craig as the great detective Benoit Blanc. All these stars and more get their time to shine in "Glass Onion," but nearly a dozen other well-known faces (and voices) sneak their way into Rian Johnson's critically acclaimed "Knives Out" sequel.
In May 2020, billionaire playboy Miles Bron (Norton) gathers his closest friends — and the world's greatest detective — to a murder mystery party on his private island. But during this getaway filled with deceit and murder, plenty of celebrities show up for several cameos that you'll likely miss seeing on your first watch. Ranking these nine major cameos is quite a difficult task since each is a fun inclusion. But someone had to do it, so here it is! These are all the cameos in "Glass Onion: A Knives Out Mystery," ranked from worst to best.
9. Natasha Lyonne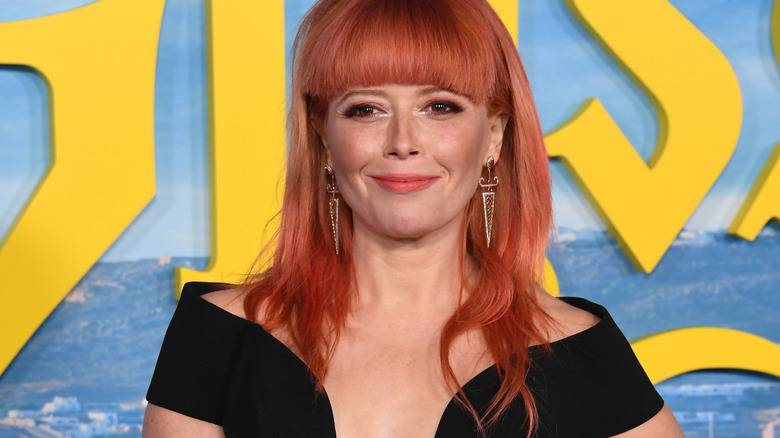 Jon Kopaloff/Getty Images
The prologue section of "Glass Onion" cryptically sets up the film's mystery and who ends up being the suspects and victims. At the end of this introduction, Benoit Blanc sits in his hot tub playing "Among Us," the hit social deduction video game that took off during the first year of the pandemic. After Blanc becomes caught and ejected for being the imposter, the movie shows his zoom call, so we see who he's playing with — giving us our first hearty chuckle in the movie. One of the celebrity friends Blanc is seen playing with is "Orange is the New Black" star, Natasha Lyonne. 
Most recently starring in the second season of "Russian Doll," Lyonne is quickly becoming a Netflix favorite. Her inclusion in the Netflix-funded "Glass Onion" only makes sense. Lyonne's appearance and her jabs at Benoit Blanc's gaming skills show off the actress's inherent comedic timing. But this cameo is the least impressive and meaningful of the bunch. 
8. Kareem Abdul-Jabbar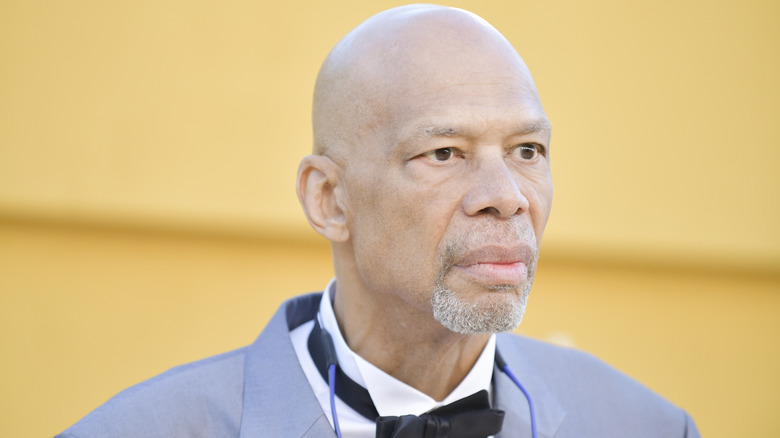 Rodin Eckenroth/Getty Images
In the same "Among Us" game, we see former NBA player and All-Star Kareem Abdul-Jabbar as one of the other celebrities on Blanc's Zoom call. Like Lyonne, he comments on Blanc's blatant inability to learn how the game works. Aside from this appearance at the beginning of the film, Abdul-Jabbar's cameo is relatively short-lived and unremarkable — especially compared to the other entries in the actor, uh, we mean basketball player's, film resume.
"Glass Onion" is far from Abdul-Jabbar's first time on screen. The former Lakers player is no stranger to making cameos and playing small roles in movies and on TV shows. In fact, his IMDB page has him credited with over 50 roles — a vast majority in which he plays himself. The most well-known and hilarious example of this has to be his appearance in the classic 1980 comedy "Airplane!," but he also made appearances on famous '90s sitcoms like "Full House" and "The Fresh Prince of Bel-Air."
7. Yo-Yo Ma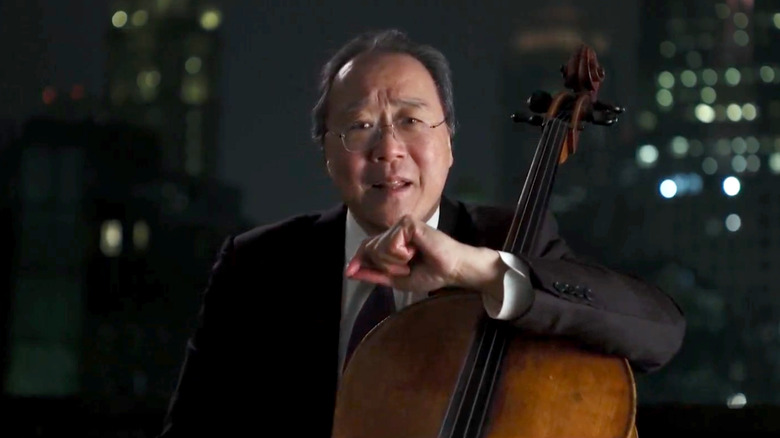 Handout/Getty Images
In the modern age, it is rare that classical musicians get to ascend to the level of fame that cello player Yo-Yo Ma has. But the man has certainly earned the recognition. The 67-year-old cellist is one of the most accomplished living American musicians, with over 100 recorded albums under his belt and 19 Grammy Awards earned in his 40-plus-year career. Plus, his music is no stranger to showing up in movie soundtracks over the years (via IMDB). 
Early in "Glass Onion," Birdie (Kate Hudson) is hosting an ill-advised party with her large COVID bubble when she receives a mystery box from Miles Bron. While on the phone with her friends, Birdie follows the directions of the others until the group reaches a musical puzzle that nobody can solve. That is until, right in the knick of time, Yo-Yo Ma appears from the party crowd to identify the piece playing and give Birdie and the gang the next piece of the puzzle.
6. Ethan Hawke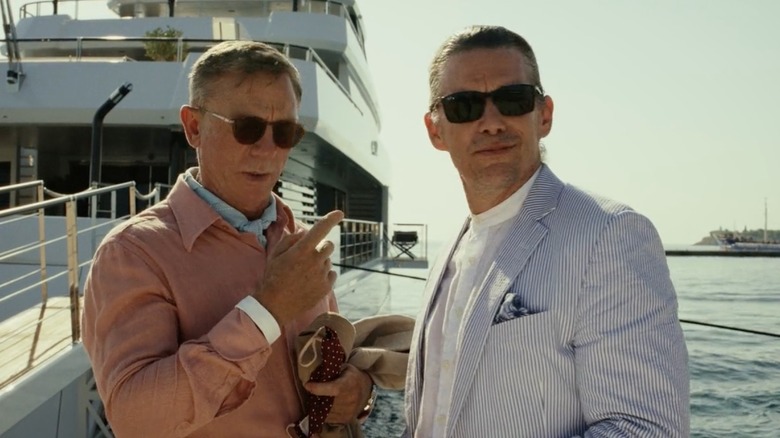 Netflix
This next cameo is one that you might have just missed. After the mystery boxes are solved and the invitations have gone out, Blanc shows up in Greece to meet the other guests before boarding Bron's boat. Here we see the detective get to (presumably) meet everyone for the first time. But the sequence also provides one of the movie's best cameos when Bron's private security shows up. 
Pulling up in a black car, a sunglasses-clad man walks out and instructs the group to board the yacht. If you don't look twice you might miss this cameo from actor Ethan Hawke. Hawke's character requires each guest to step forward and receive a vaccine spray in the mouth that, as a plot device, removes COVID-19 from the equation. In this way, Ethan Hawke is the most important of the cameo characters when it comes to moving the plot along. Plus, this scene drops a hint at one crucial clue you need to get to the heart of the "Glass Onion" mystery. 
5. Joseph Gordon-Levitt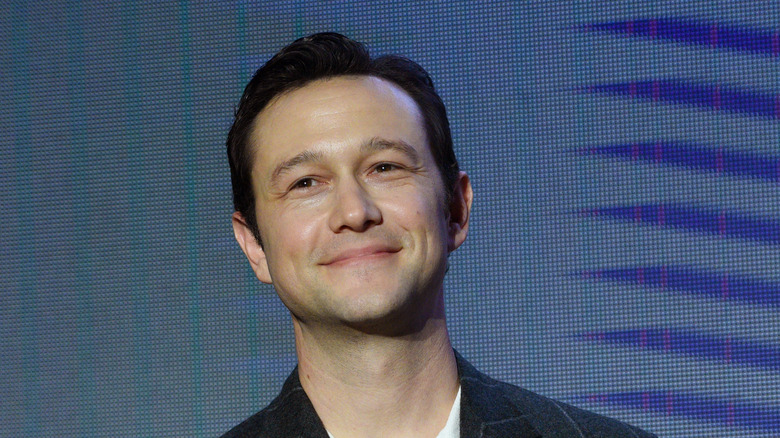 Vivien Killilea/Getty Images
Any big fan of Rian Johnson knows there is one actor the writer-director loves to cast in his work. Since Johnson's debut "Brick," which starred the young actor in one of his breakout film roles, Joseph Gordon-Levitt has been in all the filmmaker's projects — even "The Last Jedi." As Johnson's projects have become larger and more star-studded, there has been less room for JGL, but he manages to sneak the actor into "Glass Onion" in an unsuspecting and hilarious way.
When Blanc and the rest of the cast arrive on the mansion island, we meet Miles Bron and his various vices. One of the many ways the movie illustrates the island's excess is through the hourly "dong." At the top of every hour, a voice loudly proclaims "dong" to mimic church bells.
You might not know it until you reach the credits, but the voice of the "dong" in "Glass Onion" is none other than Gordon-Levitt. The actor continues his streak of making clever cameos in Rian Johnson's filmography. Hopefully, the two will be able to properly reunite for a project sometime in the near future. 
4. Serena Williams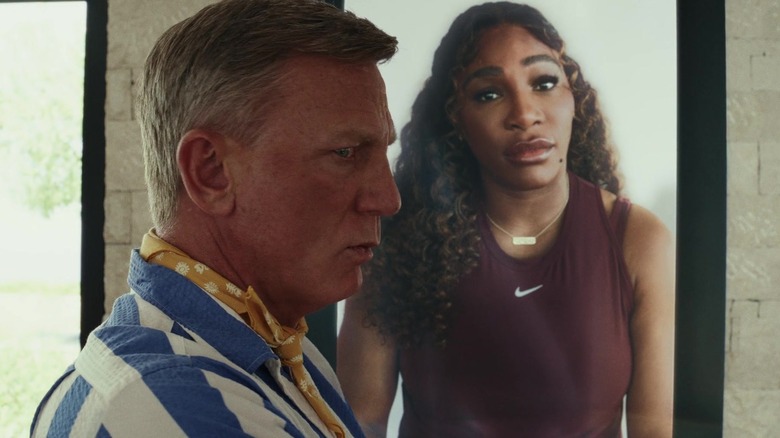 Netflix
One of the best jokes in "Glass Onion" doesn't come from any of its many billed stars but from the mouth of tennis icon Serena Williams. One of the most decorated tennis players in history, the younger Williams sister makes an amazing comedic cameo in Netflix's latest "Knives Out" mystery. 
In the second half of the movie, Blanc investigates the mansion before Miles' dinner plans. He finds himself hiding from Duke (Dave Bautista) in the island mansion's gym. After Duke leaves, Blanc stands up and faces a screen. On the screen is none other than a recording of Serena Williams, who is offering to teach a workout course. 
Funny on its face, Williams takes the joke a step deeper when she gets frustrated that Blanc doesn't want to participate and sits down to read a book. Through this gag, we learn this isn't a series of recorded sessions. No, Miles Bron is paying the real Serena Williams to hang out all day and give a live, personalized workout to anyone who walks in the door. 
3. Stephen Sondheim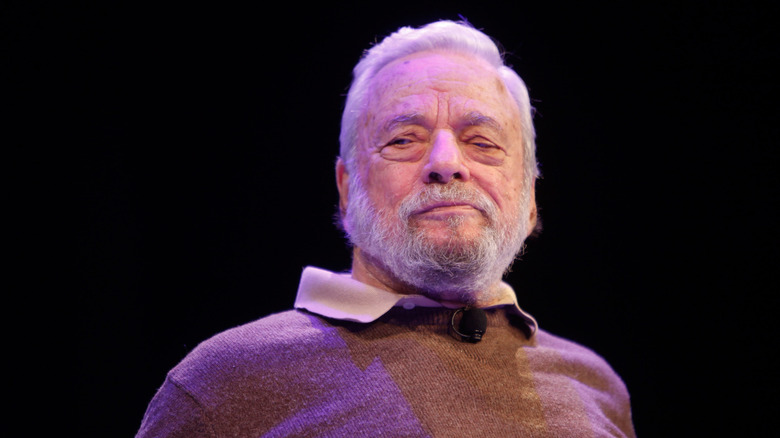 Thos Robinson/Getty Images
These next two "Glass Onion" cameos are extremely special for a tragic reason — it would be the last appearance these stars would ever have in a film. For legendary songwriter and composer Stephen Sondheim, "Glass Onion" will posthumously be his final cameo. The "Into the Woods" and "Sweeney Todd" composer died in November 2021 from cardiovascular disease. He had a decades-spanning career where he released some of the most critically acclaimed Broadway musicals and scores ever made. One of his most enduring works was contributing the lyrics to 1957's "West Side Story."
Sondheim shows up on the Zoom call as the one to agree to pull the plug on Blanc and eject him from the ship in the group's game of "Among Us." Seeing Stephen Sondheim on screen a year after his death was an emotional moment for musical theater fans who watched "Glass Onion: A Knives Out Mystery."
2. Angela Lansbury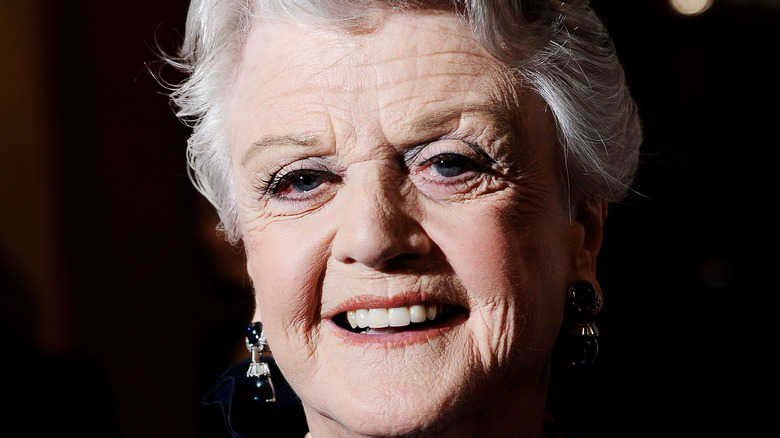 Ian Gavan/Getty Images
The fourth and final member of Benoit Blanc's group of secret gamer celebrity "Among Us" party is none other than Angela Lansbury. The British-American actress was best known for 12 years as the star of "Murder, She Wrote" and as the voice of Mrs. Potts in Disney's "Beauty and the Beast." Lansbury was 96 years old when she passed away in her sleep in October 2022.
Seeing her not even two months post-humous in "Glass Onion" gave many Angela Lansbury fans a chance to see her one last time on screen — albeit on a screen inside the screen. The actress had not done any film or TV work since 2018, making "Glass Onion" a surprising capstone on a career that began in the 1940s. While this doesn't even account for her time on stage, Lansbury wound up with over 100 film and television acting credits (via IMDB).
1. Hugh Grant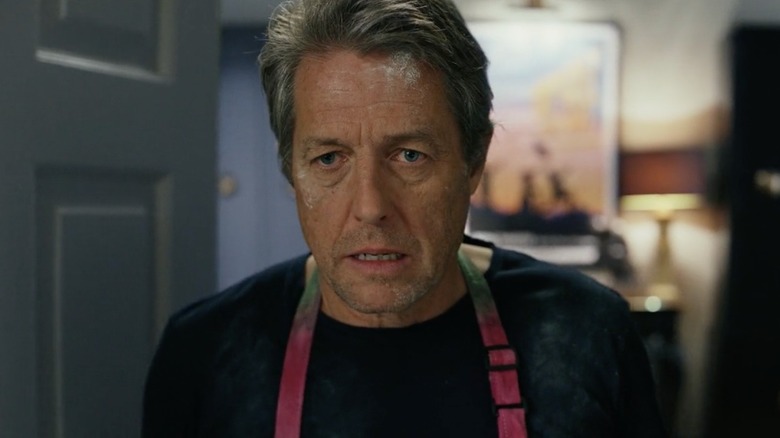 Netflix
It was tricky to pick a cameo to top this list, but it had to go to someone. In the end, Hugh Grant's appearance in "Glass Onion" was the one that had us hooting and hollering with joy. This cameo gave Benoit Blanc fans more than one thing to laugh at throughout the film.
Much like the first "Knives Out," "Glass Onion" has a mid-movie twist that completely reframes the entire mystery. After spending an hour of screen time on the island, we cut back to the day Blanc received the package to explain why he came to Bron's party in the first place. The movie shows Andi Brand (Janelle Monáe) in the hallway of a luxury apartment building knocking on a door. A flabbergasted Hugh Grant, covered in flour and donning an apron, answers the door. Andi asks for Blanc by name. 
Grant's performance is brief but perfect. Plus, this confirms that the voice that yelled out to Blanc that he had a package arrive in one of the movie's first scenes was Hugh Grant. Moreover, this scene confirms a part of Blanc's identity, namely that he is a gay man who lives with his partner. This fact of Benoit Blanc's sexuality has been confirmed by Rian Johnson (via Newsweek).