Disney's Lady And The Tramp Is Getting A Live-Action Remake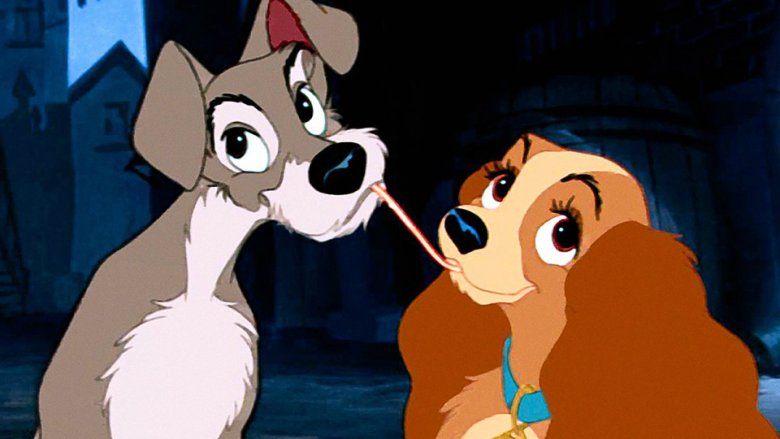 Disney
Disney's Lady and the Tramp is getting reimagined for the 21st century.
According to The Hollywood Reporter, Charlie Bean (The LEGO Ninjago Movie) has signed on to helm a live-action update of the animated classic. However, it won't be in theaters: the project is a big priority for the studio's upcoming streaming service that's slated to launch in fall 2019.
The original animated movie premiered in 1955 and centers on an upper-middle-class American cocker spaniel named Lady who meets a streetsmart stray mongrel called Tramp. When Lady finds herself on the street after her owners have a baby, she's saved from a pack by Tramp, who attempts to show her how to live a collar-free lifestyle. 
The highlight of the movie is the iconic spaghetti dinner scene in which Lady and Tramp dine in an alley as two human cooks sing "Bella Notte." We can't imagine the remake won't include it, or at least pay loving tribute to the scene. It would be like rebooting Taxi Driver without the mirror scene. What would be the point?
Bean is a longtime animator who has written for Dexter's Laboratory and Samurai Jack and directed all but one episode of Disney XD's Tron: Uprising. Andrew Bujalski (Computer Chess, Funny Ha Ha) wrote the script for new adaption, which Brigham Taylor (The Jungle Book) is producing.
It's just the latest project in Disney's recent push to reimagine classic animated movies as live-action, CGI-aided features. It began with 2014's Maleficent (based on Sleeping Beauty), then continued with 2015's Cinderella starring Lily James, 2015's The Jungle Book directed by Jon Favreau (Iron Man), and last year's blockbuster Beauty and the Beast with Emma Watson.
Now there are live-action versions of Dumbo coming from Tim Burton, Aladdin by Guy Ritchie, Mulan by Niki Caro, and The Lion King, also directed by Favreau. And those are just a few of the remakes that Disney has in the works. 
We'll let you know when we hear anything about the cast for Lady and the Tramp.