Live-Action Aladdin Casts Will Smith, Naomi Scott, Mena Massoud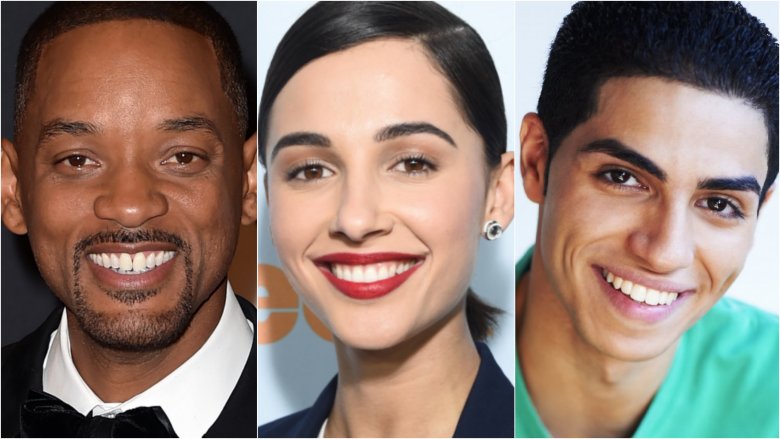 Getty Images, IMDB
It's a whole new world for Disney's live-action Aladdin, as the studio has finally cast the film's three major roles, Variety announces.
The exciting news broke during this weekend's D23 Expo in Anaheim, California, where the House of Mouse announced that Will Smith, Naomi Scott, and newcomer Mena Massoud will lead the upcoming adaptation. 
Smith has been cast as Genie, the larger-than-life mystical entity originated in 1992 by the late Robin Williams. Scott will snuggle up to her pet tiger Rajah as Princess Jasmine. Massoud has secured the coveted role of the eponymous street rat turned faux royal, Aladdin. 
Despite being a relative unknown, Massoud, an Egyptian native who was raised in Canada, currently stars in Amazon's Jack Ryan series alongside The Office alum John Krasinski. Scott, a British actress and singer whose mother hails from Northern India, recently starred in the Power Rangers reboot as the Pink Ranger. And, let's be honest, everyone knows who Will Smith is. 
Disney's announcement comes just days after reports stated that the studio was struggling to cast the movie. According to The Hollywood Reporter, the hunt for the right stars took months, and "included casting directors stationed in multiple countries and testing over 2,000 actors of the roles." Well-known names like Dev Patel (Slumdog Millionaire, Chappie) and Riz Ahmed (The Night Of, Rogue One) were reportedly considered, but Disney ultimately landed on fresh-faced actor to take on the part of Prince Ali. 
The live-action adaptation is set to kick off shooting next month in London. Sources confirm that Disney is currently looking for the perfect actor to portray the angular antagonist Jafar. The character will more than likely be played by an A-lister. Jafar's squawking sidekick Iago, originally voiced by Gilbert Gottfried, and Jasmine's father, the Sultan, are two roles that have yet to be filled. 
Directed by Sherlock Holmes helmer Guy Ritchie and The Lego Movie producer Dan Lin, Aladdin will be the latest installment in Disney's pantheon of live-action remakes of its animated classics. Upcoming pics include Niki Caro's Mulan and Jon Favreau's The Lion King. 
Death Note producer Jonathan Eirich serves as executive producer. Mary Poppins Returns producer Marc Platt and Frozen executive movie producer Chris Montan are set to consult on the project. Big Fish scribe John August has penned the new Aladdin script. 
Disney hasn't yet stamped the live-action Aladdin with a release date, so while we anxiously await more information, check out the hidden Disney moments almost no one notices.